"Efficient market" proponents are wrong – you can bank returns of 10%, 12% or more from stocks regularly.
But you need to ignore common Wall Street "wisdom" and follow a simple 3-step formula that I'll outline for you in a moment.
Most individual investors don't make anything close to 10% per year because they practice "buy and hope" investing. They pick up shares and root for them to appreciate in price.
With no specific plan outlining how they are going to profit from their stocks, they are doomed.
Even "tangible" fundamental drivers like higher sales or profits are no guarantee that you will profit. Ever been frustrated when one of your stocks trended lower after a good earnings report?
If so, you may have complained…
"The Stock Market Doesn't Make Any Sense"
Which is true. And that's why you must force it to make sense.
There are three — and only three — ways a company's stock can pay you:
A cash dividend.
A dividend hike.
By repurchasing its own shares.
Total up these three "shareholder return" vehicles, and you've got the return that you can expect from any given stock.
For example, let's look at income-hound favorite Verizon Communications Inc. (VZ). It pays a 4.2% yield, but we can expect higher returns because the firm is growing its dividend every year.
As Verizon grows its dividend, its current yield is likely to remain the same because investors will reward the stock with a higher price as they have over the past three years:
No Coincidence: VZ Price Returns = Dividend Growth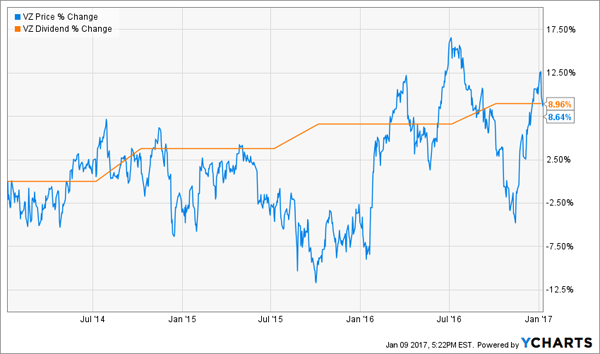 Future price gains should remain modest, however. Verizon is only growing its payout by about 2% annually – which means we should expect returns of about 6.2% going forward (4.2% current yield plus 2% projected dividend growth).
While investors tend to fixate on stocks' current yields — which are widely published and available — meaningful dividend growth can be a valuable source of hidden yields.
Dividend Growth in Action
Let's look at three popular dividend stocks – 3M Co (MMM), Procter & Gamble Co (PG) and United Parcel Service, Inc. (UPS) – to see this in action.
Over the last five years, the trailing yield for each of these issues has been relatively constant:
Steady Yields for Over Time…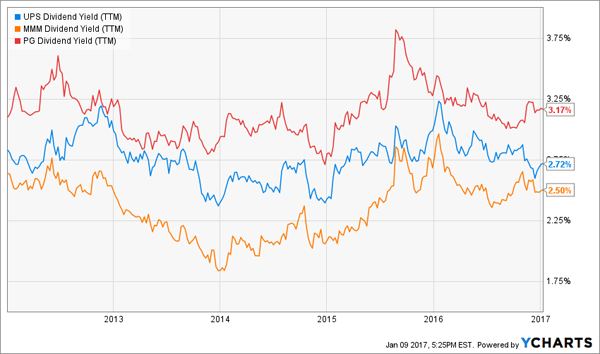 There's a reason – their price returns have tracked dividend growth almost to a tee.
… As Dividend Growth Predicts Price Returns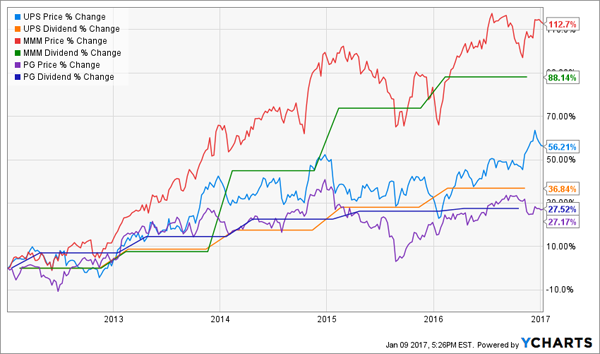 Buying stocks that are growing their dividends fast is the surest way to bank double-digit returns from stocks. But make sure you handpick them instead of relying on an index fund, because the S&P 500 itself is only on track for 5% to 7% dividend growth in the years ahead.
I'll share my favorite ideas with you shortly – but first, let's talk buybacks.