Retail Stocks to Mix and Match: Ulta Salon (ULTA)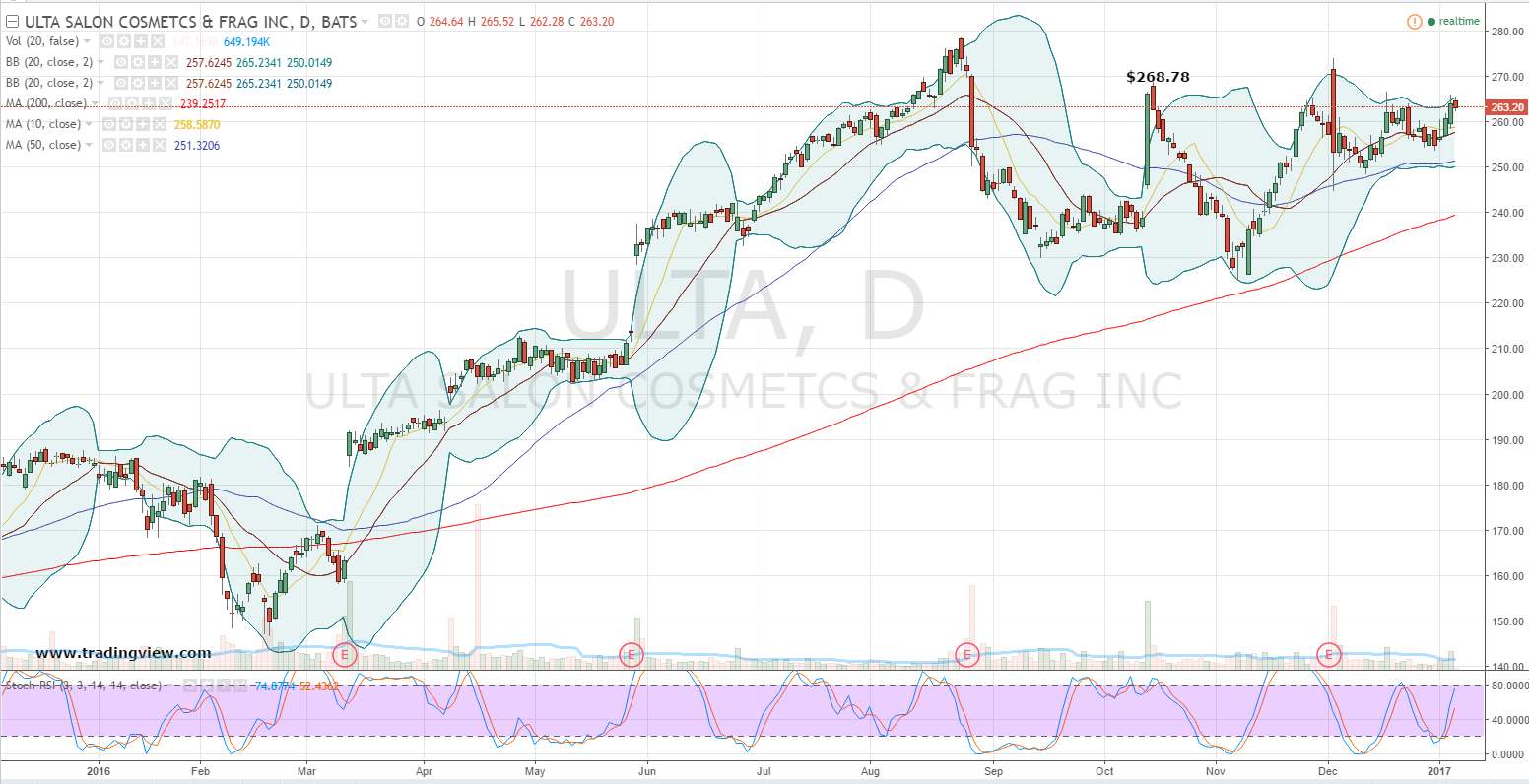 Last up on our list of retail stocks that show it's not wise to lump everything together into warnings of a "retail recession" is Ulta Salon.
I haven't personally been inside an Ulta Salon. However, the brick-and-mortar store front does show that, given the right blend of product and service, consumers will still drive to the mall.
At the end of the day, some things simply can't be done online — and Amazon's drone strategy is probably not considering manicures as part of its business strategy, when that program does finally take off.
The success of this retail stock's niche offerings is very apparent in shares of ULTA. Ulta Salon hit its all-time high of $278.63 back in August. Since that time, the stock has been backing and filling in a corrective base pattern above 200-day simple moving average support.
While Ulta is relatively new to the scene, its chart pattern is a classic, albeit slightly volatile, high-level "W" pattern. The price action is recognized by growth traders as the type of base to watch for strong, potential breakouts from.
It should be noted ULTA's recent earnings beat on Dec. 1 resulted in a bearish engulfing candlestick. Shares of this retailer have managed to hold that day's low, but I'd respect the warning by waiting to enter on a second attempt above the mid-pivot of $268.78.
Should ULTA show growth traders a bit of her past glamour and trigger another breakout, I'd look to buy a slightly out-of-the-money bull call spread. Verticals such as the $275/$280 or $285/$295 bull call spread reduce risk and won't expose the trader to increased risk should a second attempt look even worse than the first lipstick-style red blemish from December.
Investment accounts under Christopher Tyler's management do not currently own positions in any of the securities or their derivatives mentioned in this article. The information offered is based upon Christopher Tyler's observations and strictly intended for educational purposes only; the use of which is the responsibility of the individual. For additional market insights and related musings, follow Chris on Twitter @Options_CAT