For weeks, the market and certain sectors have been operating under uncertainty as doubts over the direction of President Trump's administration were growing. After Tuesday night's speech, investors are beginning to get some clarity, allowing a number of companies that have been locked in a range to begin showing signs that they are ready to move higher.
Today's three big stock charts look at Myriad Genetics, Inc. (NASDAQ:MYGN), Wal-Mart Stores Inc (NYSE:WMT) and Nucor Corporation (NYSE:NUE). These three companies have experienced recent technical trends that suggest they are ready to shift back into rally mode.
Myriad Genetics, Inc. (MYGN)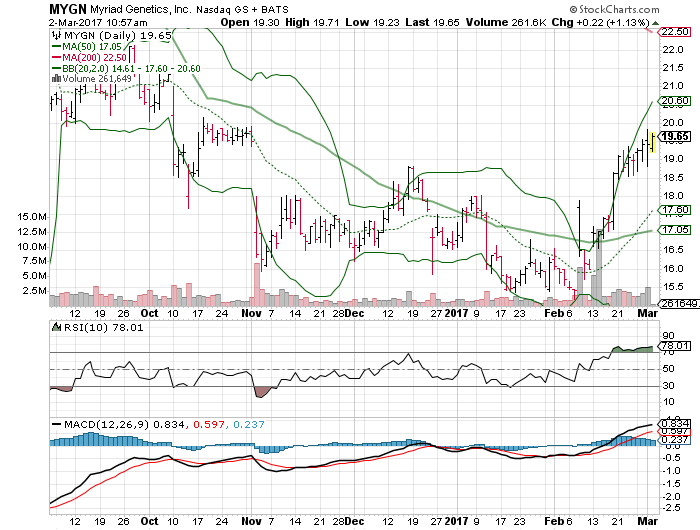 Myriad, along with a large portion of the health care and biotechnology sectors, has been held back by uncertainty around the repeal and replacement of Obamacare. With this option becoming less likely, these stocks are starting to rally again.
MYGN shares recently broke above their 50- and 100-day moving averages as volume on the stock saw an increase. This suggests that the technical traders are now getting behind the shift in trends.
While breaking above the 50-day, this trendline has started to transition into a rising pattern for Myriad. Our stock modeling programs show that MYGN and other stocks are twice as likely to continue their trend when the 50-day is moving higher.
Myriad shares are coming off an overbought reading after the recent positive earnings results. This suggests that we may see a short-term decline in MYGN shares — there's a catch here though.
From a long-term perspective, the market technicals view Myriad Genetics as an oversold, undervalued stock. This means that MYGN shares could more easily remain in short-term overbought territory as the "crowd" is only beginning to migrate into the stock.
Watch for a pause at $20, but from there the shares should find plenty of technical strength to rally higher.
Wal-Mart Stores Inc (WMT)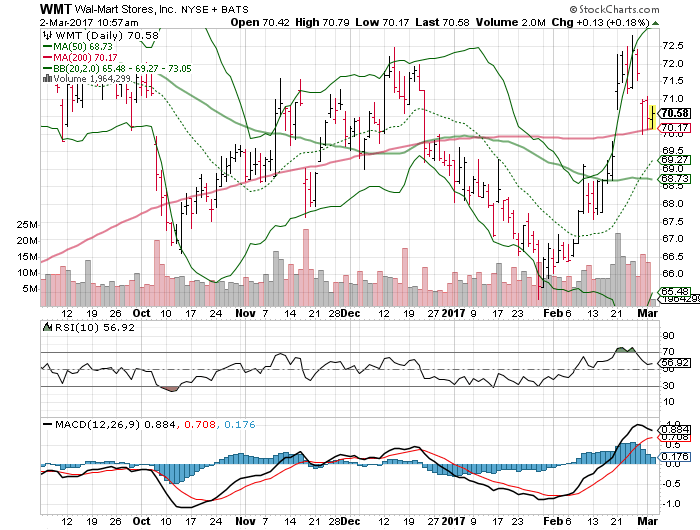 The retail sector has taken a beating as of late, as the fourth-quarter earnings results have been underwhelming to say the least. One standout, at least from a technical perspective, is Walmart. The SPDR S&P Retail (ETF) (NYSEARCA:XRT) is trading 2.5% lower over the last 12 months compared to the 6% return for WMT shares.
Now, the technical picture for Walmart shares is improving from an intermediate-term perspective.
Last week, WMT shares broke above the 200-day moving average on a positive earnings report. This move also broke Walmart stock into a technically overbought reading that we expected to see force a pullback, which is exactly what happened.
Now, WMT shares are consolidating around the 200-day trendline, just above $70. The support from this trendline suggests that the stock is now gaining technical strength. Supporting that theory is the fact that Walmart's 50-day trendline is now moving higher. This bullish transition improved the technical outlook for the largest retailer.
We've seen overhead resistance at $75 for WMT shares since June 2016; however, the growing momentum looks to overtake this hurdle over the next few weeks.