As an American icon, many investors had high hopes for Ford Motor Company (NYSE:F). F stock has largely been range-bound since 2013. If any candidate could break out of its rut, you'd think it would be Ford. After all, we have a president who largely ran on rejuvenating our industrial base and renegotiating so-called "bad deals."
The patriotic rhetoric worked for a while. Between the end of Election Day until the close of 2016, F stock gained 5%. From this year's opener to mid-March, Ford put up a nearly identical performance in the markets. However, reality soon kicked in.
Investors looked at the hard data and no longer felt comfortable with the automotive industry's forward guidance.
It wasn't just Ford stock that felt the pain. Domestic rivals General Motors Company (NYSE:GM) and Fiat Chrysler Automobiles NV (NYSE:FCAU) absorbed massive body blows. Japanese automakers like Toyota Motor Corp (ADR) (NYSE:TM) and Honda Motor Co Ltd (ADR) (NYSE:HMC) also got caught up in the "spring cleaning."
Under normal circumstances, any loss of business for Japanese cars is a win for Ford. According to Statista, the top five best-selling cars in 2016 were all Japanese brands. The Ford Fusion came in sixth place at 265,840 units sold. Although impressive, it's nearly 123,000 units shy of the number-one-ranked Toyota Camry.
The unusual problem for F stock is that its Japanese competitors are getting hit too hard. This dynamic indicates that Americans aren't buying cars at all, irrespective of national origin.
Ugly Auto Sales are Disrupting F Stock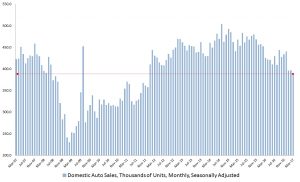 Click to Enlarge The first indication of serious trouble comes from the U.S. Bureau of Economic Analysis. In March, only 389,000 domestic vehicles were sold. Such results were first seen in the immediate run-up to the 2008 global financial crisis.
Even worse, pronounced economic crashes during the 1970s through the 1990s never pushed monthly domestic auto sales below the 400,000-unit threshold.