Twilio Inc (NYSE:TWLO) has been rallying lately in expectation of a strong quarterly report. But this time around, the Street got things very wrong.
In after-hours trading, TWLO stock is off a grueling 30% to $23.93. That's just above the 52-week low of $23.66 and well under the high of $70.96. Yes, playing the initial public offering game can be extremely volatile.
Now, the first quarter was not bad. The company posted earnings per share that beat the Street by 2 cents a share and revenues came to $87.4 million, compared to the consensus estimated of $83.60.
Instead, the reason for the plunge in TWLO stock is the guidance. For the current quarter, the company forecasts a loss of 10 cents to 11 cents and revenues ranging from $85.5 million to $87.5 million. The Street estimate, on the other hand, was for an 8 cent loss and revenues of $87.8 million.
The full-year outlook was also a bit light. TWLO is expecting a loss of 27 cents to 30 cents on revenues of $356 million to $362 million for the year. Yet the consensus was for a loss of 16 cents on revenues of $370 million.
Granted, such divergences may seem kind of minor. But then again, TWLO stock sported a frothy price-to-sale ratio of 11X ahead of the earnings. So even a slight change can make a big difference in the valuation for TWLO.
OK, so here are some of the other highlights of the quarter:
The number of active customer accounts hit 40,696, up from 28,648 on a year-over-year basis.
TWLO announced the extension of a strategic relationship with Amazon.com, Inc.'s (NASDAQ:AMZN) cloud services.
The company released Programmable chat, which allows for real-time chat for the web, mobile and desktop.
There was also the introduction of Programmable Fax.
TWLO has launched the beta for Notify, which allows for managing notifications in apps like Facebook Inc's (NASDAQ:FB) Messenger.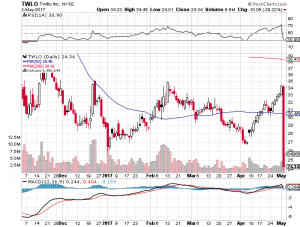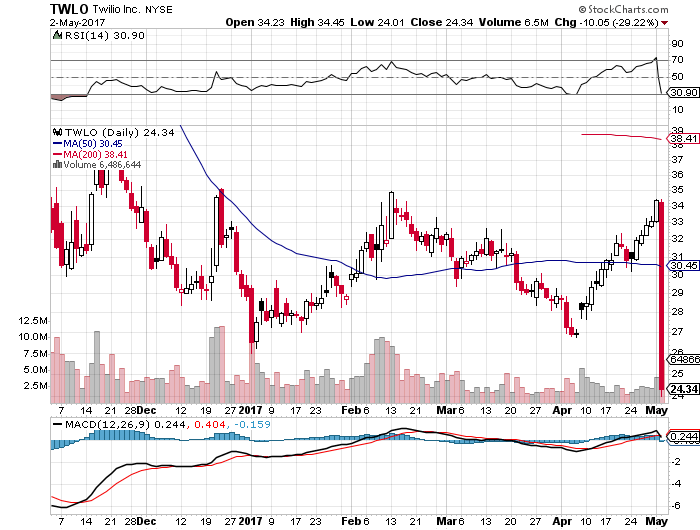 Click to Enlarge If Tuesday's post-market losses stand, TWLO stock will be in deep technical danger.
The company should open around the $24 mark, smashing well below its 50-day moving average around $30.50, putting it near all-time lows at $23.66.