Gold Stocks for a Breakout: Kinross Gold (KGC)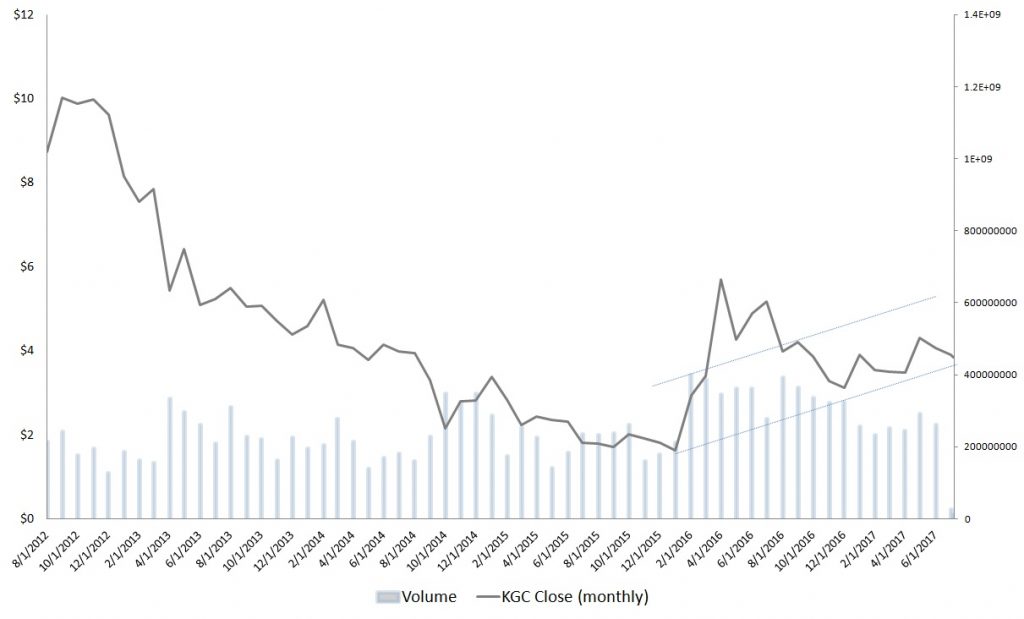 When faced with severe troubles, the independent oil and gas sector in 2014 had two choices: go home and cry about it, or start doing what was absolutely necessary. Those companies that are remaining after the most recent oil crisis obviously made the latter decision. Essentially, this is the story behind Kinross Gold Corporation (USA) (NYSE:KGC).
Over the trailing five years, KGC stock has lost more than half its market value. Like other gold stocks, Kinross tripped up in their financials as their business plan did not foresee massive price deflation. Between 2011 and 2015, KGC incurred negative gross profit, giving them no chance to get ahead. Finally, that dreadful circumstance reversed in 2016, thanks to sharp cuts in business costs and ongoing expenses.
Now, KGC runs a cleaner operation, helped also by the fact that it kept its liabilities under control. Kinross rewarded patient investors with a strong beat for its most recent Q1 earnings report. Furthermore, KGC stock is up over 27% YTD, one of the better performances among gold stocks.
Because of its consistent discipline, Kinross could trudge ahead, despite the present weakness in gold prices. However, a return to normal trading logic in precious metals could provide the knock-out punch that KGC investors have long waited for.
As of this writing, Josh Enomoto is long gold.