Warren Buffett, "The Oracle of Omaha," has a pretty decent stock-picking track record. In the 50 years since Buffett took the helms of Berkshire Hathaway Inc. (NYSE:BRK.A, NYE:BRK.B), per-share book value soared at an incredible pace, going from $19 to $146,186.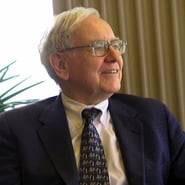 So if you had a chance to catch a glimpse of the Warren Buffett portfolio, you'd be excused for taking a peek.
Thankfully, the accommodating Securities and Exchange Commission gives us a chance to do that at least once per quarter; every institutional investor with assets of more than $100 million reveals its holdings in SEC 13F filings.
In comparing 13F filings from one quarter to the next, the public can tell how the Wall Street elite tweak their portfolios. These are Warren Buffett's biggest portfolio moves in the first quarter.
Precision Castparts Corp. (PCP)

Increased Position by: 47%
Precision Castparts Corp. (NYSE:PCP) isn't the glitziest player in the stock market today. In fact, it's not glitzy at all, and that suits Uncle Warren just fine.
Buffett is well-known for shunning equities with overly complex business models that even he acknowledges he can't understand. That's why, several years ago, the investment world was shocked to see the billionaire octogenarian acquire a large stake in International Business Machines Corp. (NYSE:IBM). Buffett typically shuns technology altogether.
Precision Castparts sticks to a pretty straightforward script, making metal forgings and fasteners that it sells largely to aerospace companies. PCP stock was the single biggest buy in the Warren Buffett portfolio last quarter on a percentage basis; Berkshire bought 1.3 million shares, increasing its stake by 47%.
Berkshire now owns 4.2 million shares of PCP stock, with a market value around $900 million.
National-Oilwell Varco, Inc. (NOV)


Decreased Position by: 62%
If you're hunting for stocks to buy based on what the gurus are picking up, you probably shouldn't give National-Oilwell Varco, Inc. (NYSE:NOV) much thought.
Warren Buffett wasn't too fond of the drilling equipment giant, unloading the majority of its stake in the company. Berkshire sold nearly 3.3 million shares of NOV stock last quarter, and now owns "only" around $100 million worth of National-Oilwell Varco.
While most of us could never dream of what a whopping sum $100 million is, that's peanuts for the third-richest man in the world, accounting for less than 0.1% of Buffett's portfolio. With shares off 37% in the past year, reducing exposure to the energy sector might not be a bad idea.
Twenty-First Century Fox Inc (FOXA)


Increased Position by: 31%
For the second straight quarter, Berkshire increased its exposure to Twenty-First Century Fox Inc (NASDAQ:FOXA) in a big way. The Oracle's bullish outlook on FOXA stock isn't quite as evident as it was in the fourth quarter of 2014, when the Warren Buffett portfolio welcomed 4.7 million shares to its ranks.
Still, picking up 1.5 million shares last quarter was a 31% increase from the quarter before.
At a price-to-earnings ratio of just 8, FOXA stock makes an attractive pick for a pioneering value investor like Buffett. Earnings per share are expected to increase by about 11% this fiscal year and more than 17% in FY 2016. The media empire will be making some high-profile programming changes in the coming years, with perhaps its most notable move being the end of American Idol, which will conclude after its 15th season in 2016.
While PCP, NOV, and FOXA were the three biggest percentage increases to the Warren Buffett portfolio last quarter, Buffett also increased positions in two of his top three holdings: IBM and Wells Fargo & Co (NYSE:WFC).
As of this writing John Divine held no positions in any of the stocks mentioned. You can follow him on Twitter at @divinebizkid or email him at editor@investorplace.com.
More From InvestorPlace