As we head into the Thanksgiving holiday, many will be out shopping and risking their lives to pick up a few deals in the stores to save a little money.
Around here, we're checking the market for deals on stocks that have caught a tailwind from the election results, as well as a historically positive seasonal trend that favors the end of each year.
Today, we're looking at seven stocks that should make Santa Claus's "Nice" list as their current outlooks, per our quantified models, are lining up for a strong year-end rally.
These stocks aren't just from one corner of the market either. There are several sectors here — from restaurant stocks to commercial airliners — that are rising with the year-end tide. Here are seven that are all but sure to deliver a holiday smile for the New Year.
Santa Claus Rally Stocks: Darden Restaurants (DRI)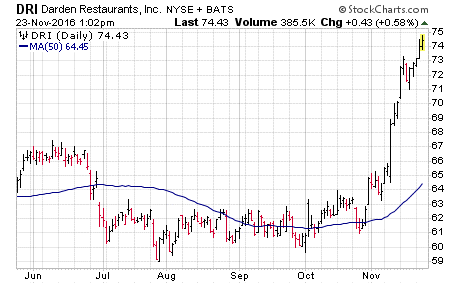 Consumers are in a spending mood again after the election results have given a boost to confidence that the economy will continue to improve. One of the beneficiaries of the improved outlook is the casual dining group with names like Darden Restaurants, Inc. (NYSE:DRI).
Darden's last earnings report made for the ninth quarter of earnings per share that beat expectations and saw a return to positive revenue growth. In addition, the company provided positive forward guidance. The positive outlook was muted by anxiety over the elections, but once the results were final, DRI stock took off.
Trading well above its technical support trend, Darden shares are now breaking into new all-time high territory, drawing the attention of the Wall Street analysts that still have the shares ranked a hold or sell. Currently, that accounts for 80% of the recommendations, so we expect upgrades to drive Darden shares higher.
Finally, Darden has been a favorite of the short-selling crowd who find themselves on the wrong side of this bull run. Expect to see more short covering drive this stock higher through December. Our current models target a continuation of the trend to a year-end target above $80.
Santa Claus Rally Stocks: Automatic Data Processing (ADP)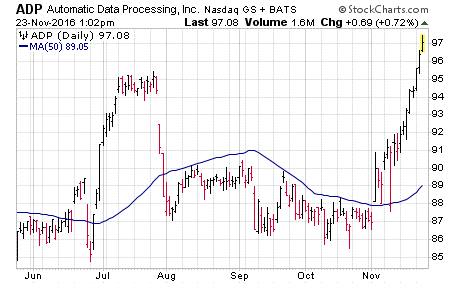 Employment data has been on the rise and the payroll processing companies like Automatic Data Processing (NASDAQ:ADP) are benefiting. The company provided a positive earnings report and outlook on Nov. 2 which started the 11% rally that now has shares moving back to new all-time highs.
ADP has been on our "Target Buy" list for more than two years based on the fundamental strength having to do with the employment market's improvements. In addition, the chart has been one of the stronger in the Nasdaq 100.
A relative strength leader, ADP shares have now embarked on a relatively volatile rally. We say "relatively" because the daily moves have been careful to not breach the upper Bollinger band, which could trigger a potential slowdown in the rally. This is a positive for the health of this fast-moving rally.
ADP shares continue to maintain their long-term bullish trend that has acted as support for the shares. Intermediate-term trends remain strong as well. The 50-day moving average for ADP just recently moved into an ascending pattern. This suggests that the stock's three-to-six-month outlook has improved based on the trend and distribution of the daily price changes.
We also love the fact that only 20% of the analysts tracing this stock have it ranked a "buy." With ADP breaking to new highs, Wall Street is certain to break out a few more upgrades for DRI stock, which means more buyers and more technical and price strength to come.
Our models target a continuation in the bullish pattern with a year-end target above $105
Santa Claus Rally Stocks: Nvidia Corporation (NVDA)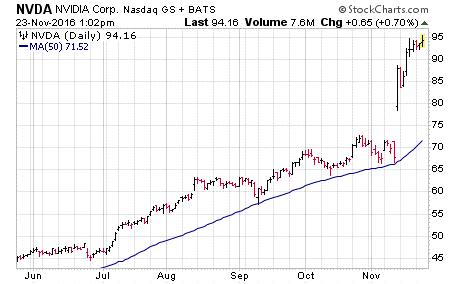 Nvidia Corporation (NASDAQ:NVDA) has been on our Target Buy list for more than two years, as this underappreciated stock continues to impress. As one of our favorite tech stocks, Nvidia reported last quarter earnings that blew expectations out of the water. This was another in a long line of positive earnings reports that have yet to turn Wall Street analysts into bulls, which is a good thing.
Short interest on NVDA is still coming in at nine times the average daily volume, indicating that a short squeeze is still likely to move shares higher. Similarly, analyst ranking on Nvidia stock remains relatively low, telling us that we will see some upgrades, especially as analysts start making estimates for 2017.
Nvidia shares are set to continue its charge above $100 as the year-end approaches.
Santa Claus Rally Stocks: Ulta Salon (ULTA)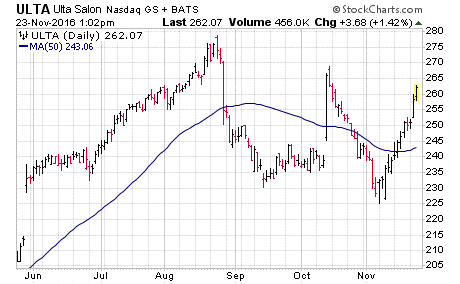 Another consumer discretionary stock on our radar, it's been there for a while, is Ulta Salon, Cosmetics & Fragrance, Inc. (NASDAQ:ULTA). The upscale makeup retailer has made marks with their store and products, which have built a strong fundamental base for ULTA stock.
Last quarter's results provided another per-share surprise, but the bullish kicker was the upside guidance that the report provided. This was the first quarter in a year that Ulta's management saw an improved outlook for the company's operations looking forward.
The crowd has been slowly migrating to Ulta shares as we have seen upgrades to the stock from the analyst community that is helping to fuel buying. Technicals have turned more positive on the recent rally. The recent shift in the 50-day trend indicates that momentum is beginning to build as we head into the holiday season.
Ulta shares are in the process of breaking through the $260 level which has held as chart resistance. A break above this mark for this seasonally strong stock will target $280 and then a move to fresh highs into the year-end.
Santa Claus Rally Stocks: Trinity Industries (TRN)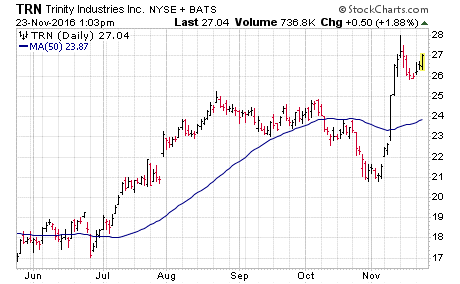 Another beneficiary of the Trump rebuilding America agenda are the industrial companies. Trinity Industries Inc (NYSE:TRN) is a manufacturer of railcar and other steel products including highway safety rail systems. In the past, the company has sourced much work for the government and will be a likely producer for infrastructure work as we move into 2017.
With only two "buy" recommendations and five "holds" from the Wall Street crowd, Trinity makes its way on our model's list of companies likely to see upgrades over the next three months. Additionally, TRN stock benefits from a robust crowd of short sellers that are likely to spark a short covering rally when the stock continues to climb.
Look for a break of $28 to signal that the crowd is ready to start piling into Trinity shares with a target of $30 before year-end.
Santa Claus Rally Stocks: Netflix (NFLX)

What can you say about Netflix, Inc. (NASDAQ:NFLX)? Netflix stock is on our "Nice" list because of its seasonal strength during the holiday season and the technical formation that is building below the shares.
After a blowout earnings report, NFLX stock rallied more than 30% in a matter of days. Shares of Netflix then fell into a pattern of profit-taking as technical traders sold the overbought shares to lock in profits. Now, with NFLX stock building a base at $115, it will soon be time for those same traders to start building positions again.
After spending most of 2015 in a volatile range, Netflix is now building momentum to the upside after the golden cross formation that occurred just ahead of the earnings report. Now, with the 50- and 200-day trending higher and ready to play a supporting role, Netflix's technical score from our model has improved to a "buy."
Frankly, our behavioral models are lacking on reasons for NFLX to move higher based on the "crowd," because the stock is already somewhat the target of traders and investors. This means that the ebb and flow of Netflix prices are driven heavily by the technical picture.
Santa Claus Rally Stocks: Boeing (BA)

The new administration has made it a point that the aging fleet of aircraft within our military's arsenal needs an update. Boeing Co (NYSE:BA) and other aircraft manufacturers have been doing well with orders from the private sector, but we should see the military start working on plans for orders in 2017.
Boeing broke into a intermediate-term bull market rally ahead of the election when it became clear that either administration would be an ally to business, as both candidates identified the aging military fleet as an issue that needed handling.
Boeing's technicals have made a tectonic shift into a bullish pattern on the rally, indicating that the intermediate-term outlook has shifted higher. Our technical models target a move above $160 as we head toward year-end.
Sentiment should help this move as the short sellers are somewhat bearish on BA stock. Currently, there are 5.2 times the average daily volume of Boeing shares held as bearish bets against the stock. These shorts will start buying-up Boeing shares as it breaks above $150, helping to fuel the $160 target faster.
As of this writing, Johnson Research Group did not hold a position in any of the aforementioned securities.