Although many analysts are putting a qualified success angle for this year's retail holiday season, there's no hiding the ugly truth — retail stocks are languishing.
Sure, the Black Friday weekend got off to a great start, but that has much to do with stores opening on Thanksgiving Day.
Brick-and-mortar retailers are still finding it difficult to attract shoppers. The one bright spot is e-commerce. Unfortunately for everyone else, that is a domain becoming increasingly swallowed up by Amazon.com, Inc. (NASDAQ:AMZN).
A cursory look at major retail stocks gives you all the info you need to know. Shares of Wal-Mart Stores, Inc. (NYSE:WMT) and Target Corporation (NYSE:TGT) have given up a significant portion of their post-election rallies.
For the month of December, WMT slipped 1% below parity, while TGT fell by more than 7%. And it wasn't just discount retailers, either. High-end names such as Nordstrom, Inc. (NYSE:JWN) and Williams Sonoma, Inc. (NYSE:WSM) have absorbed horrible losses in the markets.
Even AMZN stock was not immune from the pain. Since closing at an all-time high in early October, Amazon stock has given up more than 11%. Worse yet, shares didn't seem to gain much traction. While AMZN closed out the year up 11%, that may be little comfort to those who are assessing the nearer-term momentum. AMZN stock has been sandwiched between its 50- and 200-day moving averages for some time, suggesting pensiveness among the bulls.
A Challenging Environment for AMZN Stock
I think anybody can appreciate the lack of confidence toward AMZN stock. Wall Street is about making profits, not pontificating about prior achievements. If there's one thing that can disrupt Amazon stock, it would be declining consumer sentiment. To that end, reduced advertisements by retailers is a worrisome sign.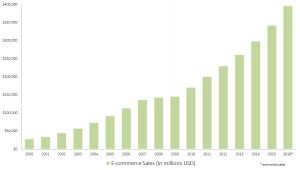 Click to Enlarge This is where hard data can help distinguish between either a natural correction for AMZN stock, or something more permanent. According to the U.S. Census Bureau, e-commerce is an unstoppable force.
In the six years from 2000 through the end of 2005, online retail sales totaled $326.6 million. In last year alone, that figure jumped to $341.5 million. By default, this just feeds into the Amazon stock machine.
But more so than the raw numbers, the growth rate in online retailing continues to impress. Of course, nothing will come close to the nascent years of e-commerce. In the 2000s, online sales grew annually by 21%. But over the past six years, the growth rate is still a robust 15%. Since all indications point to a superior performance in the fourth quarter of 2016, that rate is only going higher.
This is simply great news for AMZN stock. Admittedly, though, its success is coming at great cost to the overall industry. While total retail sales exclusive of food services is a massive entity, the percentage of shoppers doing business online is skewing unfavorably for the brick-and-mortars.
A prime example is the immediate fallout from the Great Recession. Retail overall saw negative growth in 2008 and 2009, particularly seriously during the latter. In contrast, e-commerce growth was hit hard, but never dipped into the red thanks to companies like AMZN. In addition, aggregate retail sales this decade average an anemic 4.5%.