Whether they want to admit it or not, several companies have benefited from President Donald Trump. Often outrageous and almost never soft spoken, "The Donald" has his fair share of critics, to say the absolute least. As such, I don't blame any corporate executive for distancing their organization from the president. But if there's one firm that has an obligation of loyalty, it is Wells Fargo & Co (NYSE:WFC).
At the beginning of last year, WFC stock was just like its competitors among the "Big Four" banking institutions. It suffered terrible volatility in January, followed by a rocky and somewhat sideways recovery.
However, the back-and-forth of WFC and the major bank stocks was quite understandable. We were in the midst of a calamitous election cycle, one which we will thankfully never see again (after 2020).
But that was before what Wells Fargo might consider "Black September." Executives fessed up to the fact that some WFC employees created more than two million fake accounts to meet lofty sales targets. In and of itself, that action is unforgivable. We trust these big bank stocks with our livelihoods and our futures.
Worse yet, Wells Fargo earned the title of "cleanest shirt in the dirty hamper," according to InvestorPlace contributor Richard Saintvilus.
Additionally, WFC was accused of violating the Servicemembers Civil Relief Act by repossessing soldiers' vehicles. Whatever the actual details, the optics were horrific for the general public. To no surprise, WFC stock tanked in the markets. Many analysts wondered whether this was it for Wells Fargo.
WFC Stock Is Indebted to "The Donald"
Then, the miracle of Donald Trump materialized. The Big Four bank stocks received an unprecedented reprieve. JPMorgan Chase & Co. (NYSE:JPM), Citigroup Inc (NYSE:C), and Bank of America Corp (NYSE:BAC) saw a huge lift in their market value post Nov. 8 through the end of December.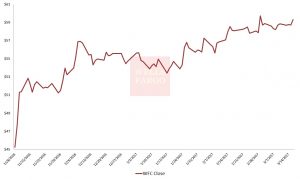 Click to Enlarge But WFC stock was indisputably the "bigliest" winner of them all.
Granted, we're not talking strictly about the numbers. The bank stocks minus Wells Fargo averaged a Trump-inspired 24%. WFC stock only registered 21%. That was far below the first-place ranking of BAC at 30.5%, and it didn't even qualify for second (JPM at 23%). Still, the beleaguered bank won because it didn't lose.