Traditionally a snoozer, AT&T Inc. (NYSE:T) is generating plenty of excitement, but for all the wrong reasons. T stock is having an August to forget, down more than 4% for the month. It's certainly not a favorite season for AT&T. In the prior year's August, shares lost 5.5% of market value.
The pictures becomes darker as you expand the time horizon.
On a year-to-date basis, T stock shed almost 12%. To put this volatility into perspective, AT&T gained 30% in 2016. One has to go back to the 2008 global financial crisis to see a time when T shares actually fell negative for the year. Prior to that terrible incident, the telecom giant tripped up during the aftermath of the September 11th terrorist attack.
The message is clear — AT&T stock doesn't collapse unless a major bearish catalyst exists. So no matter what your perspective on the company, you have to pay attention to what the markets are signaling.
Seemingly, most investors are fearful that the telecom firm has taken on more than it can realistically handle. The major headline surrounding T stock is the Time Warner Inc (NYSE:TWX) deal. AT&T must fork over $40 billion in cash to complete the deal, according to InvestorPlace contributor Dana Blankenhorn.
The pricey acquisition will mean T's total debt load will top $170 billion. Blankenhorn writes, "That could mean a debt downgrade by Moody's and higher prices on said debt, in an environment of rising interest rates." Also, with such an onerous burden, the AT&T stock dividend — yielding a generous 5% — could come under threat.
In another unhelpful event, the Federal Trade Commission is suing AT&T-owned DirecTV for deceptive advertising. No matter where the industry titan turns, trouble seemingly awaits.
AT&T Has to Make "Costly" Decisions
But in my opinion, the biggest worry about T stock has to do with the increasingly contested wireless space. As smart-device technology drives forward, so too do bandwidth demands. According to Zacks Equity Research, mobile carriers, such as Verizon Communications Inc. (NYSE:VZ), T-Mobile US Inc (NASDAQ:TMUS), and Sprint Corp (NYSE:S), find data-traffic management extraordinarily challenging.
To gain a foothold in the wireless market, sector contestants are willing to offer unlimited data plans at lower prices. InvestorPlace contributor Vince Martin argues that AT&T stock has been at the losing end of this heavily disputed sector. A surprise loss in subscriber count in its first-quarter earnings report confirmed these suspicions.
Simply put, not enough growth is available to satisfy all major contestants. At some point, they will end up cannibalizing each other at worryingly reduced profit margins.
However, while many analysts focus on the cost of T's recent business decisions, they should also consider their benefits. The telecom firm understands better than most that in order to make money, you have to spend money.
No one will argue that the wireless market is an easy one to dominate. But for the precise reason why wireless is so painfully difficult, AT&T must make tough choices and sometimes, gamble. The company needs something other than the saturated mobile division to keep building positive momentum.
The pricey Time Warner deal is the ticket. As Blankenhorn states, "Wireless will pull the train, and Time Warner content will help pull it. The U-Verse cable operation will do better as part of a larger bundle, which could include discounts on wireless service, when it's Time Warner content."
Moreover, its debt load doesn't have to be paid in full right now. AT&T has more than enough capital to invest for the future, and they can divest what they no longer need.
T Stock Primed for Another Leg Higher
Similar to other investments that have evenly split fundamental arguments, I rely on the technicals as the tie breaker. In the nearer-term frame, the picture is rather ugly, as I previously mentioned. But in the longer-term, T stock could be setting up a bullish revival.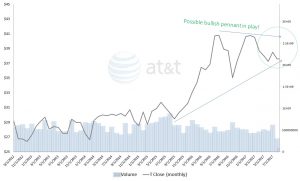 Click to EnlargeMy thoughts align with our Chris Tyler. He noted that AT&T stock has been pushing forward based on broad optimism. Shares have already consolidated for the better part of three years. That pent-up pressure will likely result in an upside swing.
As confirmation, shares recently completed a double bottom formation, which possibly indicates that bearishness is waning.
If so, T stock is a tremendously shrewd investment. I love Blankenhorn's closing remark that AT&T is "a Ford Motor Company (NYSE:F) dividend at a relatively low risk." He calls it a bargain and I agree with him. Big-boy corporations have to make big-boy purchases. That's the cost of doing business. It doesn't make sense to punish T simply for doing what anybody else would do in the same position.
As of this writing, Josh Enomoto did not hold a position in any of the aforementioned securities.