I'm making a call on AT&T Inc. (NYSE:T) and it's purely technical — get long now! But for investors that want to get really dialed in, a married put position is the way to go for T stock bulls. Let me explain.
T stock is going higher. Our call or basis has its roots the aftermath of AT&T's well-received earnings report. Shares ramped higher by about 7.5% following the company's 5 cent profit beat and results made more promising with expanding margins, improved postpaid churn rates and wireless net adds of 2.8 million.
Having said that, given an intensely competitive business, a pending merger with Time Warner Inc (NYSE:TWX) still looming, as well as typically less productive seasonality for market bulls, I don't mind keeping my call purely technical and completely tethered to that line in the sand.
T Stock Weekly Chart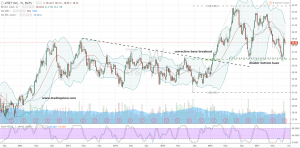 Click to Enlarge In looking at the weekly chart of T stock, it's easy enough to appreciate that if size matters, shares of AT&T are currently in a strong position to trend higher from here.
After breaking out of a substantial corrective base of around three years in duration back in early 2016, T stock rallied strongly for about five months.
The bad news for buy-and-hold shareholders, gains of around 22% were short-lived and essentially vanished in all of three months' time. At least they've got that income stream in excess of 5% to sit back and enjoy, right?
Unequivocally, one significant outcome within the hard-hitting price retreat was the decline was met with support from buyers at the 62% retracement level, as well as the area from which T stock had previously broken out from.
The better news for investors today is further confirmation of technical support was provided a couple weeks back. The aforementioned bullish earnings reaction manifested itself into a double bottom pattern.
Now and with shares having constructively pulled back the last couple weeks, positioning for upside and an emerging bullish trend looks all the more attractive.