With back to school fast approaching, it's time for students and parents to begin a familiar ritual: trying to figure out the best laptops for getting work done at school.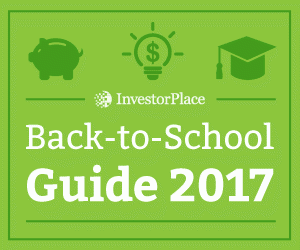 The timing is good — manufacturers tend to offer laptop deals leading up to the September start of classes — but the choices can be confusing. You'll need to make the decision between Apple Inc.'s (NASDAQ:AAPL) macOS and Microsoft Corporation's (NASDAQ:MSFT) Windows 10 to start with.
Some school programs require specific software, so check out any requirements that may force you to choose macOS or Windows first. Once you've figured that out, it's time to choose a specific model among the hundreds you'll see offered in those back to school laptop deals.
To make things a little easier, we've put together a short list of five laptops that strike a good balance between cost, portability, durability and usability. In other words, options that make the best laptops for students.
Best Laptops for Students Going Back to School: HP Spectre x360
HP Inc (NYSE:HPQ) makes one of the best laptops that covers all a student's needs while looking pretty slick –and offering a very cool trick.
The HP Spectre x360 goes for $1,000 or less, but it looks like a luxury laptop with its copper trim and sleek, 2.86 pound frame. Equipped with the latest 7th generation CPUs from Intel Corporation (NASDAQ:INTC), it can go up to 16 hours on a charge, which is at the top among this year's back to school laptop contenders.
The '360' part of its name is revealed in the Spectre x360's ability to rotate its 13.3-inch touchscreen display 360-degrees. Put it in tent mode to watch videos, or even use it as a Windows tablet.
Best Laptops for Students Going Back to School: Surface Laptop
Microsoft revealed its Surface Laptop in May. It may just be the ultimate Windows laptop for students.
Cheap laptops feel … cheap. The $999 Surface Laptop feels anything but. Despite the slim form factor, it has a 13.5-inch, high resolution, multi-touch PixelSense display, an Intel Core i5 CPU and 128GB SSD.
Stylish students will appreciate the Alcantara fabric that covers the keyboard and is offered in multiple colors (don't worry, parents, it can be cleaned).
It can be configured to run Windows 10, but security-conscious parents may want to leave it using the default Windows S that will only run apps from the Windows Store.
Best Laptops for Students Going Back to School: 13-inch MacBook Air
The MacBook Air may seem like an odd choice for a Mac pick. The venerable Apple laptop has an aging display, an older CPU and the company is pushing new options like the MacBook and 13-inch MacBook Pro.
But the 13-inch MacBook Air remains a solid choice for students. In terms of cheap laptops, at $999 this is Apple's bargain offering. It starts at $300 less than both the cheapest 13-inch MacBook Pro configuration and the new MacBook.
That 5th generation Intel Core i5 CPU is still zippy enough for student use (Apple did boost the clock speed a little for 2017), and the 8GB of RAM is plenty for macOS to work with. It also has 128GB of SSD storage — a decent amount for storing projects. The 13.3-inch LED backlit display is stuck at a lower resolution, but it's bright, text is crisp and it should be fine for homework. The backlit keyboard also provides a more tactile typing experience than the ultra-thin version on the new MacBook.
It's still considered thin and light (2.96 pounds) and gets 12 hours of battery life, making it ideal for students to carry around.
Besides price, the other reason to stick with the MacBook Air over the newer Apple laptops is the fact it still has multiple USB 3.0 ports. No dongles or hubs required, this Apple laptop is compatible with their existing peripherals and accessories, including USB thumb drives.
Best Laptops for Students Going Back to School: Dell Inspiron 11 3000
The Inspiron 11 3000 from Dell is as affordable as it gets for Windows laptops. To find cheap laptops that are less than this, you are looking at Chromebooks — and that means no Windows.
The Inspiron 11 3000 offers the minimum you can get away with in a laptop. It has just enough power to run Windows 10, surf the web and run Microsoft Office. In other words, the student basics and nothing more.
But, in return for the modest performance, you get a $199 price tag, compact 2.6-pound form factor and bright colors that appeal to kids.
Best Laptops for Students Going Back to School: Alienware 13
We'll end off this list with something that doesn't get classified among the cheap laptops but does cover off multiple requirements.
The Alienware 13 from Dell's gaming PC division is small enough to be used as a student laptop, although at 5.8 pounds this 13.3-inch Windows laptop is the heaviest of the bunch … don't count on all-day battery life, either.
What the Alienware 13 does offer is power. A 7th generation, quad-core Intel Core i7 CPU, and a GeForce GTX 1050 video card from Nvidia Corporation (NASDAQ:NVDA).
The Alienware 13 should cover off any back to school needs — it will tear through Microsoft Office, chew through video editing and it's even VR-ready — and it will also scratch any student's mobile gaming itch. Starting at $1099.99 it isn't cheap, but for gamers, it could save having to buy two PCs.
As of this writing, Brad Moon did not hold a position in any of the aforementioned securities.