The market is sobering up in a hurry.
U.S. equities suffered their steepest pullback in months on Thursday, pushing the Dow Jones Industrial Average back below the 22,000 level in dramatic fashion, as the war-of-words between President Donald Trump and North Korea continued to escalate.
The result was the first three-day loss in stocks since March amid a big breakout by the CBOE Volatility Index (INDEXCBOE:VIX), which pushed to its highest level since April. That boosted the Short-Term VIX (NYSEARCA:VXX) recommended to Edge subscribers to a gain of nearly 14%.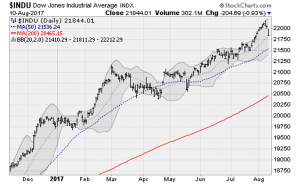 Click to Enlarge In the end, the Dow lost 0.9%, the S&P 500 lost 1.5%, the Nasdaq Composite gave back 2.1% and the Russell 2000 finished 1.8% lower. Elsewhere, Treasury bonds strengthened, the dollar weakened, gold gained 0.8% on a safe-haven bid and oil gave back 1.9% amid a focus on higher OPEC production as the supply cap agreement starts breaking down.
Breadth was heavily negative, with decliners outpacing advancers 6.6-to-1, and NYSE volume at 106% of the 30-day average.
Utilities led the way on the yield compression, rising 0.3%. Technology and financials — areas of recent momentum upside — were the laggards, down 2.2% and 1.8%, respectively.
Retail earnings were in focus. And they weren't good. A few lowlights:
Also, Snap Inc (NYSE:SNAP) dropped 12% after hours after reporting a loss of 16 cents per share — two cents worse than expected — on a big increase in its cash burn rate.
Conclusion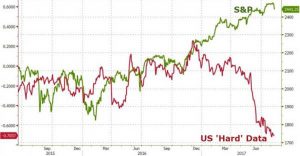 Click to Enlarge The superlatives are easy to find. Stocks suffered their worst day in three months. VIX enjoyed its biggest spike since August 2015 China devaluation. High-yield bonds endured their worst day in five months.
Finally, it looks like the stock market's disconnect with reality is about to end.
In a note to clients earlier today, Goldman Sachs technical analysts warned that market signals suggest a "period of corrective price action has begun," setting the stage for further price pressure.
What do investors need to watch now?
Market breadth continues to deteriorate rapidly. The percentage of S&P 500 stocks in uptrends is at risk of falling below its May low. A breakdown below that level would put the entire post-election rally in jeopardy — at least from the standpoint of upside participation.
Check out Serge Berger's Trade of the Day for Aug. 11.
Today's Trading Landscape
To see a list of the companies reporting earnings today, click here.
For a list of this week's economic reports due out, click here.
Tell us what you think about this article! Drop us an email at editor@investorplace.com, chat with us on Twitter at @InvestorPlace or comment on the post on Facebook. Read more about our comments policy here.
Anthony Mirhaydari is founder of the Edge (ETFs) and Edge Pro (Options) investment advisory newsletters. Free two- and four-week trial offers have been extended to InvestorPlace readers.