U.S. equities pushed to new record highs on Tuesday, with the Dow Jones Industrial Average crossing over the 23,000 level for the first time but unable to hold the threshold into the closing bell. There was no single catalyst for the rise, merely a continuation of the upward momentum that has dominated the atmosphere since the August lows.
In the end, the Dow Jones today gained 0.2%, the S&P 500 gained 0.1%, the Nasdaq Composite lost a fraction and the Russell 2000 lost 0.3%. Treasury bonds were stronger, the dollar gained, gold lost 1.3% and crude oil was largely unsettled.
Breadth was slightly negative, with 1.4 decliners to every advancing issue. Volume was light again, at just 84% of the NYSE's 30-day average. Healthcare led the way with a 1.3% gain while financials were the laggards, down 0.6%.
Johnson & Johnson (NYSE:JNJ) gained 3.4% after reporting a third-quarter earnings beat on stronger revenues thanks to wider margins. Forward guidance was solid as well on strength in pharmaceuticals. Sprint Airlines (NASDAQ:SAVE) gained 4.2% after raising guidance on improving yields and passenger demand.
Brazilian aircraft maker Embraer (NYSE:ERJ) dropped 5.2% on competitive headwinds and a downgrade from Deutsche Bank after Airbus and Bombardier decided to team up on the latter's C Series program (after U.S. trade action against Bombardier).
Goldman Sachs (NYSE:GS) fell 2.6% after reporting a big earnings beat after a better-than-expected performance for its fixed income, currencies, and commodities trading after two quarters of underperformance. And Netflix (NASDAQ:NFLX) lost 1.6% after reporting better-than-expected subscriber numbers on Monday night as investors focused on headwinds from increasing content costs and competitive pressure.
On the economic front, industrial production rose 0.3%, in line with expectations, despite a negative impact from hurricane damage. Housing market activity as reported by the NAHB increased to its best level in six months despite tepid buyer traffic.
After the close, IBM (NYSE:IBM) surged nearly 5% in extended trading after reporting earnings of $3.30 per share, beating estimates by two cents despite a 0.4% decline in revenues thanks to a lower tax rate.
Conclusion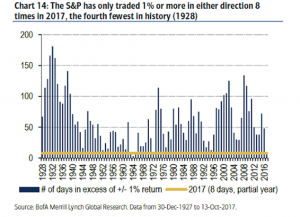 Click to Enlarge The market's persistent rise has been characterized by a historic lack of volatility. According to Bank of America Merrill Lynch, the S&P 500 has only traded 1% or more in either direction eight times so far this year; tied with 1965 (full year) for the third lowest in history. The only years with quieter conditions were 1964 and 1963.
Compare that to the situation in 2008, with 134 days with a 1% or greater move.
It's worth noting that in the early 1960s, like now, the Federal Reserve was keeping monetary policy relatively easy despite a very tight labor market as measures of inflation were tepid. That proved an epic policy mistake: Cost-push pressure materialized shortly thereafter, the Fed wasn't about (and wasn't willing politically) to hike rates hard enough in response, giving way to two decades of higher interest rates and stagnant stock prices.
Check out Serge Berger's Trade of the Day for Oct. 18.
Today's Trading Landscape
To see a list of the companies reporting earnings today, click here.
For a list of this week's economic reports due out, click here.

Tell us what you think about this article! Drop us an email at editor@investorplace.com, chat with us on Twitter at @InvestorPlace or comment on the post on Facebook. Read more about our comments policy here.
Anthony Mirhaydari is the founder of the Edge (ETFs) and Edge Pro (Options) investment advisory newsletters. Free two- and four-week trial offers have been extended to InvestorPlace readers.