Twitter Inc (NYSE:TWTR) has been a big winner over the past few months. And now with the TWTR stock price hovering just below $20-per-share, many are wondering if the move is finished. But it looks like Twitter stock could make a run to $25 — more than 20% above current levels.
I've liked Twitter for a little while, calling it a buy back in August and over the last three months, TWTR stock is now up about 20%.
So what's going right with Twitter?
TWTR Stock: Fundamentally Better
One reason so many companies — like Walt Disney Co (NYSE:DIS) and Salesforce.com, Inc. (NASDAQ:CRM) — declined to purchase Twitter was due to the user abuse issues. The company has been working, albeit slowly, on fixing these issues. Further improvements here could go a long way.
It has also been working on incorporating more live-streaming video on its platform. With Twitter becoming the go-to source for breaking news, live-streaming video has far more potential going forward. In fact, that's one reason I've made the case that Twitter may be a good fit for Disney. I know DIS stock shareholders don't want to hear that, but ranging from entertainment to sports to news, it covers a lot of bases for Disney.
If the company can make a safer, more engaging atmosphere, Twitter is a goldmine. Throw in the fact that it has plenty of advertising potential and TWTR's platform looks even more attractive.
Another reason TWTR stock is looking attractive? Snap Inc (NYSE:SNAP). Surprisingly, the company beat on earnings-per-share estimates but, once again, came up short on revenue. User growth was disappointing and investors are exiting in droves. (Here's the full breakdown.)
Anyway, as these investors bail on Snap, they have two places to go: Twitter or Facebook Inc (NASDAQ:FB). In fact, I've argued that both stocks have potential, but you should avoid Snap at all costs. FB is best in class, but Twitter is super unique. It has value; it just needs to unlock it.
User growth — in the form of 4% year-over-year (YoY) monthly active user growth and 14% YoY daily active user growth — is returning to Twitter. Additionally, the fourth quarter may show a profit. Admittedly, the trends aren't amazing, but they're moving in the right direction.
Downsides to Twitter
There are downfalls with Twitter. First, the company is still not profitable on a net income basis, generally losing about $500 million annually. Although to be fair, through the first nine months of 2017, that figure is roughly "only" $200 million and with a profitable fourth quarter, it could set up Twitter with some good momentum.
But in any regard, revenue growth slumped 4.2% YoY last quarter. It fell 7.8% and 4.6% in Q1 and Q2, respectively.
While Twitter reported 4% YoY monthly active user growth last quarter, it actually overstated its user growth over the prior three quarters. Not exactly a good thing, although the market was willing to overlook it.
Trading TWTR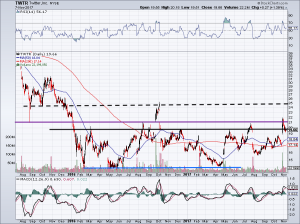 Click to EnlargeAfter rocketing from ~$17 to about $22 in just a few trading sessions, the TWTR stock price has cooled off and pulled back to $19.50. Although it briefly got above $21, it's pretty clear this level has been stiff resistance over the past two years. In fact, $20 hasn't been a cakewalk either.
I would feel more comfortable with TWTR stock if it were able to get back above $20 (black line) and especially if it were able to get above $21 (purple line).
If that were the case, it puts the recent $22 highs squarely back in focus. Even a rally from $20 to $22 would be a 10% gain — no sneeze of a move.
But above $22, the TWTR stock price should have clear sailing and strong momentum. If only it had a stronger advertising or direct-purchase system on its platform. Perhaps something set up with Amazon.com, Inc. (NASDAQ:AMZN), especially ahead of the big fourth-quarter shopping season. Either way, there's lots of potential if Twitter can execute.
If the TWTR stock price is able to get above $20, and especially if it can get above $21, I think $22 and $25 are in the sights.
Bret Kenwell is the manager and author of Future Blue Chips and is on Twitter @BretKenwell. As of this writing, he did not hold a position in any of the aforementioned securities.