Shares of GoPro Inc (NASDAQ:GPRO) had been treading water near $8 per share. While some bullish investors saw it as a frustrating development, consolidating near support isn't exactly a negative. However, my concern is beginning to grow with GPRO stock breaking below this level and now trading near $7.75.
The current quarter is what many investors are trying to decipher. Is GoPro having a good quarter with strong sales? Or are sales lacking as consumers opt for streaming devices like Roku Inc (NASDAQ:ROKU) or Apple Inc. (NASDAQ:AAPL) or Fitbit Inc (NYSE:FIT) products.
Incidentally, there's a great trade in FIT stock, while Apple could win the holidays with its new iPhone lineup.
GoPro or Go Home
I don't think it's much of a debate as to what company makes the best action camera. Clearly, it's got to be GoPro. Heck, one was even submerged in hot lava, and the content was still retrieved. GoPro's got my vote. But sometimes a high-quality product can be a company's downfall as well.
Now I'm not saying GoPro would be better off making junk instead. But when people buy a Hero4 camera, what incentive do they have a year, two years, or three years down the road to buy a new camera? At $300, these cameras surely aren't cheap.
In some respects, there will always be a market for these devices, such as when they break or new customers enter the market. But my concern is the lack of recurring sales.
As the GoPro network grows, how will it attract current and previous customers? Completely new products are one way, but I have an issue with some of GoPro's new devices. The new Karma drone costs a whopping $799, and the new Fusion camera is $699. I continue to argue that the economy is improving and will boost disposable income, but to this extent? I'm not so sure.
Admittedly, these price points will likely boost margins. But is the company pricing out too many of its customers with this high price? Drones are cool; they're in right now. One that can carry your action camera is even better. But $800 is a steep price tag for most consumers, and that might keep them away.
It doesn't help when GoPro's competitor, the DJ Mavic Pro, is crushing them. It would have been great to see a lower-priced drone from GoPro in addition to the high-performance drone.
Trading GPRO Stock
As you can see on the chart, there's a level of support right below the $8 mark. Until recently, that level had been holding nicely. Now though, it has given way.
Bulls needs two developments in the short term. They either need GPRO stock to reclaim this prior level of support, or they need it to hold near possible support at $7.55. Second, bulls need GPRO stock to close above the 21-day moving average (green line), which has been acting as resistance.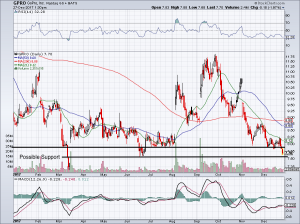 Click to Enlarge
If that happens, it will put GPRO stock on a path to higher prices. Could it climb back to its September highs near $11.75? Admittedly, a rally over 50% is a bold move, but this move would be step one to getting there. It won't happen overnight, but a strong fourth quarter could quickly put the GPRO stock price back into double digits.
GPRO stock could also run into resistance just under $9, near the 200-day moving average. Even if that's the case, bulls could net a ~17% gain should GPRO rally there from current levels.
Whether it's a 17% gain or a 50% gain, I think the ball is in the bulls' court. However, they'll need to act fast. Shares were consolidating nicely near $8 but are now near a make-or-break level. A stop loss below the $7.55 area could be used to limit losses.
While GoPro the company has a number of hurdles, GPRO stock has an attractive risk/reward. Aggressive traders looking for a quick rebound can buy now and use a tight stop loss. Conservative traders should wait to see if GPRO stock can reclaim prior support just below $8 before going long.
Below $7.55, and I would avoid GPRO, as a retest of its lows becomes more likely.
Bret Kenwell is the manager and author of Future Blue Chips and is on Twitter @BretKenwell. As of this writing, Bret Kenwell did not hold a position in any of the aforementioned securities.