Roku Inc (NASDAQ:ROKU) has been loved by Wall Street since day one. After pricing its IPO at $14, Roku's stock price flew higher by nearly 70% in its first day of trading. Shares went wild again after its first earnings report, running from sub-$20 to almost $50 in three days.
So now that it's up 270% from its IPO price, should investors buy ROKU stock?
Let's look at some pros and cons.
Streaming Is a Catalyst and a Risk
Obviously, investors would like to continue riding the cord-cutting trend. We've seen Netflix, Inc. (NASDAQ:NFLX) stock soar for years. We see it now with Walt Disney Co (NYSE:DIS) saying it will cut Netflix off as a partner and roll out its own streaming platform. A big reason why Disney bought Twenty-First Century Fox (NASDAQ:FOX, NASDAQ:FOXA) for more than $50 billion was probably to boost its streaming content offerings.
Notably, Fox decided to keep its equity stake in Roku, a ringing endorsement for the newly public company.
All of this is to say that streaming has rapidly become quite important.
Whether consumers are using Disney/Fox, Netflix, the YouTube TV offering from Alphabet Inc (NASDAQ:GOOGL, NASDAQ:GOOG), HBO Go from Time Warner Inc (NYSE:TWX) HBO or many others, Roku makes an easy-to-use platform allowing users to access them all. In essence, Roku is planting itself firmly in the streaming world, hoping that by amassing market share, competitors will be unable to pry its customers away.
The risk here — as it is for other companies that use this strategy, like Apple Inc. (NASDAQ:AAPL) — is that a competitor comes along and does it better. Or a streaming platform with its own device could squeeze out the middleman, in this case Roku. So far though, Roku is holding its ground against Amazon.com, Inc. (NASDAQ:AMZN), Google's Chromecast and others. It just needs to continue making a stickier and stickier interface.
Is Roku's Stock Price Stretched?
Right now, Roku's stock price is a positive catalyst, just like the streaming trend. But just as there could be a hiccup in that arena, so too could ROKU stock suffer from its valuation.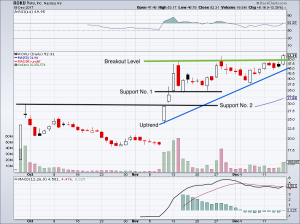 Click to EnlargeAfter rallying over 13% Friday, ROKU stock has broken out over $50. This level had been resistance twice in November.
It was again in December too, as ROKU price churned near $48 for several sessions before breaking out. Now above this level, we have a black-and-white trade proposition. Over $50, Roku stock is a long. Under $50 and we cut ties.
Of course, the downside to all this is the fact that the ROKU stock price is up almost 300% on the year. Essentially, buyers are chasing a stock that is up massively from where it stood just six weeks ago. Not to mention, the valuation is stretching pretty far.
Analysts do not expect Roku to generate positive earnings per share this year or next. While I do think Roku will continue generating better-than-expected results, I do not know that 11.7 times sales is totally appropriate. Revenue grew 40% last quarter and I would expect strong growth this quarter as well. But in fiscal 2018, analysts are only forecasting 30% growth.
Even if management easily tops those estimates, gross margins (as of last quarter, easily its best quarter of gross margins) came in at 40%. While this is almost a 1,100 basis point expansion year-over-year, it's still just 40%; 11.7 times sales seems rich to me, unless margins will continue expanding at a rapid rate. However, that seems unlikely based on the quarter-to-quarter growth, making the valuation feel too rich to me for an investment.
The Bottom Line on Roku
With shares just peeking over $50, I think ROKU stock is worth a trade on the long side. Back below $50 and I would be less optimistic. While the trend is higher for now, it's hard for me call ROKU stock a value at current levels.
Investors looking for a longer-term entry, I would wait for a larger correction.
Ultimately, on the plus side we have a charging bull of a stock in a secular growth industry. On the downside, ROKU stock has a stretched valuation, is already up big on the year and could face competitive pressure in the future.
Bret Kenwell is the manager and author of Future Blue Chips and is on Twitter @BretKenwell. As of this writing, Bret Kenwell is long DIS stock.