BP plc (ADR) (NYSE: BP) stock is up 7.2% year-to-date. According to Nasdaq, oil prices are slightly up in 2017, while natural gas prices are down. Rising oil prices help all of the four oil supermajors, but some boats have been lifted higher than others.
Leading the pack is Royal Dutch Shell plc (ADR) (NYSE:RDS.A, NYSE:RDS.B), up 17.91% year-to-date, followed by BP stock. Chevron Corporation (NYSE: CVX) stock is up 1.1%, while Exxon Mobil Corporation (NYSE: XOM), the biggest of the four by market capitalization, is down 7.72%.
BP stock reported its third quarter earnings on Oct. 31, beating on revenue and earnings. BP earned $1.75 billion in the most recent quarter, 10 times its profit for all of 2016.
BP stock is up from $34 a share when I wrote about it in April. In my April article, I raised some concerns over the company's finances.
BP's balance sheet was strained by the slump in oil prices that began in 2014. The company was in the red for much of 2015 and two quarters of 2016.
Since April, BP posted two more quarters of positive earnings. How are BP's finances now?
Has BP repaired its balance sheet in recent months?
Let's take a look at some indicators.
Three Indicators of BP Stock's Financial Health
Using more than one measure when examining a company's finances can help you get a more complete picture. Banks consider both assets and income when making a loan; investors should do likewise when surveying a stock.
The debt-to-equity ratio provides one view of a company's financial position. High ratios indicate a high degree of leverage relative to the company's net worth. Low ratios suggest a stronger balance sheet. When the debt-to-equity ratio is high and rising, investors should be concerned.
BP's debt-to-equity ratio rose from 0.43 in the third quarter of 2014 to 0.67 in the most recent quarter. According to Finviz, BP's debt-to-equity ratio is the highest of the four oil supermajors. This ratio continued rising in the past few quarters, although the rate of change appears to have slowed.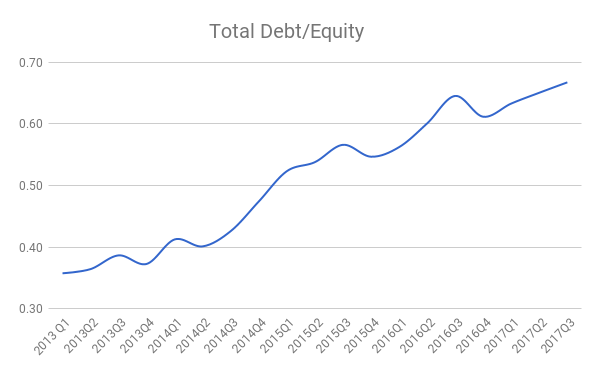 Investors can also look at how much a company owes relative to how much cash a company is taking in. The cash flow-to-debt ratio measures this, taking operating cash flow for the trailing 12 months and dividing it by total debt.
BP's cash flow-to-debt ratio peaked in the fourth quarter of 2014 at 0.62, falling to 0.18 in the first quarter of this year. Since then, it appears to have stabilized and moved upward to 0.23 in the most recent quarter.
The third measure of BP's financial health is the interest coverage ratio, which measures the company's ability to pay the interest on its debt. To calculate BP's interest coverage ratio over a quarter, divide its earnings before interest and tax by interest expense.
Before the slide in oil prices, BP's interest coverage ratio was comfortably high, at 19.6 in the first quarter of 2014.
But BP fell into the red during the fourth quarter of 2014, and the interest coverage ratio turned negative. BP's EBIT, along with its interest coverage ratio, turned positive since the third quarter of 2016.
BP's interest coverage ratio currently sits at 6.89.
Beware of Weaker Oil Prices
BP kept a lid on production costs during the oil price slump. In its recent quarterly filing, BP reported that upstream unit production costs over the previous nine months had decreased 16% from the previous year to $7.17 per barrel of oil equivalent.
BP stated in August that it can break even at oil prices of $47 a barrel. West Texas Intermediate crude currently changes hands at around $57 a barrel, giving the company some breathing room.
With Russia and OPEC agreeing to extend production cuts through 2018, the price of oil looks stable for now.
But this could change if oil prices slide once again. A weak global economy would cause oil prices to plunge.
Trouble could also come from the supply side if efforts to switch to alternative fuels and electric cars succeed.
I first noted this in my article on Tesla Inc (NASDAQ:TSLA) in February and revisited this in April. These articles provide an assessment of Big Oil's Tesla risks.
Tesla recently activated a 100-megawatt battery in South Australia. This will address solar energy's biggest weakness: the sun doesn't shine at night, so power must be stored during the day.
Although BP stock's finances have improved, I still don't see the company as an attractive investment.
As of writing, Lucas Hahn did not hold a position in any of the aforementioned securities.