There are more than a few reasons off the price chart to like the prospects of JD.com Inc(ADR) (NASDAQ:JD ). And if bullish traders appreciate a supportive technical picture and options market, JD stock looks even more compelling to go long. Let me explain.

JD.com, China's "other," but increasingly less secret, Amazon.com, Inc. (NASDAQ:AMZN) is looking like better name to own relative to the country's 800 lb. gorilla Alibaba Group Holding Ltd (NYSE:BABA).
Is it the perfect investment? Nope. Then again, if that type of offer is ever pitched in your direction, our advice is run for the hills.
What JD stock does have on its side are a few attractive items worth considering. For one, the e-commerce giant is gaining ground on a less-focused Alibaba. The company also maintains numerous key strategic partnerships with the likes of Wal-Mart Stores Inc (NYSE:WMT), Tencent Holdings Ltd (OTCMKT:TCEHY) and Baidu Inc (ADR) (NASDAQ:BIDU).
But that's not all. JD.com also continues to grow its smartly-designed logistics ecosystem and business model and has its sights on new international markets like Europe and the US. The resolve has led to solid sales growth, while profitability on a non-GAAP basis is expected to be trumped by GAAP profits for the first time in 2018.
All in all, business is looking good for JD stock. And for those traders that desire similar bullish confirmation in shares, JD.com is looking equally impressive on the price chart.
JD Stock Daily Price Chart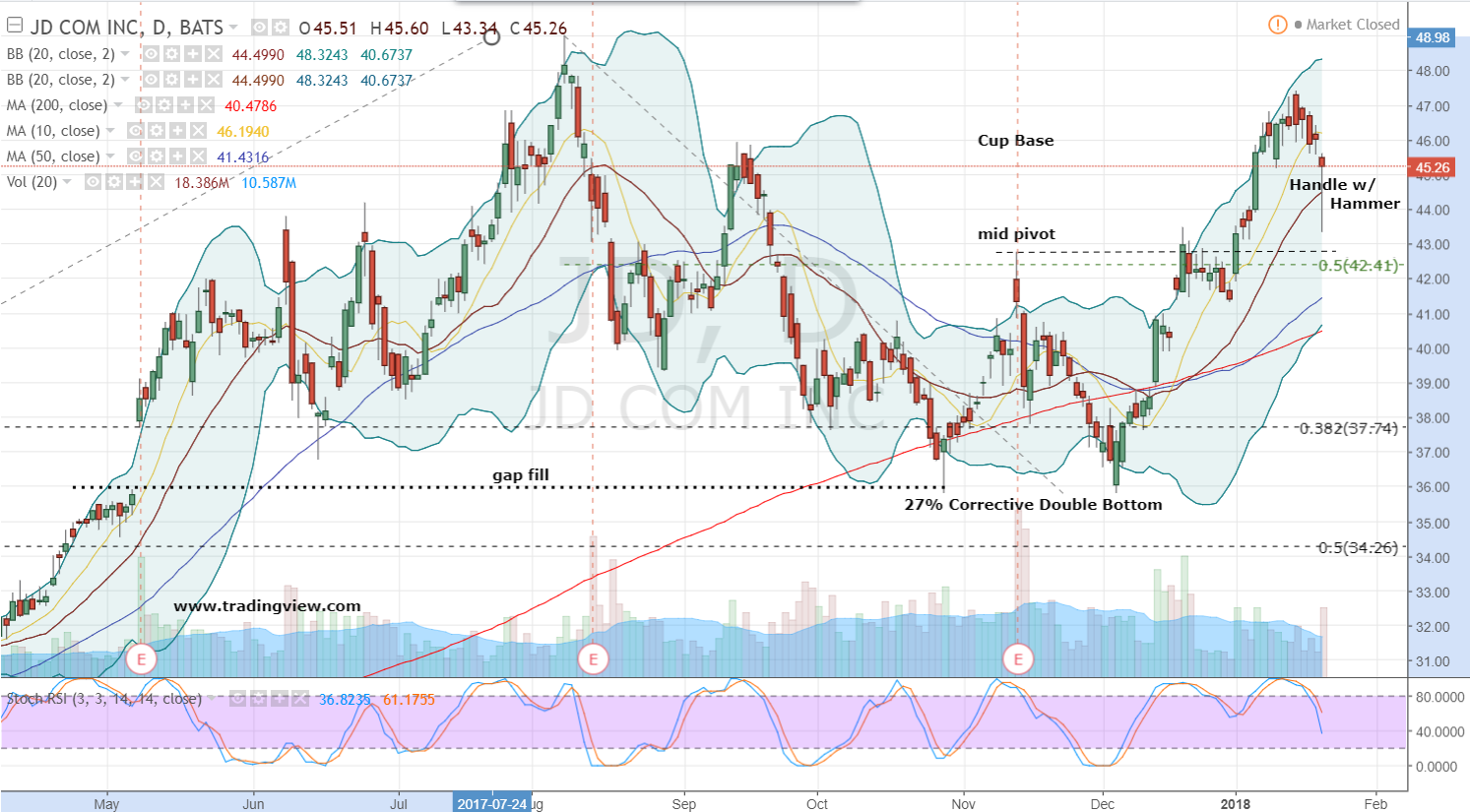 Shares have come a long way since I wrote optimistically about JD stock back at the tail end of October in the face of obvious bearish threats. In fact, JD has rallied strongly away from "bear territory" and bearish pattern alarm bells to form a bullish cup-with-handle or "W" double-bottom pattern.
Looking forward and with Monday's impressive hammer low in place, bullish investors have a decent reason to see higher prices in the coming days and weeks. JD stock now has a nice technical line in the sand for its developing handle consolidation. Should shares breakout, which I believe is likely, a conservative measured move price target of $60 appears reasonable.
JD Stock Bullish Modified Fence
Being bullish on JD stock, but also appreciative of the possibility of undesirable earnings-driven volatility, one favored spread package is a bullish modified fence.
The combination reduces and limits risk by purchasing a JD call vertical and selling a put vertical in the same contract month to finance the position. The primary objective is for the call spread to go fully in-the-money as JD stock rallies above the vertical.
Secondarily, the strategy can also work to a trader's advantage compared to owning stock outright, if one is inclined to buy into JD on an adverse price move. The reason is the loss from the spread could be minimal relative to the actual decline in shares and puts the trader in a much stronger position to consider buying on weakness.
Reviewing the options board in JD stock, one favored combination is buying the 02' March $50/$55 call spread and selling the 02' March $42.50/$40 put spread for even money or better. This particular combination allows the trader to position for a couple weeks beyond earnings and offers a 2-to-1 reward-to-risk ratio with a max profit capture of $5 above $55.
Investment accounts under Christopher Tyler's management do not currently own positions in any securities mentioned in this article. The information offered is based upon Christopher Tyler's observations and strictly intended for educational purposes only; the use of which is the responsibility of the individual. For additional market insights and related musings, follow Chris on Twitter @Options_CAT and StockTwits.