The good news is, Yelp Inc (NYSE:YELP) was able to top last quarter's revenue estimates. The bad news is, on an operating basis, the company fell short of earnings estimates. The really bad news is, though revenues are projected to grow nicely (again) in 2018, Yelp intends to spend heavily (again) on growth initiatives that will crimp per-share profits for Yelp stock.
Nothing about the quarter in question was something veteran investors hadn't seen or heard before. A company has to spend money to make money; the trick is taking in more than you give back out over the long haul. For those who know the Yelp story well though, they've heard this song before.
Might it be time to acknowledge the possibility that Yelp's business model is just too flawed to drive meaningful profits?
Yelp Earnings Recap
For the quarter ending in December, Yelp turned $218.2 million worth of revenue into a per-share operating profit of 19 cents. Both were better than year-ago comparisons, when the company posted a profit of 27 cents per share of on sales of $194.8 million. The top line topped estimates of $215.1 million as well. Those same pros were calling for earnings of 27 cents per share though.
CFO Lanny Baker commented: "We increased operating income in 2017, while achieving strong topline results aided by customer success initiatives," while Yelp founder and CEO Jeremy Stoppelman said, "We finished 2017 strong with rising growth in new advertiser acquisition and continued improvements in revenue retention from the prior year."
Both statements are true, too. It's what else was said that spooked investors into sending Yelp stock lower to the tune of 8% on Thursday. Baker went on to explain about what lies ahead for 2018:
"We are also focused on strengthening our competitive position in the highly-trafficked Restaurants category, and as a result, expect to incur operating losses of $20-$25 million related to Nowait, Yelp Reservations and Yelp WiFi collectively in 2018 as we invest in their growth."
Big spending is becoming an all-too-familiar habit, leading investors to wonder if the company will ever be able to scale up in a way that leads to the margins the market has been expecting for years now.
Hint: The company probably can't.
Perspective
Yelp, on its surface, is a good idea. An online directory that connects consumers and business replaces phone books — and replaces the Yellow Pages in particular — but adds a review and ratings dimension for consumers while also adding a promotional avenue for local businesses.
It's hardly the only game in town anymore, however, and Yelp isn't exactly the internet intersection it used to be.
Groupon Inc (NASDAQ:GRPN) is one of those other names that helps promote local business, though to be fair, it's not doing terribly well with it. Though it's been focused even more intently on localized advertising for a couple of years now, revenue fell again last quarter.
It may be a subtle sign that the remote development of a website meant to assemble and promote businesses within a certain geography for people living in that same geography is simply too complex to do effectively. It may also point to fierce competition in that space.
To that end, no competitor is as fierce as Google, owned and operated by Alphabet Inc (NASDAQ:GOOG, NASDAQ:GOOGL).
Admittedly, its take on 'local' is probably more haphazard than Yelp's or Groupon's, though to its credit Google has nicely melded its mapping functions with localized advertisers. Even without the relatively seamless integration of maps and ads though, Google itself is a destination that services millions of users every single day … users that are looking for everything. Consumers usually have to make a point of going to Yelp or Groupon to find Yelp or Groupon, and most consumers just don't think about things that deeply.
Of course, Google and Groupon are just a couple of ways, of many, that businesses and consumers connect. Facebook, Inc. (NASDAQ:FB) is proving stunningly powerful in terms of targeting advertisements at a certain geography, hooking up potential customers and businesses using the world's most popular and most-visited social networking platform.
The end result: Yelp is forever spending more and more money, growing its outlays about as fast as it's growing revenue. It's becoming increasingly expensive for the company just to tread water, as the world democratizes geographically-based searches for businesses. The graphic below illustrates the point.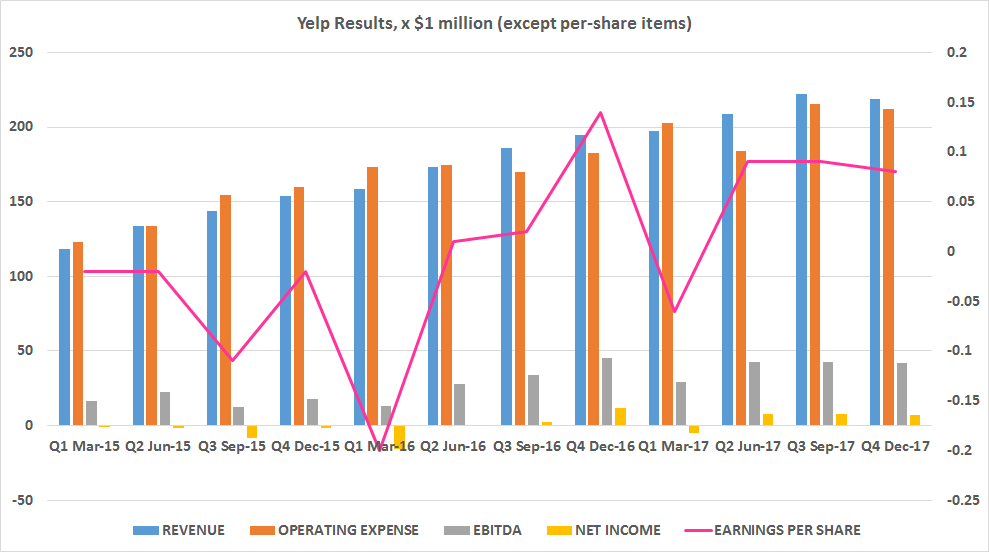 Profitability should be improving faster than revenue is growing. That's the whole point of scale. It's just not happening for Yelp.
Bottom Line for Yelp Stock
Don't read too much into the message. Though the chart above was alarming to current and would-be owners of Yelp stock, the company is successfully scaling up. It is creating more profits as revenue grows. It's slowing down though, on the revenue growth front and even more so on the margin growth front.
And it could get worse for Yelp before it gets better … if it gets better. A note from Piper Jaffray analysts yesterday explained:
"We encourage investors to take this [the outlook] with a grain of salt. Yelp consistently directs investor attention to early opportunities with a limited track record in scaling non-core initiatives. At the end of the day, Yelp is a sales headcount driven revenue scaling model, with low client retention rates and challenges in scaling margins."
The response went on to Yelp's earnings went on to say of the company's future spending plans and past expenditure habits:
"While these in part create long-term opportunities in restaurants and other categories for Yelp, we do not see these as one-time or highly scalable expenses and ought to mostly be considered as core [operating expense]."
In other words, there's no apparent end-game in sight. Yelp may well be a business that has to buy growth rather than creating it. It's not the approach owners of Yelp stock want to see because it's not a terribly profitable tactic, but it may be the only approach that works for Yelp these days.
As of this writing, James Brumley did not hold a position in any of the aforementioned securities. You can follow him on Twitter, at @jbrumley.