On Monday, Amazon.com, Inc. (NASDAQ:AMZN) dove 2.8%. But the truly shocking note? AMZN stock did better than the SPDR S&P 500 ETF Trust (NYSEARCA:SPY), SPDR Dow Jones Industrial Average ETF (NYSEARCA:DIA) and PowerShares QQQ Trust, Series 1 (ETF) (NASDAQ:QQQ), which fell 4.2%, 4.6% and 3.95%, respectively.
Given that outperformance, is it time to buy AMZN stock? Let's pump the brakes.
First of all, any time the stock market suffers a massive one-day decline like this, investors need to take pause. We've gone on a record run without the S&P 500 pulling back by 5% or more. On Monday, we almost got the entirety of that pullback in one day.
The action has many investors panicked and understandably so. Few have been clinging to cash as the markets have been ringing up gains like nobody's business. However, those that have been in cash may be wondering if now's the time to dip their toes in the water.
Eyeing Amazon Stock
Before Monday, Amazon stock was up more than 22% so far on the year, on the year! The gains were insane. More insanity? Not long ago we pointed out that Netflix, Inc. (NASDAQ:NFLX) was up more than 46% so far in 2018.
NFLX and AMZN stock were sporting RSI readings north of 90, indicating a significantly overbought situation. My short answer on whether we should buy Amazon is "no."
It's not that I don't believe in Amazon stock, it's that I don't believe in the rest of the market right now. Let me be clear: predicting prices from this point on, at least in the near-term, will be difficult and the forecast will change rapidly.
The SPY and QQQ are currently down about 7.5% from the highs. A 10% correction wouldn't be surprising and we're almost there.
The speed at which we've approached it is startling, though. I want to own AMZN stock because of its dominance in e-commerce, the cloud and voice power. And even though its about 8.3% off its ~$1,500 high, I'm not sticking my toes in yet.
If I were going to nibble on a FANG stock, I would pass over Amazon stock, Netflix and Facebook Inc (NASDAQ:FB) at the moment. I'd be most tempted to buy Alphabet Inc (NASDAQ:GOOGL, NASDAQ:GOOG). It's the closest to significant support and has a fantastic business.
Circling back to Amazon, my fear hinges on 2016. After touching $750 in December 2015, AMZN stock found itself rallying off $475 by early February. That's almost a 40% drop in about five weeks for those keeping tabs.
My fear isn't that the fundamentals have eroded for Amazon stock, it's that the market could go on a larger decline, dragging down the high-flyers with it.
Trading AMZN Stock
Amazon stock has been a beast, now up 70% over the last 12 months including Monday's fall. Its brand is powerful and its businesses have momentum. It's never been bound by valuation. So I do want to own it. But like I said, my biggest fear here is the broader market.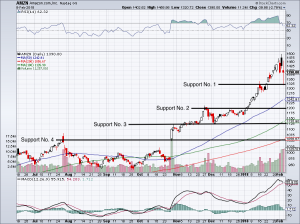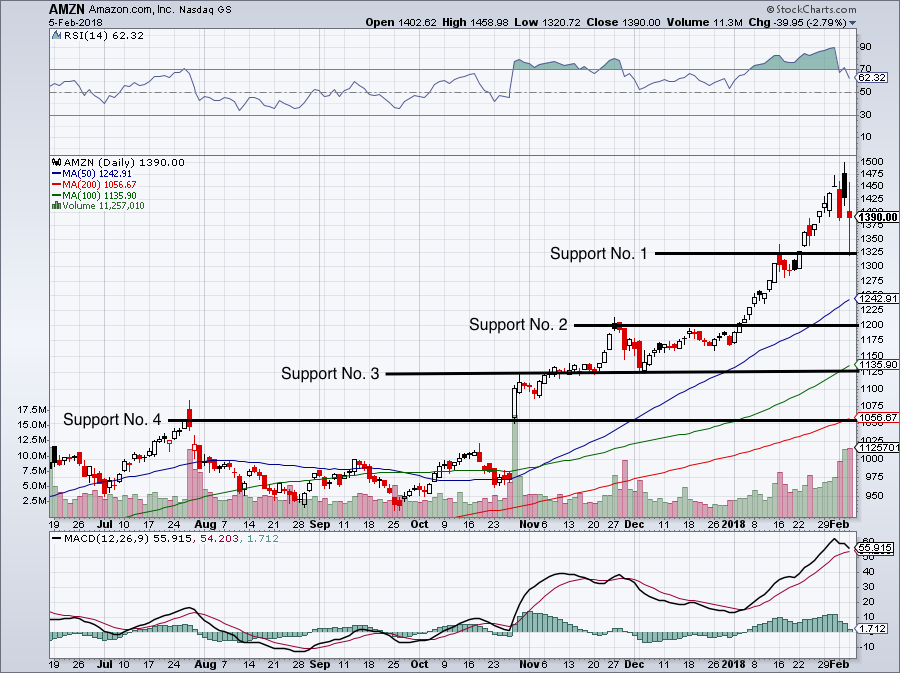 Click to Enlarge
If the SPY and QQQ decide to take a dive, Amazon stock is likely coming down with it. There's reason to believe that Tuesday Tuesday could have a harsh open and that might make for an advantageous "nibble" in AMZN stock. Let's look at some levels.
On the chart we have a roadmap for AMZN stock. Support No. 1 was hit when Amazon stock took a flash dump in Monday's trading session. This level is almost 12% off the highs. While it is a level of support that may end up holding should the market declines soon exhaust, I like support No. 2 much more.
Down near $1,200, Amazon stock should get some buoy. This would mark a roughly 20% decline from the highs. But get this: It would only be Amazon's lowest prices since…January 3rd! That's why this market still feels kind of scary.
Beyond that, support No. 3 and No. 4 at $1,125 and $1,050 should be strong support beacons. These levels are drawn by what's on the chart, nothing more. Coincidentally though, the levels represent a 25% and 30% decline, respectively, while support No. 4 ($1,050) comes into play right near the 200-day moving average.
Bret Kenwell is the manager and author of Future Blue Chips and is on Twitter @BretKenwell. As of this writing, Bret Kenwell did not hold a position in any of the aforementioned securities.