Back in 2013, Mad Money host and former hedge fund manager Jim Cramer coined the FANG acronym. Cramer called each of the FANG stocks "companies that represent the future … are dominant in their markets … and have serious momentum." He consequently declared these stocks to be long-term winners.
He was right.
Since then, Alphabet Inc (NASDAQ:GOOG) stock is up 100%. Facebook Inc (NASDAQ:FB) stock is up 200%. Amazon.com, Inc. (NASDAQ:AMZN) stock is up 300%. And Netflix, Inc. (NASDAQ:NFLX) is up more than 550%.
But times are changing. FANG is still a great group, but Facebook and Google have been weak recently. Meanwhile, Netflix and Amazon have been hotter than ever. This divergence in the FANG group makes some investors feel like it's time for a new winning group of big-growth investments.
Recently, Cramer tried to deliver that new group to hungry investors. He has created a new group of seven hyper-growth investments called the "Cloud Kings." These are companies at the heart of the cloud revolution, which is still in its early stages. As such, Cramer thinks each of these seven Cloud King stocks will roar higher over the long-term.
But are each of these Cloud King stocks a big-time winner in the long term? Or are just a few of them destined to give investors FANG-like returns over the next several years?
Here's a look at my three favorite Cloud King stocks that should yield FANG-like returns over the next several years.
Cloud King Stocks to Buy #1: Adobe Systems Incorporated (ADBE)
Of all the Cloud King stocks, my favorite is Adobe Systems Incorporated (NASDAQ:ADBE).
I've been pounding on the table about ADBE stock for a while. The company is a one-stop shop for creative professionals with powerful solutions and muted competition. This has always been the case. If you can't think of any true competitors to Adobe, you aren't alone. Just check out this list or this list of Adobe Photoshop alternatives. None of them are household names. Nor do any of them offer products even close in quality to Adobe's offerings.
But the real big catalyst for ADBE stock is that the company is morphing into a cloud business with high-margin, recurring revenue streams. The switch to an all-cloud, all-subscription business happened in 2013, and ever since then, it's been all uphill for Adobe. Revenues have soared. Profits have soared. ADBE stock has soared.
Since 2013, ADBE stock is up nearly 500%.
And growth isn't slowing down that much. Adobe is expected to grow earnings by nearly 25% per year over the next five years, driven by a combination of 15%-20% revenue growth and huge margin drivers. Meanwhile, ADBE stock is trading at just 35-times this year's earnings estimate.
That 1.4 price-to-earnings/growth (PEG) ratio is somewhat rich. But it's not that rich considering this is a big revenue growth, big margin expansion company with recurring revenue streams and a cash-loaded balance sheet. In fact, 1.4 is about as good a PEG as you will find in the cloud space.
Overall, I think Cramer is right on this one. ADBE stock is a big-time winner in the long-term.
Cloud King Stocks to Buy #2: Salesforce.com, Inc. (CRM)
The second Cloud King stock that I think will roar higher is Salesforce.com, Inc. (NASDAQ:CRM). This company is truly at the heart of the cloud and data revolutions. CRM leverages data and analytics to deliver robust cloud solutions to enterprises who want data-driven insights on their customers. The more the amount of data in the world explodes, the more companies turn to that data to provide insights, and the more companies digitize their entire business, the higher demand will go for CRM's suite of products.
That is a robust growth narrative.
But unlike ADBE, there are a bunch of notable and legitimate competitors here. Also unlike ADBE, CRM stock is very richly valued. It trades at 62-times forward earnings for 25% earnings growth prospects over the next five years. That PEG ratio of 2.5 is pretty rich.
But a rich valuation and big competition haven't kept CRM stock down in the past. And the company does find itself in the overlap of two huge secular revolutions, the combination of which should drive big growth over the next several years.
As such, I don't think CRM stock is as attractive as ADBE stock in the long term, but it still should be a winner.
Cloud King Stocks to Buy #3: ServiceNow Inc (NOW)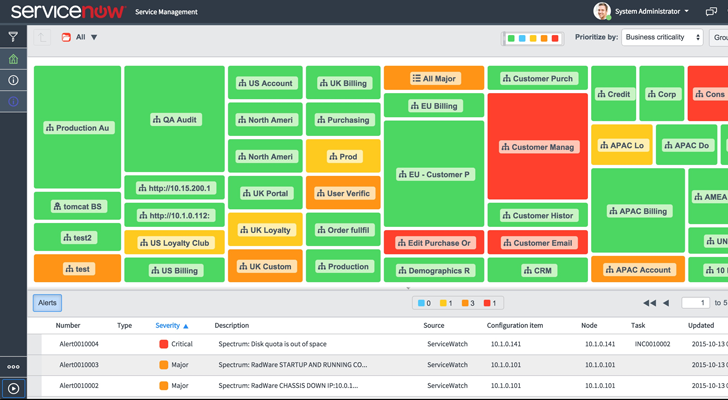 ServiceNow Inc (NYSE:NOW) reminds me a lot of an Adobe in the business digitization and automation field. Firstly, this is a company supported by secular tailwinds that should persist over the next several years. ServiceNow is currently in the business of digitizing corporate operations. This includes automating workflows and IT tasks.
But this is the just low hanging fruit in ServiceNow's addressable market. As automation goes mainstream, and jobs across the workplace get replaced by more efficient digital solutions, ServiceNow's growth will explode because they will be providing those digital solutions. In this sense, the company is a pure play on automation.
Secondly, the company has a huge, growing and massively profitable subscription business. Subscription revenues accounted for roughly 90% of total revenues last quarter, and that is a big positive because subscriptions lend themselves to high revenue visibility. Moreover, the subscription business is growing a robust rate (40%-plus) and is high margin (85% gross margins). That growth isn't expected to slow much (33.5% projected growth next year). And margins are expected to remain high (85% again next year), so it really is full-steam ahead for ServiceNow's healthiest business segment.
Thirdly, margins are zooming higher. Mostly thanks to ramp in the highly profitable subscription business, operating margins are running higher rather quickly. This expansion is expected to continue next year and will continue into the foreseeable future so long as the subscription business continues to be the biggest revenue growth-driver. Moreover, ServiceNow operates at a rather ridiculously high 27% free cash flow margin.
Fourthly, ServiceNow has a ton of customers. Last quarter, the company reported 500 customers who do more than $1 million in business with ServiceNow. This breadth of customers gives the company tremendous up-selling opportunities as automation goes mainstream. Because these 500 customers already clearly trust ServiceNow, they will likely trust ServiceNow with each new automated product launch. Thus, over the next 5-10 years, those 500 customers doing more than $1 million in business with ServiceNow, will turn into 500 customers doing more than $2 million or $3 million with ServiceNow. That growth adds up quickly.
Lastly, the stock is pretty cheap. NOW stock trades at 86-times forward earnings for what analysts project is 55% earnings growth per year over the next five years. That gives the stock a PEG ratio of 1.6, which is actually really good for a hyper-growth cloud giant.
All in all, this is a reasonably priced stock with secular growth tailwinds, a strong subscription business, healthy margin drivers, and tons of customers. That makes this Cloud King stock a long-term winner.
As of this writing, Luke Lango was long FB, GOOG, AMZN, ADBE and NOW.