IBM (NYSE:IBM) is stuck in an unusual situation. As one of the mainstays of the Dow Jones, you'd expect IBM stock to perform relatively poorly. Year-to-date, the benchmark index is down nearly 2%, and let's be honest: IBM isn't exactly a mover and shaker. Yet so far, shares are up around 3%. Is it enough, though, to convince investors to jump aboard?
Technically, it's a tricky question to answer. On one hand, IBM Common stock got off to a brilliant start to the year, jumping up to more than 9% YTD on Jan. 18. Since then, we've only seen choppy and largely negative trading.
But it's also fair to note that IBM still ranks ninth in the Dow, sandwiched between JPMorgan Chase & Co. (NYSE:JPM) on top and UnitedHealth Group Inc (NYSE:UNH).
Is International Business Corp stock a disappointment? No, you definitely can't say that. However, it's difficult to find many folks who consider it a compelling value.
If you thought the covering analysts can better elucidate the situation, think again. Out of 25 analysts this month, only seven rate IBM stock as a buy or strong buy. Granted, this number is significantly more than the three that rate it underperform.
However, a whopping 15 analysts, or 60%, recommend a hold. That's not the conviction you're looking for if you were considering buying shares.
Valuing IBM Common stock on fundamental metrics becomes even trickier. Since 2015, shares have steadily become more overvalued relative to earnings. The last fiscal year was particularly painful due to a sharp tax hit. But even taking aside the tax provision, net income would still have slowed, making earnings valuation expensive.
Is it still worth considering International Business Corp stock? I think it is for a few reasons.
Don't Overlook Positives for IBM Stock
Most people's reaction to IBM is indifference. The underlining company is likely older than the oldest person reading InvestorPlace articles. Certainly, if millennial investors were seeking technology names, they'd rather go for Microsoft Corporation (NASDAQ:MSFT) or Amazon.com, Inc. (NASDAQ:AMZN).
However, IBM may offer more positive surprises than people give it credit for. One reason I say this is because the softness in revenue growth has been priced in. Back in 2012, IBM's total revenue was $104.5 billion, while the average share price was $166. In 2016, sales dipped to $80 billion, but so too did the average share price, at $141.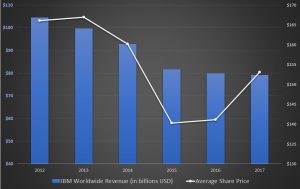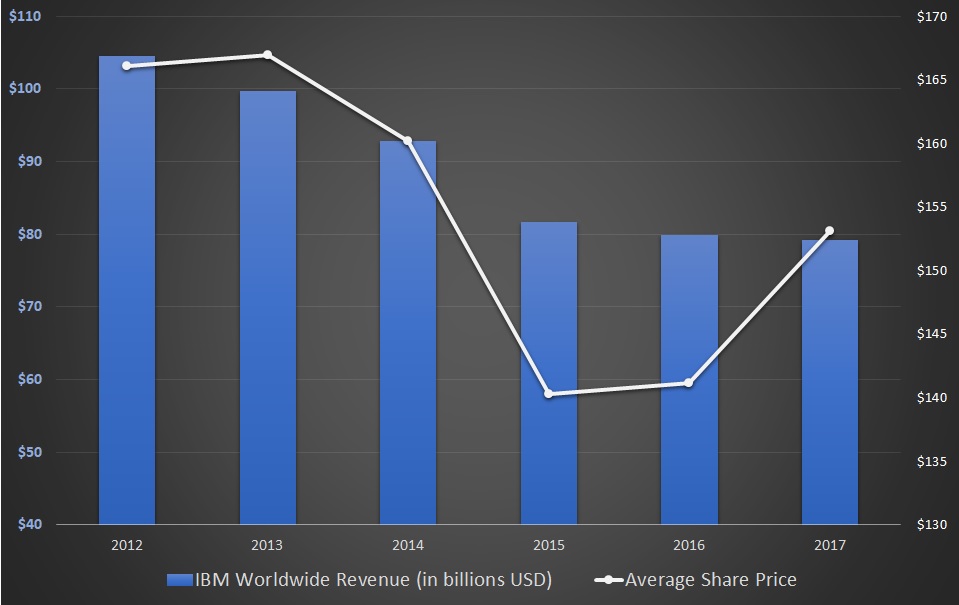 Click to Enlarge
Don't think that you're buying IBM stock at a premium because you're not. The market's recognized the company's competitive challenges and has discounted the price accordingly.
More importantly, management is not sitting back and feeling sorry for itself. A great example is the data server market.
IBM, along with rival Hewlett Packard Enterprise Co (NYSE:HPE), were the dominant players at the beginning of this decade. Unfortunately, competition from new entrants stole significant market share. IBM was ill-prepared for a war of attrition, leading to painful losses.
However, since the first quarter of 2017, the iconic tech giant has been steadily increasing its market share. In Q4, the company took up 13% of the data server sector, the best result since Q4 2015. Moreover, its rival HPE has been losing market share over the last few quarters.
It's early, and we'll still need to see more data. However, getting ahead of the trend is what investing is all about. If anything, these trends prove you shouldn't dismiss IBM stock until you give it a closer look.
Back to the Basics
When analyzing International Business Corp stock, many people will invariably compare it to current tech players. I think this is a mistake because IBM has never been a sexy investment. Rather, it's something that keeps you in the game with a lower risk profile than more speculative names.
For the most part, it's done its job well. Investors who get into IBM stock aren't looking to make it rich off one card. This is the complete opposite mentality of, say, cryptocurrencies.
Finally, let's not forget that IBM has a generous 3.8% dividend yield, something that speculative growth stories can't offer. What makes IBM stock interesting at this juncture is that much of the bad news has been priced in. Additionally, the company has demonstrated growth potential in lucrative sectors.
As of this writing, Josh Enomoto did not hold a position in any of the aforementioned securities.