Sound investing principles call for a healthy serving of stable, dividend-paying, blue-chip companies. But let's be honest: sound investing can also be incredibly boring. A big draw of market participation is to get in early on megatrends that others don't see or find too risky.
Pot stocks certainly fall into the latter category.
Right now, the biggest trends in the markets are artificial intelligence, the blockchain and marijuana. Of these, marijuana represents the subject matter about which investors should know the most. After all, marijuana has been around as long as man has walked the earth.
Unfortunately, the reality is that cannabis, more so than any other investment sector, is clouded with controversy. Like politics, marijuana is a dinner-table topic that you only bring up if you want to ruin a perfectly fine evening. As a result, many buyers avoid pot stocks for reasons other than their investment potential.
I think this is a shame because the marijuana industry has endured a disinformation campaign from the get-go. Long story short, the government declared cannabis a Schedule I drug. Today, we live under this anachronistic policy despite laws permitting other "social ills," such as tobacco or alcohol.
In other words, the moral argument against pot stocks is flawed. But a bigger factor is the raw numbers. As soon as Colorado implemented legal weed, the state noticed an immediate positive impact to its budget. In a few short years, Colorado now has a robust, billion-dollar "botanical" industry.
Prior to legalization, Colorado made zero dollars, at least from a tax-revenue perspective.
Others have quickly seen the green in green. Recently, Canada became the first G7 nation to approve recreational weed. It won't be the last. Here are eight pot stocks to watch closely.
Pot Stocks to Buy: Canopy Growth (CGC)
I previously labeled conservative investing strategies as boring. However, if you're going to partake in a speculative sector, it pays to deal with the best. This description is an apt one for Canopy Growth (NYSE:CGC). Levering a market capitalization of over $5.3 billion, CGC is the alpha dog among pot stocks.
Risk-adverse investors will also appreciate that Canopy Growth stock isn't nearly as volatile as its lesser-capitalized peers. That's not to say that CGC stock is as reliable as a Dow Jones 30 stalwart, because it simply isn't. However, it has some characteristics that you'd find in more traditional fare — such as a stable, cash-rich balance sheet.
Canopy Growth has a key partnership with spirits-maker Constellation Brands (NYSE:STZ), which gives the weed company an extra credibility-boost. Last year, Constellation acquired a 9.9% stake in Canopy, which was worth $190 million at that time.
However, do note some important risk factors: Canopy consistently loses money in its quarterly reports, so this is a gamble in every sense of the word. Also, its share price has skyrocketed in recent years, so the low-hanging fruit is gone.
But if you want to get your feet wet in a reliable marijuana play, CGC stock is it.
Pot Stocks to Buy: Aurora Cannabis (ACBFF)
With a market cap just shy of $3 billion, weed-powerhouse Aurora Cannabis (OTCMKTS:ACBFF) isn't too far behind from Canopy Growth. As you might expect, Aurora shares similar characteristics with its well-capitalized competitor.
Aurora maintains a healthy balance sheet, especially when compared to most other pot stocks. The company's strong Altman Z-score, indicative of fiscal stability, is a major highlight. Aurora recently racked up debt in the first quarter amounting to nearly $160 million. However, this is offset by a cash and equivalents balance of $223.6 million.
Fundamentally, the biggest reason that speculators buy ACBFF stock is due to the underlying company's production prowess. Aurora has made key acquisitions and partnerships, both in its native Canada and abroad. After Aurora reaches its full operational capacity, it could churn out 570,000 kilograms of cannabis annually.
But just like Canopy Growth, ACBFF isn't without its risks. Primarily, Aurora is a money-loser, so its shares won't appeal to conservative buyers. Also, the share price has mooned since its introduction, so capital growth is more limited than speculative pot stocks.
Still, Aurora is a major player, and looks to be even bigger in the years ahead.
Pot Stocks to Buy: Cronos Group (CRON)
A significant detractor to pot stocks is the fact that most of them are traded in over-the-counter exchanges. Now, plenty of reasons exist as to why companies list their shares in the markets' underbelly, and they don't all involve shady dealings. Sometimes, management simply doesn't want to pay the extra fees associated with reputable exchanges.
But since pot stocks are largely in their infancy, a little bit of credibility can go a long way. Case in point is Canadian investment firm Cronos Group (NASDAQ:CRON). Previously an over-the-counter affair, CRON stock jumped 37% in the week when it joined the Nasdaq. While shares have settled down into a tight, horizontal range, Cronos demonstrates the power of marketability and perception.
Cronos also lays a path forward for publicly traded weed companies looking to make substantive progress. With a Nasdaq listing, investors are more likely to consider CRON than if it were still an over-the-counter stock. And that's a great thing because Cronos has several assets, including a medical-cannabis business and cultivation facilities.
Investors should note that while Cronos has produced positive earnings in the past, it's not consistent. Moreover, sales figures are nominally small. Last year, CRON delivered revenues of only $3.2 million.
That said, I don't expect Cronos sales to stay that low considering that the marijuana industry is growing exponentially.
Pot Stocks to Buy: Auxly Cannabis (CBWTF)
Royalty and streaming companies are often associated with the commodities sector, and in particular gold and silver. The business model isn't centered on production; rather, a streaming company offers capital for operational purposes. In return, the company receives a cut from the production at reduced rates.
When you consider the legal complexities of marijuana, the streaming business makes perfect sense. Auxly Cannabis (OTCMKTS:CBWTF), which was formerly known as Cannabis Wheaton, doesn't grow its own marijuana plants. Auxly instead provides the operational and start-up costs for marijuana growers, of which Auxly receives their production share.
Most financial institutions are leery about marijuana-related businesses, especially in the U.S. Thanks to the Schedule I classification, the federal government could technically crack down at any time. Therefore, weed startups must seek alternative financing, which is when Auxly comes into play.
Despite the potential of this business plan, CBWTF hasn't enjoyed much success recently. On a year-to-date basis, shares are down an alarming 55%-plus. But on the other hand, if you're looking for a company whose low-hanging fruit hasn't been plucked, this is it.
Pot Stocks to Buy: Scotts Miracle-Gro (SMG)
Most people primarily recognize Scotts Miracle-Gro (NYSE:SMG) as a home-gardening-products manufacturer. Another way to put it is that the iconic company has survived and thrived for a century-and-a-half offering mundane services. That all changed when SMG decided to take a billion-dollar bet on marijuana.
Don't worry: Scotts Miracle-Gro is still the same company you've grown up with and love. However, management recognized that they needed to take risks to grow and stay relevant in the 21st century. To that end, they've dived into the hydroponics business, which enables marijuana-growers to enhance their botanical prowess.
The advantage to buying SMG stock as a play on the cannabis sector is that it's still a "normal" investment. Hydroponics isn't illegal; instead, it's the purpose behind the platform that can turn questionable.
However, being a readily accepted investment doesn't mean SMG stock is less volatile than other pot stocks. Since the beginning of January, shares have tanked nearly 26%. Moreover, Scotts' foray into the cannabis-specific hydroponics business hasn't always gone down smoothly.
At the same time, SMG has dropped back down to around 2016 prices, making it an attractive contrarian bet.
Pot Stocks to Buy: Emerald Health Therapeutics (EMHTF)
Anti-weed advocates often assume that the legalization movement is a vehicle designed to excuse people wanting to get high. While that element will never go away within this sector, that's not the central driver for pushing legalization initiatives. Canada's Emerald Health Therapeutics (OTCMKTS:EMHTF) proves this point.
Medical patients seek cannabis-based therapies for a variety of reasons, and Emerald provides this valuable service. A big plus is that they make the process incredibly easy. Patient registration simply requires an application signed by the prospective patient and their doctor. From there, Emerald enters the patient information into their database, providing access to specific marijuana strains and therapies.
Beyond their patient services, Emerald is heavy vested in cannabis-related research. Notably, Emerald scientists experiment with plant genetics to explore new treatment options for a growing list of ailments and diseases. They also receive grants from the Canadian government to further pursue their research.
Despite many positives, EMHTF remains a speculative opportunity. Since its January opener, shares have lost nearly 50% in the markets. That said, contrarians and weed bulls may consider this a favorable dynamic as they won't buy into extreme momentum.
Pot Stocks to Buy: Glance Technologies (GLNNF)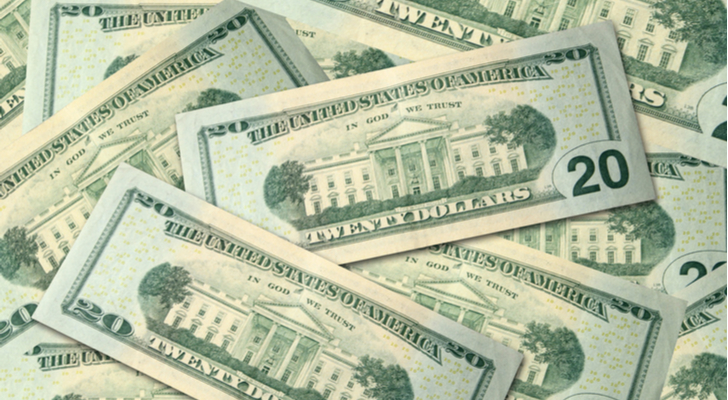 Mobile-payments specialist Glance Technologies (OTCMKTS:GLNNF) doesn't initially appear to belong in a list of pot stocks. After all, this is a company that has developed its own cryptocurrency as a means to simplify everyday transactions.
But just like blockchain technologies have disrupted traditional financial institutions, the cannabis-legalization movement aims for a similar impact. Recognizing a shared ethos, Glance licensed its mobile-payments platform to The Yield Growth Corp., which was formerly known as Cannapay Financial. In addition, Glance bought nearly half of The Yield Growth's stock.
Fundamentally, GLNNF is a mixed bag. On one hand, it has excellent strength in the balance sheet, with a highlight being zero debt. That provides Glance room to invest in future developments. However, just like other speculative pot stocks, the company consistently loses money.
The technicals also present a mixed bag. Undoubtedly, most investors will be turned off with shares losing 82% YTD. At the same time, this also means that you can buy Glance at rock-bottom prices. As a purely speculative shot on the burgeoning marijuana industry, GLNNF offers an intriguing play.
Pot Stocks to Buy: OrganiGram (OGRMF)
With Canada's general embracing of marijuana legalization, cannabis ventures have sprouted like wildfire. This is great news for the underlying economy, as the Canadian government can accrue tax revenues that were previously nonexistent. However, the abundance of pot stocks makes individual names difficult to distinguish.
I think this is one of the major reasons why OrganiGram (OTCMKTS:OGRMF) hasn't become a household name among weed investors. The company has an impressive medical-cannabis portfolio and proven, outperforming marijuana-production facilities.
But the key difference is that OGRMF has the numbers to back up its investment potential. As you might expect from a burgeoning industry, OrganiGram features outstanding revenue growth. At the same time, management has kept its costs and expenses within reason. Therefore, OrganiGram isn't an automatic money-drainer. In fact, it showed positive earnings in its last two quarters.
Finally, OGRMF stock is stable, at least as far as marijuana shares are concerned. It's up a decent 19% YTD, but patient investors can likely look forward to plenty more upside.
As of this writing, Josh Enomoto did not hold a position in any of the aforementioned securities.