Stocks are fighting to stay in positive territory Thursday after an incredibly strong day on Wednesday. Amid this stalemate between bulls and bears, there are a number of big movers. Those names made our list of must-see stock charts for Friday.
Must-See Stock Charts for Tomorrow #1: Take-Two Interactive

Take-Two Interactive Software (NASDAQ:TTWO) reported stronger-than-expected bookings and is seeing incredible momentum from its new video game, Red Dead Redemption 2. As a result, it raised its full-year guidance.
After initially rallying on the results, TTWO stock is actually down around 4%. What now?
Well, the 200-day moving average is holding as support, giving any interested investors a reasonable risk/reward setup. Below this mark and conservative investors can stop out of the trade. Those that are flexible for potentially deeper losses can use a stop-loss near $110, near the October lows.
A move back over the 50-day and 100-day moving averages could trigger a breakout over $130.
Must-See Stock Charts for Tomorrow #2: Roku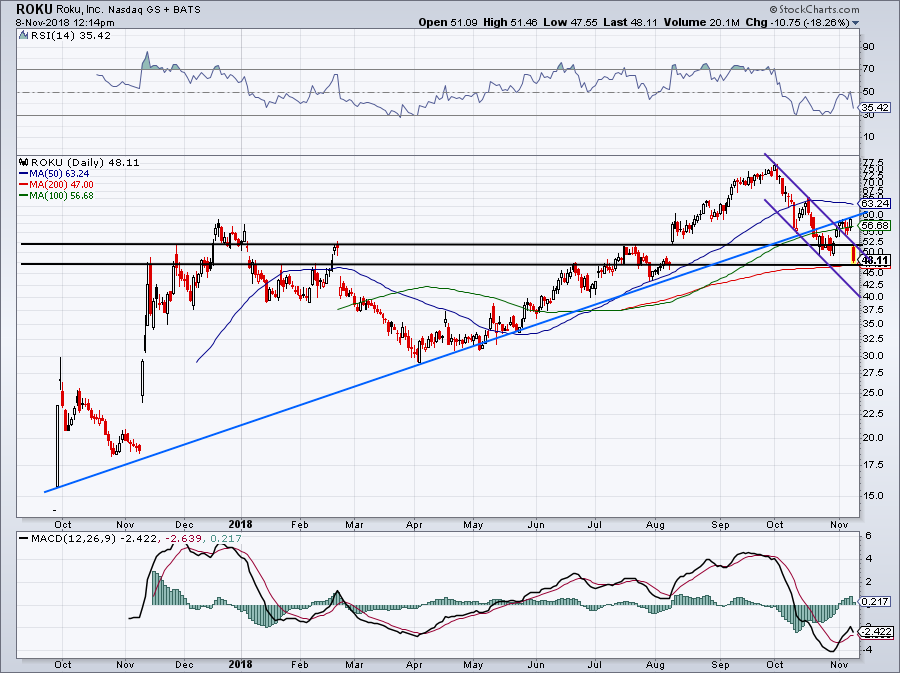 Roku (NASDAQ:ROKU) stock is being slammed 18% on Thursday, despite beating estimates and raising guidance. What's a company gotta do these days to get some love?
We were looking for the $52.50 level to act as support, but after opening near $51, the October lows couldn't even buoy Roku. So now what?
Investors who are looking for a solid risk/reward on Roku may have it near current levels. With level support playing a role — although not as significant as $52.50, according to my eye — and the 200-day moving average just below current levels, investors can dip their toe in the water.
That being said, this is Day 1 of the selloff. I don't like to nibble on the first day of a big decline, but risking $1 to make $5 is pretty tempting. Especially with how good a company Roku is and how good the quarter really was. For some, the risk is simply too high and I can't blame them. Roku is interesting to me on the long side near $48 though, particularly with a tight leash.
Must-See Stock Charts for Tomorrow #3: Square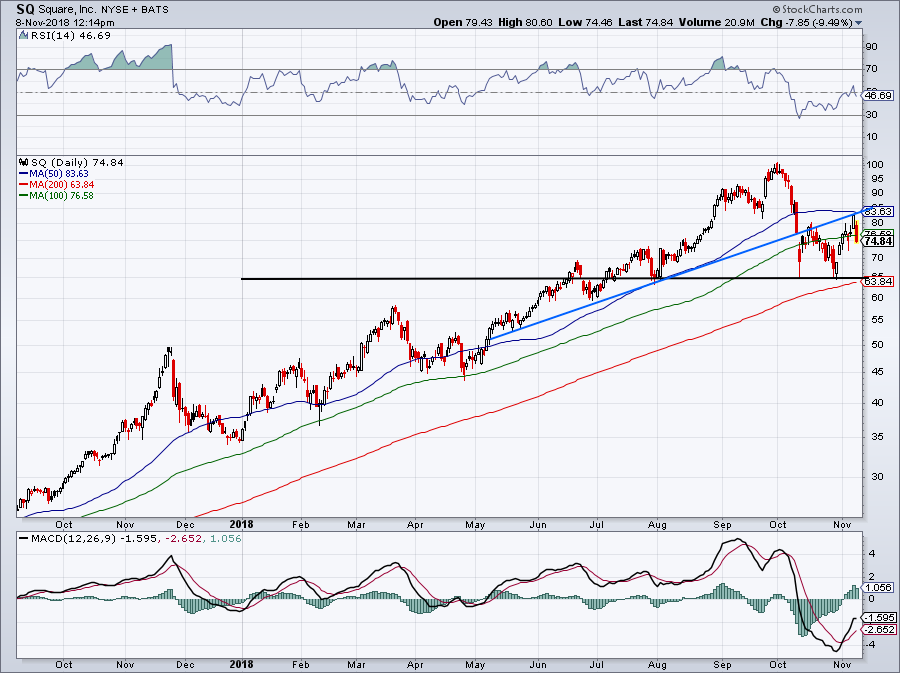 Make it 0-for-3, with Square (NYSE:SQ) striking out as well. The company bested earnings per share and revenue expectations, but came up short on guidance. Shares are down 10% as a result.
The decline could increase the confidence of short sellers looking to push this high-valuation name back down to its recent lows near $65. If they do, it will likely represent a great buying opportunity.
This mark held up twice in October, and finds the 200-day moving average nearby. At the very least, this should give SQ a bounce, should it get there.
Should SQ start to rally instead of continue to fall, look to see how it handles the 100-day near $76, the 50-day near $83 and the backside of prior uptrend support (blue line).
Must-See Stock Charts for Tomorrow #4: PayPal

A name often discussed when mentioning Square is PayPal (NASDAQ:PYPL), which is trading quite well this week. After a big move on Wednesday, shares are holding up well on Thursday despite the beatdown in Square.
So now what? Depending on how one draws their trend-lines, PYPL either broke back above prior uptrend support (black line) or is (approximately) running into it now (blue line).
That said, Wednesday's move was more important and the fact that it didn't give up those gains amid Square's decline is impressive. Wednesday's move propelled PYPL over the 50-day and 100-day moving averages, as well as over downtrend resistance (purple line).
As long as it stays over these marks, PYPL looks good.
Must-See Stock Charts for Tomorrow #5: JPMorgan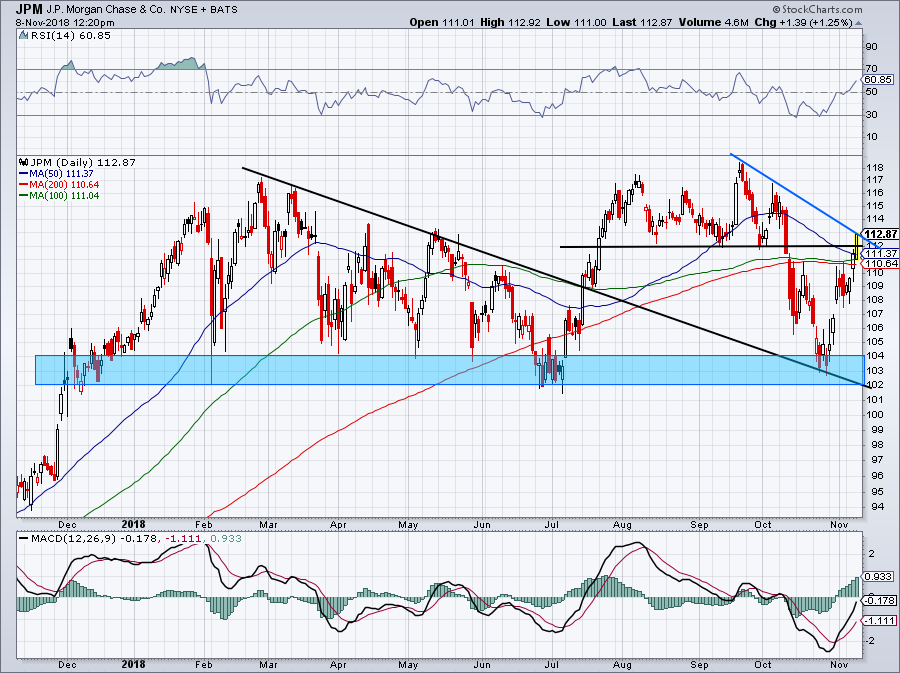 I couldn't decide on JPMorgan (NYSE:JPM) or Tesla (NASDAQ:TSLA) for the last slot, so I did them both.
Like PayPal, a powerful move on Wednesday has left it in a good spot. Up another 1% Thursday, JPM may run into resistance. Or is it breaking out?
I continue to love JPM on dips into this $102 to $104 area and not more than a week ago investors got a chance to go long. If they did and they're not long-term holders — despite the low valuation and juicy yield — they may want to pare back their position.
Those getting in more recently will want to see JPM hold above its trio of major moving averages, the lowest of which sits at $110.60. As long as it's above that, JPM may clear downtrend resistance. Keep in mind though, the Fed's announcement could shake this one up a bit.
Must-See Stock Charts for Tomorrow #6: Tesla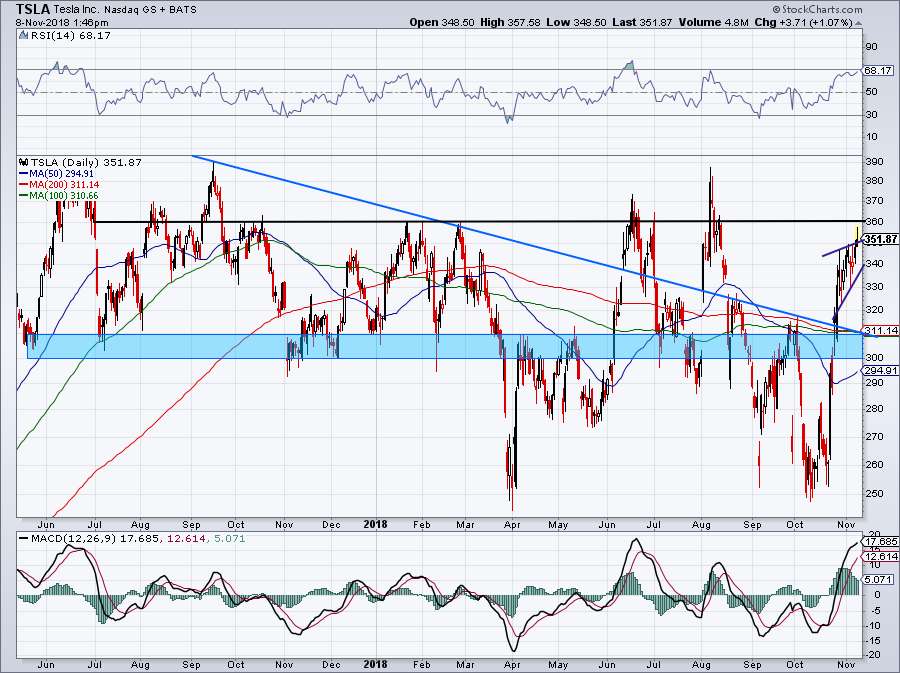 After a strong post-earnings run, Tesla continues to reach higher. On Wednesday night/Thursday morning — depending on your time zone — Tesla announced a new chairwoman. Shares are up slightly as a result.
So what now? Look to see if Tesla can breakout over stiff resistance near $360. If not, look to see if it can regain its footing in the $330 to $340 range. If not, bulls might get another shot at Tesla near $310.
Bret Kenwell is the manager and author of Future Blue Chips and is on Twitter @BretKenwell. As of this writing, Bret Kenwell is long ROKU, PYPL and JPM.