Cryptocurrencies were smoking hot in 2020. Now, after a bit of a dousing, is it time to buy into this emerging market? That decision looks more approachable with an eye on the stock market and three diversified companies offering crypto exposure, as well as solid strides elsewhere.
This week a shot was fired over the bow at cryptocurrencies, with specific ammunition aimed at Bitcoin and Ethereum by treasury secretary nominee Janet Yellen. In a nutshell, on Tuesday the soon-to-be government brass suggested "curtailing" the crypto market given its ties to illicit wheeling and dealings.
The warning was taken as a sure indication the new administration intends to crack down on digital currencies. And as one of Wall Street's more favored investments in recent months, the comments didn't go unnoticed. It even sparked criticism from staunch Bitcoin supporter Cathie Wood, whose outspoken and spot-on aggressive bet on Tesla (NASDAQ:TSLA) and other cutting edge investments has made her ARK Invest funds among today's most profitable ETFs in the market.
Yellen's remarks also unsurprisingly stoked crypto bulls to action. Given Bitcoin's huge run-up of more than 900% since its March Covid-19 low, some messy-looking and less sure-footed profit-taking followed in its wake. But were investors right to be spooked? If like the ARK Invest founder and CEO who noted Yellen was "on policy watch as bitcoin soared from ~$1,000 – ~$20,000 in 2017", you might also find Yellen's latest warning as bullishly "reassuring."
Here are 3 crypto stocks to buy in the face of Bitcoin bearishness:
If, unlike Cathie Wood, you're the kind of investor that isn't 'all-in' on cryptos, but still wants exposure, the following three companies stocks may be just what you need. And who knows, Janet's latest and modest backpedaling might eventually assist as well.
Crypto Stocks to Buy: JPMorgan Chase (JPM)


Source: Charts by TradingView
The first of our crypto stocks to bull trade are shares of JPMorgan Chase. The top banker's CEO Jamie Dimon was a notorious critic of the crypto market during the asset group's initial and infamous rally in 2017. More recently, he said Bitcoin is still "not my cup of tea."
But JPM stock is a "do as I do, not as I say" stock with regards to crypto. Behind the curtain JPM is an outfit that's embraced crypto's tethered blockchain technology given its broad applications within the banking business. JPMorgan has also created its own cryptocurrency called JPM Coin.
Technically speaking, shares recently broke out of a corrective cup-shaped base formed over the last year, but have since pulled slightly back to test the bullish pattern for support. With stochastics trending nicely, this crypto stock and market heavyweight is a buy today.
Favored Strategy: March $125/$150 Collar
Nvidia (NVDA)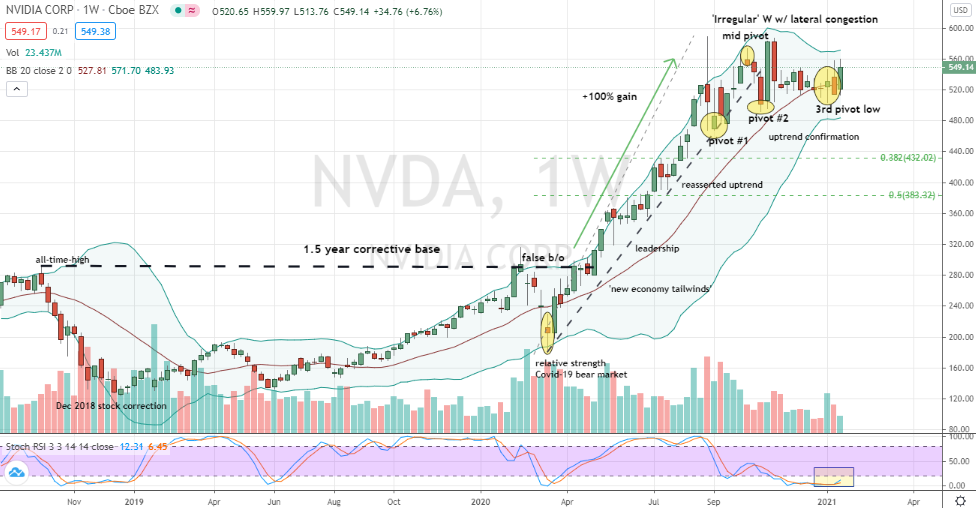 Source: Charts by TradingView
Nvidia is the next of our crypto stocks to buy. Behind much of Bitcoin's mining activities you're bound to find NVDA's high-powered processors as they're critical to demanding work which requires solving complex algorithms.
Thus far, crypto's reemergence over the past year hasn't spelled additional demand for Nvidia's GPUs. But the situation does have Wedbush's Chief Technology Strategist's watching attentively for a potential growth driver. I'd simply call crypto NVDA's unnecessary ace up its sleeve given the semiconductor outfit's success in other growth markets from data centers to gaming or autonomous automobiles and artificial intelligence.
Technically, this crypto stock has been consolidating for nearly five-months. An irregular double-bottom has been followed up by mostly lateral price movement since mid-November. More recently, a confirmed weekly doji low inside the base backed by an oversold bullish stochastics crossover supports buying NVDA on weakness today.
Favored Strategy: March $575/$625 Bull Call Spread
Overstock (OSTK)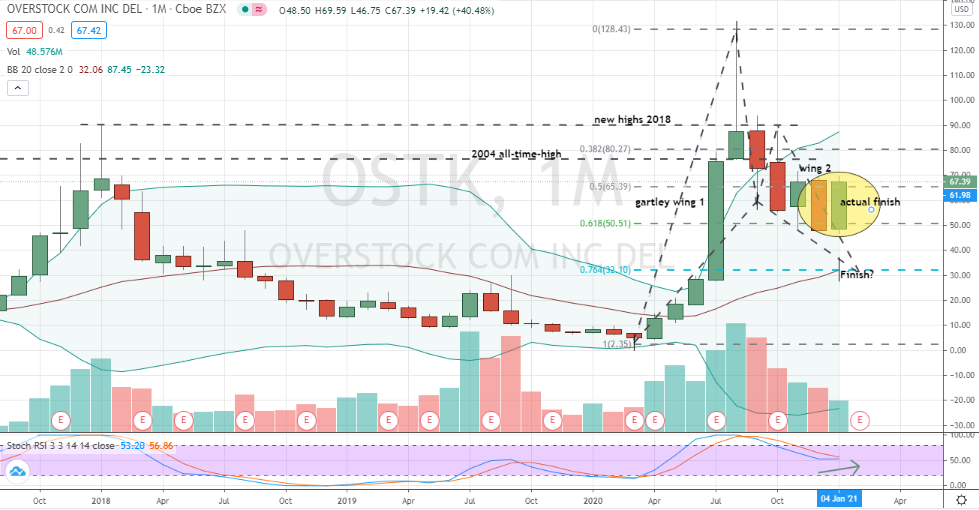 Source: Charts by TradingView
Overstock is the last of our crypto stocks to buy. It's also bar none, the most controversial. The e-commerce retailer's founder and former CEO would fit right in with today's conspiracy membership at QAnon. But to turn a blind eye to OSTK today looks like a big investment mistake.
Aside from making a huge comeback in its retail business during Covid-19, this crypto play is an early adopter of allowing bitcoin transactions for buying all those essential and nonessential goods online. Overstock is also involved in cryptos vis-à-vis its Medici Ventures and tZERO businesses.
Given the forceful upward sloping trend for online shopping and varied exposure to the crypto market, OSTK definitely has some ammo to move successfully forward. Given a valuation of just under $3 billion, maybe even more so.
More assuredly and following today's successful daily confirmation of a two-month candlestick reversal pattern to complete a slightly ill-formed Gartley pattern, going long this crypto stock looks like smart business.
Favored Strategy: June $80/$110 Bull Call Spread
Stocks owned: On the date of publication, Chris Tyler holds, directly or indirectly, positions in listed Bitcoin and Ethereum stocks (GBTC, ETHE and ETCG), but no other securities mentioned in this article.
Chris Tyler is a former floor-based, derivatives market maker on the American and Pacific exchanges. The information offered is based on his professional experience but strictly intended for educational purposes only. Any use of this information is 100% the responsibility of the individual. For additional market insights and related musings, follow Chris on Twitter @Options_CAT and StockTwits.