Undeniably, the price charts in three very green hydrogen stocks are pointing towards big-time excitement right now. And for today's investors, that means tomorrow's offensive objectives need to be sustained by great defensive tactics today. Let me explain.
By and large, alternative energy stocks of all sizes and forms felt the love from investors in 2020. Tesla (NASDAQ:TSLA), the electric vehicles (EV) market's uncontested 800 lb. gorilla, stormed higher by more than 700% to a valuation north of $650 billion. And special purpose acquisition companies (SPACs) promising a greener future such as Blink Charging (NASDAQ:BLNK), QuantumScape (NYSE:QS) or Switchback Energy (NYSE:SBE)? Let's just say they did okay too.
But the fire lit under hydrogen stocks last year has reached new levels of explosive price action in 2021's early going. I'd go so far as to suggest a copy of the song, "I'm So Excited" should come with each stock purchase.
To be fair — well kind of — it's not just a Joe Biden presidency and Democrat-controlled Congress that's driving hydrogen stocks higher. There has been news within the niche area to support consulting group McKinsey's vision of a hydrogen-based economy is gaining momentum. But is the price action really justified?
Below, let's take a look at what the price charts of three hydrogen stocks have to say about other investor's excitable behavior, as well as where and how long exposure might be handled with greater care in your portfolio.
Hydrogen Stocks to Trade: Plug Power (PLUG)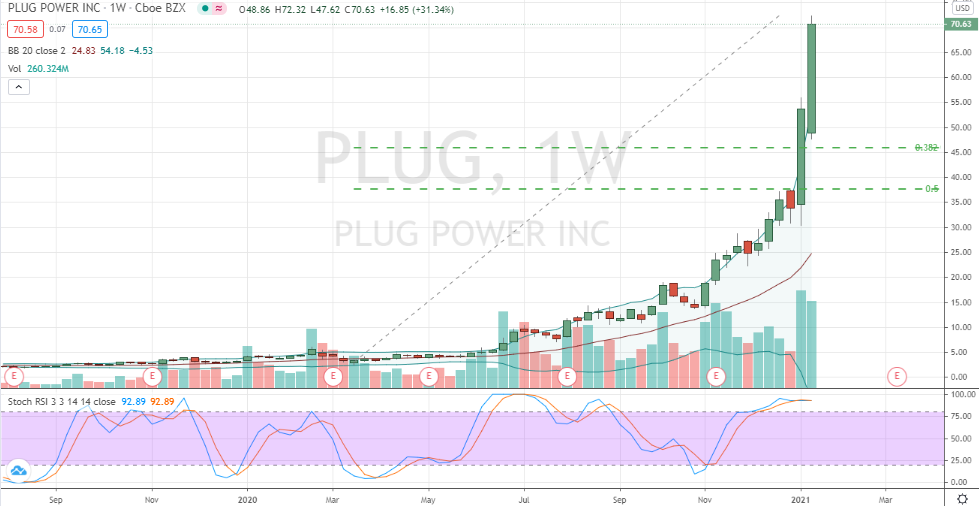 Source: Charts by TradingView
The first of our hydrogen stocks to trade are shares of Plug Power. It wasn't always the case, but over the course of 2020, PLUG become the de facto choice of investors looking for a piece of the hydrogen economy. It's shares were up over 1,000% last year. And it certainly wasn't without cause.
Plug Power does have an A-list of customers. Amazon (NASDAQ:AMZN) and Walmart (NYSE:WMT) use its forklift technology in their operations. Nice, right? PLUG has also been making good on aggressive sales forecasts many on Wall Street were skeptical of. Sorry bears. And there's more good news in early 2021.
This past week PLUG scored a $1.5 billion deal with South Korean industrial giant SK Group. And Tuesday the outfit announced its partnering with French automobile giant Renault (OTCMKTS:RNSDF) in a joint venture utilizing PLUG's fuel cell technology in its European commercial vans. The deal stands to control 30% of the market. The bad news, if any, is that overzealous investor approval has put shares into a well-overbought technical situation.
I don't suspect PLUG will ever see its Covid-19 lows of near $3 again. But could this month's 100%-plus rally stumble? You bet. Even the best growth stories routinely go through stiff periods of corrective activity. Losses of 30% are common. And given the right and less forgiving environment, even deeper corrective activity is often par for the course.
Alternatively, with a correction still nowhere in sight and trends sometimes being more robust than we give them credit for, a low-risk, high-reward slightly out-of-the-money vertical looks appropriate. If the rally continues, there's huge leverage with this strategy. And if this hydrogen stock trades south over the coming weeks, a small positional loss can be swapped for a more deliberate stock collar spread.
Favored Strategy: March $75/$90 bull call spread
Bloom Energy (BE)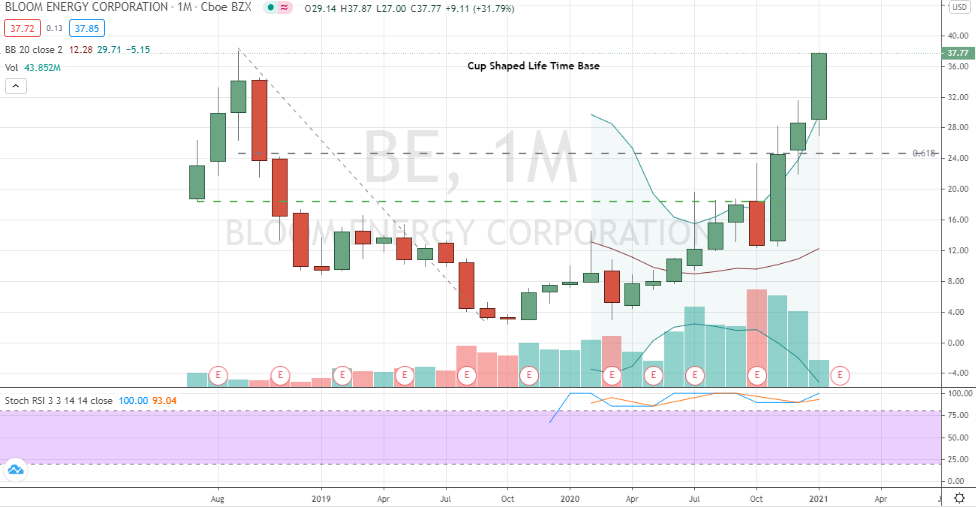 Source: Charts by TradingView
Bloom Energy is the next of our hydrogen stocks to trade. Unlike PLUG, this hydrogen play flies a bit under the radar. However, that could be about to change in a hurry if its price chart has any say in matters.
BE is known as a manufacturer of on-site solid oxide fuel cells to large commercial buildings for the production of electricity. But it's the company's electrolyzer technology which converts renewable electricity into hydrogen fuel which could be a game changer. This pivot opens up multiple new markets as a fuel generator for ships, trucks and utilities. The market potential could be upwards of $2 trillion.
This month's rally of 30%-plus in BE stock may sound like investors are a bit too excited on the heels of 2020's gain of about 300%. But technically, a lifetime cup-shaped base suggests otherwise.
Favored Strategy: March married put
FuelCell Energy (FCEL)


Source: Charts by TradingView
FuelCell Energy is the last of our hydrogen stocks to trade. Of the three, it's the most hotly contested. And maybe for good reason. The fuel cell power plant manufacturer has been around the longest and has the least to show for those efforts. Still, three may not be a crowd in today's hydrogen market.
Continued policy changes from governments which further benefit renewables are likely on the horizon. And today FCEL also has plenty of cash in the bank after well-received secondaries courtesy of 2020's very friendly and helpful 450% surge in stock price.
In total and along with a price chart whose monthly Bollinger Band is now expanding out of a near-death pinching pattern, conditions are shaping up for the group's black sheep. And while I won't be personally singing "I'm So Excited" about this particular hydrogen stock, now more than ever, FuelCell is in a solid position to prove its critics wrong once and for all.
Favored Strategy: April $20/$30 bull call spread
On the date of publication, Chris Tyler holds, directly or indirectly, positions in Plug Power (PLUG), Bloom Energy (BE) and their derivatives but no other securities mentioned in this article.
Chris Tyler is a former floor-based, derivatives market maker on the American and Pacific exchanges. The information offered is based on his professional experience but strictly intended for educational purposes only. Any use of this information is 100% the responsibility of the individual. For additional market insights and related musings, follow Chris on Twitter @Options_CAT and StockTwits.