Shares of Fisker (NYSE:FSR) motored strongly higher Wednesday. But is it still safe to park a FSR stock position in your portfolio or a name to steer clear of? Let's take a look at what's happening off and on the price chart, then offer a risk-adjusted determination aligned with those findings.
It's been a rough and tumble week for most risk-assets, but particularly so for many of the market's high-fliers of the past year. Large-cap technology plays like Amazon (NASDAQ:AMZN) and Tesla (NASDAQ:TSLA) saw nasty percentage losses at their worst. But the declines in those market giants haven't been the cruelest by a longshot.
Special purpose acquisition companies (SPACs), which burst onto the scene with a wave of hot offerings in 2020, have taken it on the chin through Wednesday's close with many of those stocks signaling or reaffirming bear markets after declines in excess of 20%.
Blink Charging (NASDAQ:BLNK). Virgin Galactic (NYSE:SPCE). CIIG Merger (NASDAQ:CIIC). Pershing Square Tontine (NYSE:PSTH). Opendoor Technologies (NASDAQ:OPEN). Those are some of the inter-week SPAC casualties led by company-specific worries that throttled EV plays Churchill Capital (NYSE:CCIV) and Workhorse Group (NASDAQ:WKHS).
A Different Turn
Yet peer FSR, whose luxury EVs are aimed to compete against Tesla, saw its stock turn a decidedly different corner on news which found investors diving in headfirst, rather than running for the exits. And while many SPACs did find interested buyers amid yesterday's broad-based bargain-hunting spree, shares of Fisker soared by nearly 39% to score marginal new all-time-highs intraday. So, what gives?
Tuesday evening, the California-based "asset-light" EV designer whose process eliminates in-house manufacturing and assembly to improve margins and operating costs, announced a key partnership with Taiwan's Foxconn Technology Group. Best known for its central role in assembling Apple (NASDAQ:AAPL) iPhones, Foxconn's agreement with Fisker is for the production of the company's second and much higher volume EV. Manufacturing is set to begin in Q4 of 2023.
Brakes please!! The fourth quarter of 2023? Yup. But at least bullish investors can take comfort in knowing it's Fisker's second vehicle? Well, kinda sorta. Vehicle #1 from FSR also requires a bit of patience. The thing is the outfit's much-anticipated Ocean SUV isn't set for its rollout until the final quarter of next year. Yikes!!??
FSR Stock Weekly Price Chart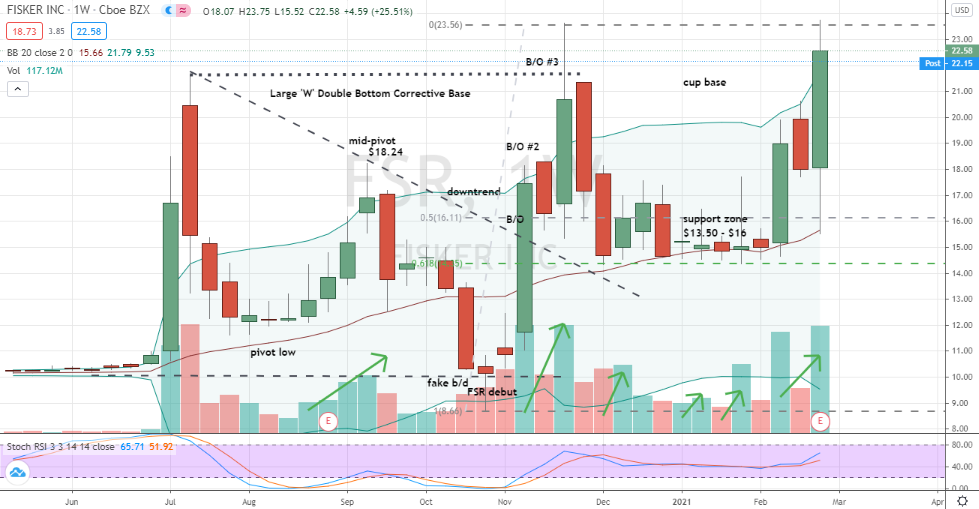 Source:
Charts by TradingView
No doubt, FSR stock is asking investors to wait a fairly long time before the rubber on its EV's actually hit the road. Mentioned above, Churchill Capital, another Tesla competitor, tumbled 57% after announcing its soon-to-be bride, Lucid Motors, is pushing out deliveries of its first EV, the Dream Edition Air sedan from this spring to sometime in the second half of this year.
Shouldn't that car manufacturer's alarm bells be sending a loud and clear warning to FSR investors? Maybe not.
For one, Lucid is set to go public with a valuation of $11.75 billion. At the same time and even after gaining nearly 40% Wednesday, FSR stock maintains a more modest market cap of around $4.5 billion. Fisker also has cash in the bank to keep it on track.
More Evidence
Still need more evidence that FSR stock may have something more under the hood for additional upside in shares?
Despite CCIV's fallout, those shares are still up a whopping 187% in 2021. That's a great deal more than FSR's return of 54% on the year. And while Fisker's stock gain is certainly impressive in its own right, and more so given this week's risk-off market conditions, the Fisker price chart indicates an even larger rally is in the works.
Technically and similar to what a pre-merged CCIV is going through today, FSR fell out of favor with investors trading under its blank-check partner Spartan Energy in the weeks in front of its reverse merger. That closed on Oct. 30, 2020, and is denoted with "FSR debut" on the weekly chart.
Since the deal's finalization, shares are up an even more impressive 144%. But again, and rather than be worried, a very sturdy double basing pattern revealing a cup built alongside a slightly larger bullish "W" or double-bottom has us rightly bullish on Fisker.
The Signal
Coupled with positive volume indications and a bullishly positioned stochastics indicator, using a measured move out of the cup, a conservative price target at $29 to $30 over the next few months looks approachable. As much, I'm giving the green light on Fisker. But to proceed more safely while giving a bit of extra leg room, the August $25/$35 bull call spread is a solid alternative vehicle to buying FSR stock.
On the date of publication, Chris Tyler does not hold, directly or indirectly, positions in any securities mentioned in this article.
Chris Tyler is a former floor-based, derivatives market maker on the American and Pacific exchanges. The information offered is based on his professional experience but strictly intended for educational purposes only. Any use of this information is 100% the responsibility of the individual. For additional market insights and related musings, follow Chris on Twitter @Options_CAT and StockTwits.