It's one of the latest and greatest products for the kiddies. And it could be the next, next big thing to hit Wall Street. But are shares of Roblox (NYSE:RBLX) worth buying today? Let's take a look at where RBLX stock stands both off and on the price chart, then offer a well-aligned, risk-adjusted determination for investors.
Roblox. The world's most popular online gaming platform for tweens is off to a decent or less-than-terrific start as a publicly-traded company, depending on whom one asks. Shares of RBLX listed on the NYSE less than three weeks ago on March 10. And for a select few, stock ownership has meant rather quick gratification as RBLX direct-listed at $45 and as of Thursday's close shares were fetching $67.85.
Yay!! But it's been an entirely different story for most Roblox bulls.
For the majority of investors an opening day price tag on the NYSE of $64.50, peak price of $79.10 and a just completed round trip to RBLX's debut low has proven a mostly nauseating roller coaster type thrill ride.
The good news? The buyside interest in RBLX stock hasn't been without cause and may yet prove worth hanging on for.
Attractive Stats
Fun-looking line items such as RBLX's 32.6 million daily active users, which surged 85% year-over-year during the novel coronavirus pandemic, have undoubtedly looked finger-licking and buy-clicking good to investors.
So does the company's user engagement. Trapped inside, kids made full use of the platform with roughly 2.6 hours spent on Roblox. That translates into more than 30.5 million hours of attentive eyeballs and fingers, as well as an increase of nearly 125% over 2019.
There's more too. Accelerating revenue growth of 82% on sales of $924 million is another mouthwatering factoid for bulls to drool over. And yet, on Thursday, shares did test RBLX stock's opening day low of $60.50 with a print of $60.69 in the stock.
So, what gives? RBLX is a $35 billion company with lots of red ink. That's enough to possibly weigh on shares. And as good as sales picture looks, a multiple of 17x booking is steep. To be fair, RBLX's price isn't historically out-of-line with past tech high-fliers during their own growth phases. But in an environment trying to compress valuations, RBLX looks even more expensive all else being equal.
As ex-fund manager and CNBC's Mad Money host James Cramer noted this week, "This is a great growth story in a market that's lost most of its appetite for great growth stories."
Toss in a different variety of investor optimism expectant of a nearby, grand re-opening for the U.S. economy and one which could reasonably find more kids spending less screen time inside with Roblox and more scream time outdoors – and it's easy to appreciate what goes up, must come down.
RBLX Stock Daily Price Chart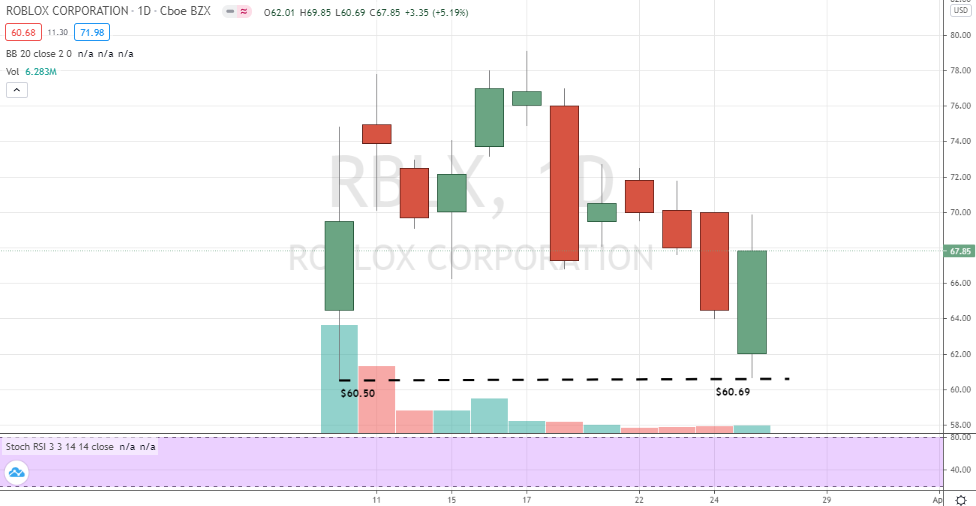 Source:
Charts by TradingView
So you think RBLX could be the next, next big thing in investing? And maybe one day down the road it's performance will put it in exclusive company with the likes of Netflix (NASDAQ:NFLX), Apple (NASDAQ:AAPL) or more recently Tesla (NASDAQ:TSLA)? I suppose it's possible. But RBLX could also go on to be a Cabbage Patch kid or Tickle Me Elmo moment.
Technically and as hinted at above, RBLX's complete round turn performance has established a double-bottom pattern. At just 12 days in length, there's not much else that can and should be said about the price chart. Well, other than a print above $69.85 in Friday's session would confirm Thursday's pattern low.
Bottom line, if you're the kind of investor that is upbeat on the company's sustainability and keen on buying RBLX stock, regardless of Covid lingering or Fourth of July block parties in our near future, I'd suggest expanding your horizon, but not too far. Off and on the price chart, a post-holiday July $70/$90 bull call spread looks about right given its fireworks-style upside potential, while smartly avoiding the headache of full stock ownership if expected explosive growth in 2021 turns into a dud.
On the date of publication, Chris Tyler does not hold, directly or indirectly, positions in any securities mentioned in this article.
Chris Tyler is a former floor-based, derivatives market maker on the American and Pacific exchanges. The information offered is based on his professional experience but strictly intended for educational purposes only. Any use of this information is 100% the responsibility of the individual. For additional market insights and related musings, follow Chris on Twitter @Options_CAT and StockTwits.