Before the Nasdaq's steep correction in February, C3.ai (NYSE:AI) traded in the $150 range. Investors who feared missing out bet that AI stock would soar to $200 or higher. So after the Nasdaq fell, causing AI to drop as well, investors disregarded the company's strong sales outlook.
Could C3.ai's fourth-quarter guidance cause investors to buy its stock again? After it lost 23 cents per share and posted revenue of just $49.1 million for its Q3, its shares will probably not be that popular.
C3.ai's Q3 Results Hurt AI Stock
In Q3, the company's revenue increased 19% year-over-year to $49.1 million. Its subscription revenue, a key metric because it reflects recurring sales, jumped 23% YOY to $42.7 million. Its CEO, Thomas Siebel, said, "I believe that we are increasingly well-positioned to establish a global market leadership position in enterprise AI software."
The company's lack of momentum in Q3, however, may undermine the CEO's assertions. In Q3, its gross margin rose by only one percentage point YOY to 75%. And C3.ai's professional services revenue dropped from 16% to 13% of its total sales. Finally, the company lost $18.5 million in Q3, much more than the $10.4 million it had lost a year earlier.
Siebel, the company's CEO, noted that its partners, including IBM (NYSE:IBM), Microsoft (NASDAQ:MSFT), and Nvidia (NASDAQ:NVDA), are driving its sales. One of C3.ai's vertical markets is oil and gas which has been generally rebounding this year. Meanwhile, the company expects its bank partners to generate a great deal of revenue for it.
The Company's Guidance
C3.ai forecast Q4 revenue of between $50 million and $51 million. For the full year of fiscal 2021, C3.ai expects its total revenue to be as high as $181.9 million. Excluding certain items, the company still expects to lose between $49.1 million and $50.1 million in Q4.
The Nasdaq has recovered from its early March lows, but AI stock failed to follow suit. With the shares trading at a trailing price-sales ratio of 40, most investors are unwilling to bet that the stock will regain its positive momentum. Wall Street analysts, however, remain unwilling to reverse their bullish views on C3.ai. Their average price target is $141.33, according to Tipranks.
As shown in the chart from Stock Rover below, AI's quality score is below the averages of the industry and the S&P 500 index. Based on such metrics as net margin and return on invested capital, AI stock's overall quality score is 56 of 100.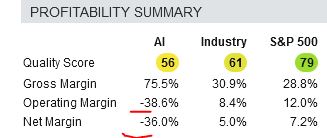 Investors may bet that C3.ai will win multi-million-dollar contracts with Fortune 500 companies, lifting its margins to positive territory. Still, the company did not forecast that it will be profitable in FY21.
The Company's Opportunity
New products bring new opportunities. C3.ai's Ex Machina product has been in the market for a few years already, but the company needs to win new customers through online training seminars and advertising. Siebel, the CEO, said on the company's Q3 earnings conference call that:
"You can think of this as serving the same market needs that's currently served by Alteryx (NYSE:AYX), which is basically associated with the democratization of data science, this is allowing people who would normally be doing analytics with pivot tables, okay, on an Excel spreadsheet to be doing a no code, low code, WYSIWYG."
Eliminating multiple software solutions and Excel spreadsheets is the holy grail of data science for companies.
Siebel's strong history of bringing innovative solutions to market suggests that C3.ai will be successful. The CEO is the founder of the enterprise software firm Siebel Systems, which was acquired by Oracle (NASDAQ:ORCL) in 2005.
The Bottom Line on AI Stock
AI stock still trades at unfavorable valuations, and its share price is at the mercy of negative sentiment. Since the stock has not rallied a great deal alongside the Nasdaq in recent weeks, be wary of buying it on weakness. Instead, wait for the company's next quarterly report before establishing a position in the shares.
On the date of publication, Chris Lau did not have (either directly or indirectly) any positions in the securities mentioned in this article.