With an attention span of a gnat, it's no surprise certain investors moved on to the latest and greatest. Today, and without fear of getting squashed like a high-flying bull, it's time to check out the price charts of three of yesterday's most-shorted stocks for stronger buying opportunities today.
Bitcoin (CCC:BTC-USD)!! Ethereum (CCC:ETH-USD)!! Dogecoin (CCC:DOGE-USD)!! Internet Computer (CCC:ICP-USD)!! These days the Redditors, Robinhood's band of retail marauders and the nightly news cameras are busy in the crypto market. And right now, I'm guessing that's much to the chagrin of way too many swing-for-the-fence types who, until recently, may have been considering quitting their day jobs.
It's repetitive to say the least; that is how the market(s) cycle. Right now the crypto scene is remarkably similar to the theme-based trade in the market's most-shorted stocks earlier this year. And for those that are a bit older and wiser, you could look at pot stocks, dot-coms and other historical precedents. All warn the feeding frenzy in digital coins was destined for a very rude wake-up call.
Sure, go ahead and blame this week's dazzling correction in cryptos on what you will. Plenty are pointing fingers at China's mean regulators, Turkey's unwillingness to play ball or maybe toward one too many DOGE tweets from Tesla's (NASDAQ:TSLA) Elon Musk. It won't matter tomorrow and for a few of those 9,000 plus digital assets, today's excuses will likely turn into long-term value.
But what will tomorrow or next week bring for this new and exciting secular market? More volatility for certain. But a bottom in cryptos? Those are some big candlesticks to navigate. And from where this strategist is sitting, it would be incredibly foolish to offer any meaningful help based on those price charts.
The good news is today does offer an occasion for profiteering for investors not fully distancing themselves from the market's much quieter, most-shorted stocks as we'll discover on the price charts below.
Most-Shorted Stocks to Buy: GameStop (GME)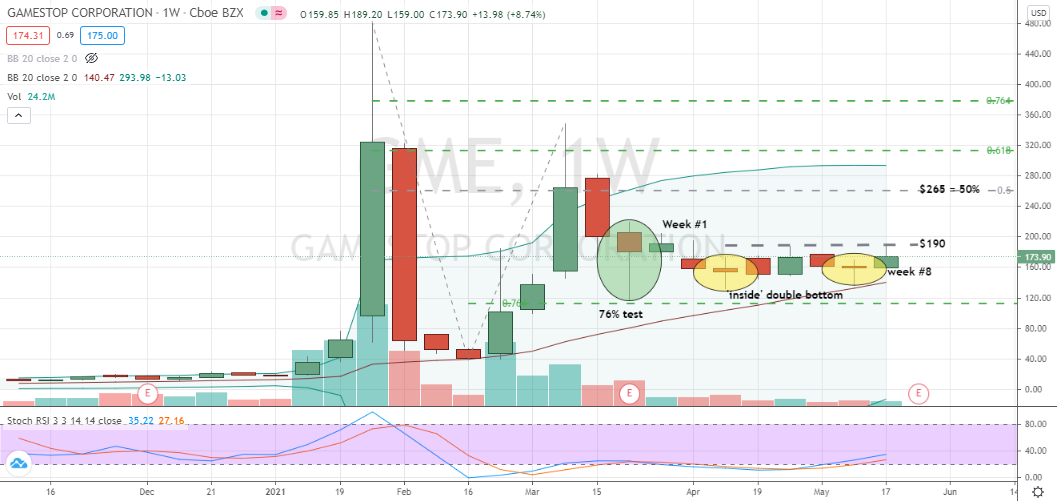 Source: Charts by TradingView
The first of our most-shorted stocks to buy are shares of GameStop. Short interest in GME stock and the ringleader of January's high-flying short squeeze escapades stands near 30%. It's not the 1.4x GameStop's float which briefly helped make GME a household name, but it is up there with today's most vilified.
The observation is those bears are wrong about GameStop's ability to successfully reinvent its brand and business. Today, with cleaned up financials, a mission to be the Amazon (NASDAQ:AMZN) of gaming and strong talent in Chewy's (NYSE:CHWY) co-founder Ryan Cohen to get them there, I like what I'm seeing. And today that includes the price chart in this most-shorted stock.
Technically, a very solid-looking double-bottom pattern and stochastics confirmation are the icing on the cake for nearly two months of inside candlestick consolidation work. I'm favoring a GME stock purchase as part of a well-structured July $150/$290 collar combination to gain upside exposure while protecting against potential bearish volatility.
Retractable Technologies (RVP)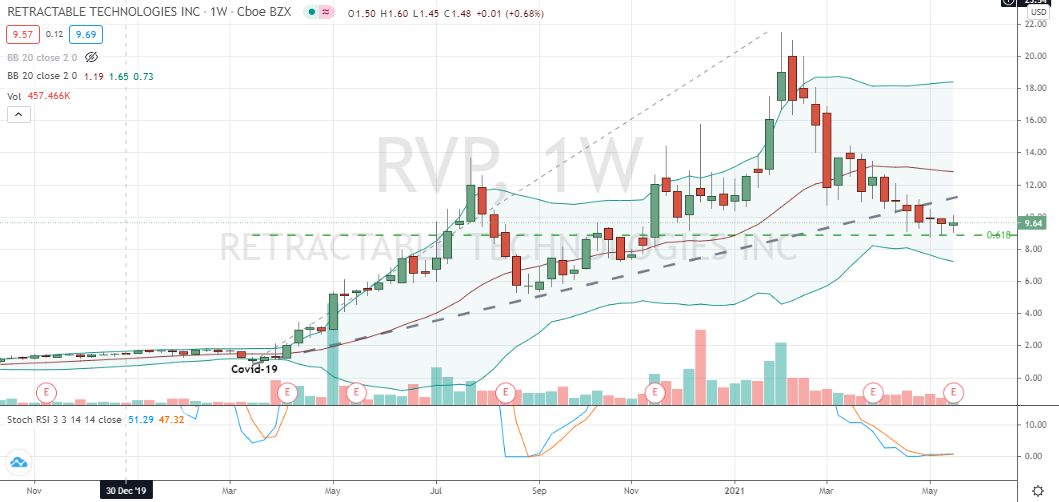 Source: Charts by TradingView
Retractable Technologies is the next of our most-shorted stocks to buy. Thank the novel coronavirus for putting RVP on the radar. It's safety syringes and medical products were an obvious windfall for the company. This was evidenced by sales growth of nearly 350% and earnings exploding by nearly 5,500% year-over-year.
Many (or at least the short interest of 20%) believe RVP's best days are behind it. In our estimation, this is another heavily shorted name where bears should pack their bags.
Bottom line, while the U.S. tries to lay the pandemic to rest once and for all, other countries aren't so fortunate. Booster prevention and a world that's vowing to be better prepared for future events of this nature suggest RVP stock's days may not be numbered. What's more, the price chart in this most-shorted stock agrees.
Technically speaking, a corrective pullback since February has successfully tested the 62% retracement level with shares confirming an inside weekly hammer candle this week. Visually, the weekly price action could be the intersection of where value meets future growth within RVP's existing uptrend. A July $10/$12.5 bull call spread is a solid way to capitalize with less-threatening side effects if conditions turn lethal.
Most-Shorted Stocks to Buy: Virgin Galactic (SPCE)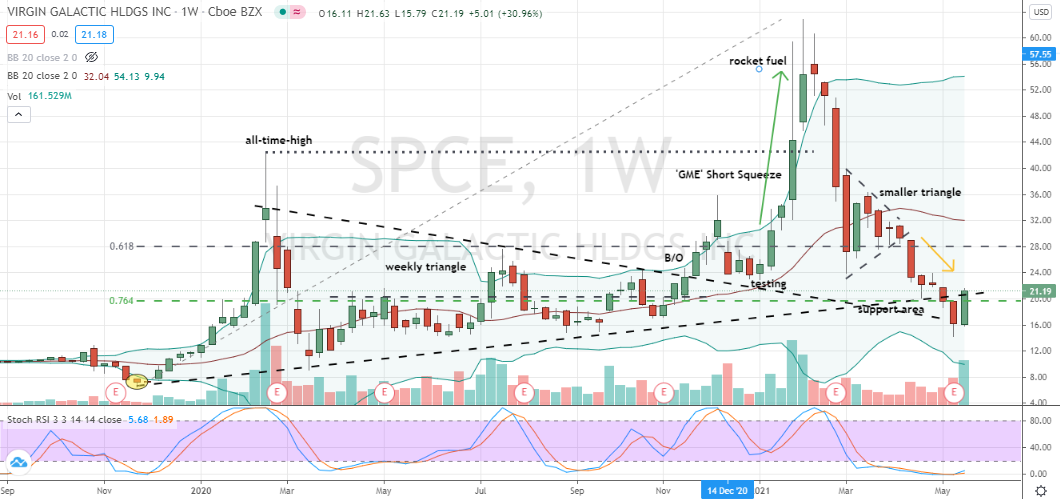 Source: Charts by TradingView
The last of our most-shorted stocks to buy is Virgin Galactic. I haven't saved the best for last. SPCE shares are kinda, sorta out of this world. Never mind that the company's mission to usher in space tourism. And today, a technical blast-off of sorts on the price chart is worth hopping on board as a bull.
The weekly view of SPCE stock reveals a larger-than-normal correction. This sent shares beneath their 76% retracement level. It has reversed back through support as part of an unusually heavy candlestick reversal pattern formed the past two weeks. And with the price action also backed by a deeply oversold bullish stochastics crossover, all systems are a go.
How to better prepare for a more realistic ride and to fend against the possibility of an aborted mission? I'd suggest buying exposure to this most-shorted stock with a July $25/$35 bull call spread.
On the date of publication, Chris Tyler holds (either directly or indirectly) positions Grayscale Bitcoin and Ethereum Trusts (GBTC and ETHE). The opinions expressed in this article are those of the writer, subject to the InvestorPlace.com Publishing Guidelines.
Chris Tyler is a former floor-based, derivatives market maker on the American and Pacific exchanges. For additional market insights and related musings, follow Chris on Twitter @Options_CAT and StockTwits.