It's time to finally plan that summer vacation, comingling with others beyond your family. But the advice for Carnival (NYSE:CCL) investors is a reminder to have a lifeboat ready at all times. Let's dive into what's happening off and on the CCL stock price chart and take a look at keeping your trading account afloat.
After 15 months of lockdowns and other mandated restrictions, most of us have bags packed, one foot out the door and are ready for group hugs, long buffet lines, fun in crowded venues and that sort of thing. And for many singles and families, as the Covid-19 pandemic recedes into the sunset in the U.S., that means taking a long-awaited vacation on Carnival.
Someday. Not so fast.
Interest Rate Risk to CCL Stock
In mid-April, CCL announced it will remain in drydock until sometime in 2021's second-half after canceling a previously announced resumption of its sailing operations. The news out of the world's largest cruise line operator wasn't entirely a surprise. Competitors Royal Caribbean (NYSE:RCL) and Norwegian Cruise Line (NYSE:NCLH) had already made declarations in accordance with CDC orders of not allowing restricted human cargo to board just yet.
That's good and bad news for CCL stock, right? Respectfully, safety comes first as the country navigates its way through a pandemic exit. And when cruise lines finally do receive orders from health regulators, they can safely cast off. Rest assured, stealing a wing off the plate from the adjacent lounge chair will feel like a risk-free proposition. Okay, maybe not.
Still, the cash burn currently required to keep Carnival afloat is somewhere in the vicinity of $600 million a month. That's more than a good chunk of change. But the real alarm bells could be rising interest rates, a risk that appears to be growing for CCL stock.
Inflation in 2021 has become a fact of life. You don't need me to tell you that, if you've gone shopping for most anything this year. Moreover, earlier this month the threat caused Treasury chief Janet Yellen to warn interest rates may have to increase. And while we might collectively cut back on gas by riding a bike or having an open-faced sandwich instead of two slices, Carnival has less wiggle room.
On CCL stock's financial statements, the long-term debt load has nearly tripled since the start of 2020 and immediately prior to the global pandemic. The upshot is Carnival's capital raising efforts are providing sufficient liquidity to weather today's still shuddered challenges and keep the outfit afloat for another year and possibly into 2023 without turning a profit. But what about tomorrow and the more immediate future?
CCL Stock Monthly Stock Chart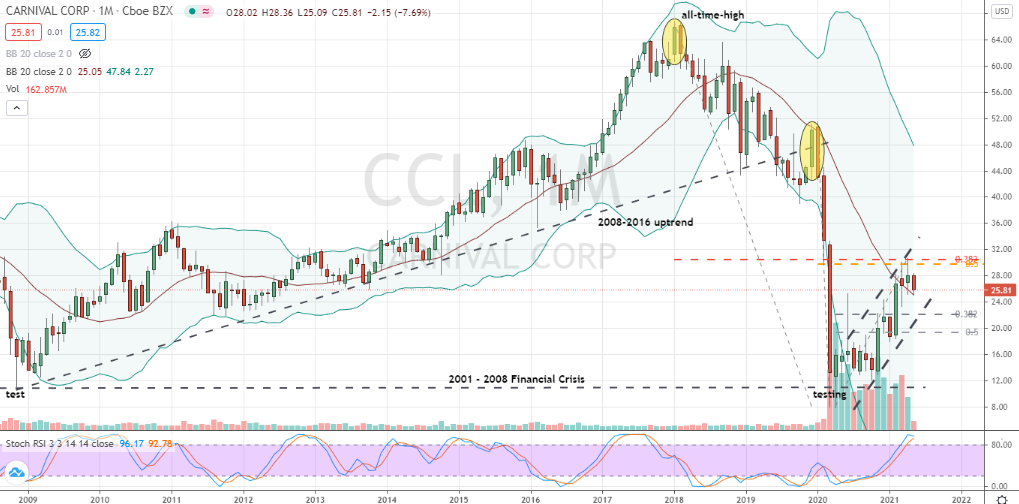 Click to Enlarge
Source: Charts by TradingView
Technically and on the CCL stock price chart, a good amount of difficult work has been accomplished in the 15 months since being torpedoed at the onset of Covid-19. On the extended monthly view that observation takes the shape of an emerging uptrend after a volatile challenge of Carnival's 2008 – 2009 financial crisis low. Today however, shares are out of position to be granted the benefit of a smart-looking purchase.
During the month of April, a doji decision candle formed against a couple key layers of Fibonacci resistance whose cycles are highlighted in yellow above. It's a warning in front of price action this month that's remained confined within the monthly candlestick's trading range.
The reason is simple enough. Follow-through beneath the candle and CCL stock's tenuous overbought stochastics suggest the bullish trend will see a period of price weakness before a pattern low can successfully develop in the next couple to few months.
Given the cautious forecast and with an eye on another set of more promising Fibonacci supports, $19.50 – $22 is an area where purchasing Carnival on pattern weakness has more working in its favor than a buy decision made today. More importantly and regardless of where shares are on the stock chart, a fully-hedged collar on CCL stock is always a worthwhile insurance policy to have in place.
On the date of publication, Chris Tyler does not hold, directly or indirectly, positions in any of the securities mentioned in this article.
Chris Tyler is a former floor-based, derivatives market maker on the American and Pacific exchanges. The information offered is based on his professional experience but strictly intended for educational purposes only. Any use of this information is 100% the responsibility of the individual. For additional market insights and related musings, follow Chris on Twitter @Options_CAT and StockTwits.