Investors are pulling the plug on shares of Plug Power (NASDAQ:PLUG). But does cheaper spell added value for today's buyers? Let's take a look at what's driving the exodus in PLUG stock, off and on the price chart, and what a risk-adjusted position aligned with those findings might look like.
"All aboard!!??" Just when PLUG finally delivered longer-term investors a signal indicating safe passage to buy, along comes Tuesday. Shares finished down 4.50% and extended this week's losses toward 9%. More foreboding, the price action calls into question a bullish monthly chart bottoming hammer candlestick confirmed last week after four treacherous months inside a bear market.
Suffice to say, this week's bearish action seemingly couldn't come at a worse time for bulls using the PLUG chart for tactical guidance. And the consequences could prove a good deal more costly than today's market price in PLUG stock as we'll discuss shortly.
Headwind for PLUG Stock
Right now though, why the sudden back peddling in Plug Power? It may have to do with General Motors (NYSE:GM).
Reuters broke news the auto giant is partnering with Pittsburg-based Wabtec to supply electric batteries and hydrogen fuel cell systems for the outfit's locomotives. Deliveries are expected in the next two years.
It's big news for GM as the company continues to pivot into green-powered alternatives away from the combustion engine. But the move also encroaches on PLUG's turf of fuel cells powered by hydrogen gas. And without getting into the actual nuts and bolts of General Motors' business tendrils relative to Plug Power, of the two market champs, GM is a much larger 800-pound industry gorilla. It's a concern.
Not All Bad News
Yet while GM's potential impact on PLUG's industry position can't be dismissed, there is good news too.
General Motors, of course, has had its share of missteps. From failed electric vehicles decades ago to its infamous credit crisis bailout by the U.S. government or more recently a broken partnership with embattled EV play Nikola (NASDAQ:NKLA), PLUG investors can maybe enjoy a sigh of relief.
While there's overlap with GM's new venture, Plug Power's bread and butter remains fuel cells powering forklifts and other commercial vehicles. This area remains on the periphery of GM's growing alt-transport inroads.
At the end of the day, it's too soon to suggest Tuesday's bearish reaction to the news will have more meaningful implications on PLUG. However, it's an overlap of sorts that's occurring on the PLUG stock price chart which may be cause for greater worry for today's investors.
PLUG Stock Weekly Price Chart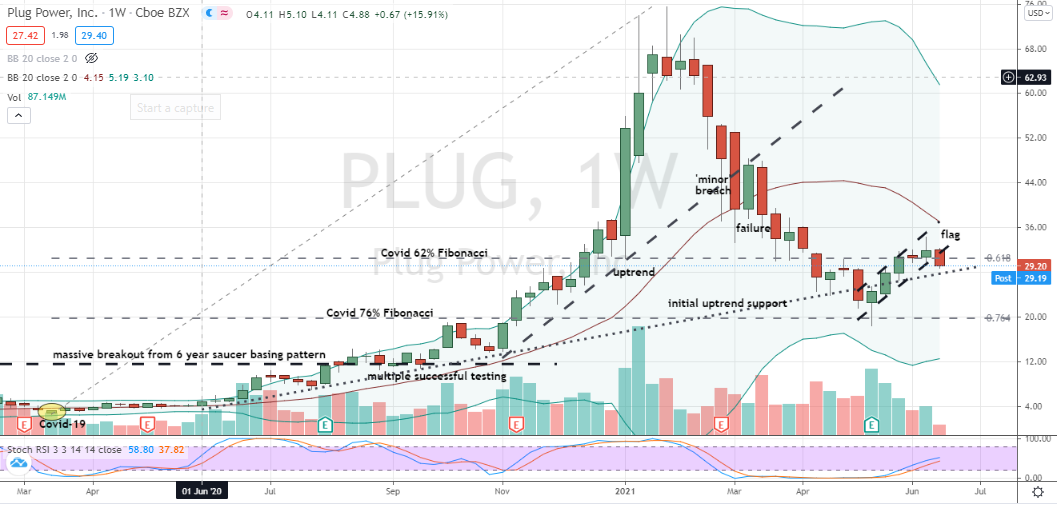 Source:
Charts by TradingView
To be fair, the retreat or overlap happening on PLUG's monthly chart doesn't look terribly concerning. At this point, shares have simply backed into the body of the highly-volatile bottoming hammer candlestick. The real burden for PLUG investors is on the weekly timeframe, coupled with other nuts and bolts taking shape on the price chart.
As the illustrated weekly view of PLUG stock reveals, shares have confirmed a pivot high within a flag formation. Fitting the pattern to the bodies of the embedded candlesticks, PLUG has also broken flag support. It has reversed beneath the stock's failed 62% Fibonacci level tied to its bullish Covid price cycle. All told, there's reasons to be anxious. That's not all either.
Shares of Plug Power are fast approaching once-broken "initial" uptrend line dating back to PLUG's pandemic bottom. A second breach could prove a more durable breakdown. And with stochastics beginning to flatten in neutral territory, it wouldn't take much for a bearish crossover signal to be confirmed. Then, a bearish "all aboard" command would be in play.
Patience Is in Order
For now, I'd recommend would-be PLUG stock buyers have some patience. I'd wait for shares to reconfirm the monthly hammer by rallying through the pattern high with a second bullish challenge before making a purchase. Also, this kind of buy signal would be greatly-improved if a currently oversold monthly stochastics is there to assist investors with Plug's first bullish crossover of 2021.
On the date of publication, Chris Tyler did not have (either directly or indirectly) any positions in the securities mentioned in this article. The opinions expressed in this article are those of the writer, subject to the InvestorPlace.com Publishing Guidelines.
Chris Tyler is a former floor-based, derivatives market maker on the American and Pacific exchanges. For additional market insights and related musings, follow Chris on Twitter @Options_CAT and StockTwits.