When will it end? I'm talking about the broader market's powerful rally. It could happen as soon as today. But in respecting a trend in motion staying in motion, with the occasional modestly bearish thrill ride, let's look at three blue-chip stocks whose price charts suggest there's substantial upside to come.
The S&P 500 and Dow Jones Industrials are proving tenacious yet again. Mid-way through the trading week, new all-time-highs have been scored. To be fair, it's been a narrow victory. But led by a gain of 0.55% and eight-straight weeks of higher-highs in the Nasdaq and its cadre of tech-focused blue-chip stocks, it's impressive to say the least.
More than a few Wall Street pros are concerned the market, or at least blue-chip stocks powering the benchmark averages higher, have overstayed their welcome. And maybe there's something to that.
From historically low bond yields to inflation threats fueled by supply chain shortages, it seems logical enough the market is well-positioned to throw in the towel on its bullish cycle. Toss in the dazzling rally in blue-chip stocks since Covid's March 2020 bear market grand finale and maybe there's even more evidence? Or not.
Bottom line, the stock market is rarely willing to acquiesce to simple logic. It also has a history of being more persistent than investors give it credit it for. Let's look at three blue-chip stocks setting up in healthier charting patterns and ready to help fuel what could be a Roaring '20s redo that's just underway.
Blue-Chip Stocks to Trade: Walt Disney (DIS)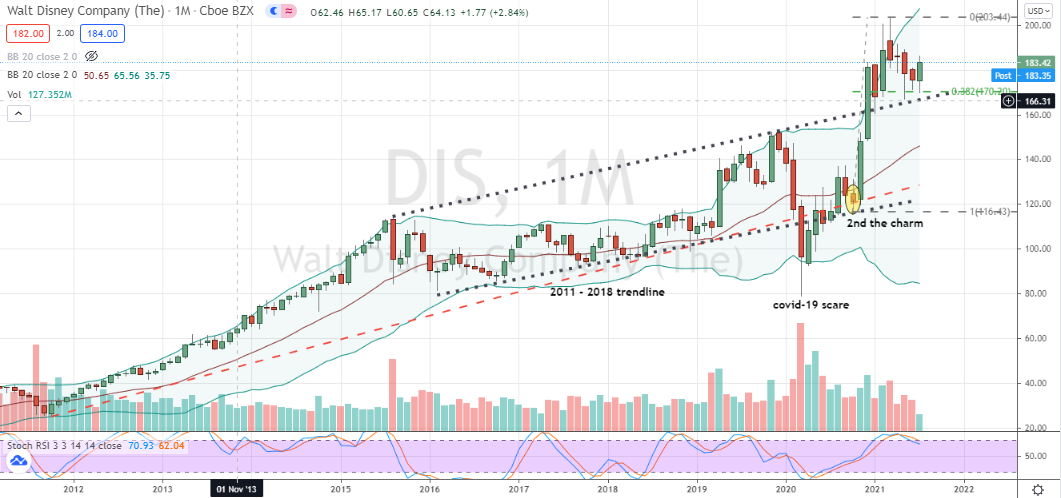 Source: Charts by TradingView
The first of our blue-chip stocks to trade are shares of Walt Disney. And right now the price of admission for the entertainment giant's stock looks ready to delight today's buyers.
Technically, the illustrated monthly chart of DIS stock shows a healthy pullback has taken shape. Now in its fourth month, the pattern appears to have located support off at the 38% Fibonacci level tied to Disney's October "2nd the charm" pivot low, as well as prior channel resistance dating back to 2015.
Fair warning, stochastics is out of position. Appreciatively, life is rarely perfect except when maybe enjoying Disney's manufactured fun. And in our estimation, an engulfing candle formed inside a larger bottoming hammer from May trumps those concerns.
For this blue-chip stock, I'd suggest buckling up with a September $185/$200 bull call spread for a safer ride.
Apple (AAPL)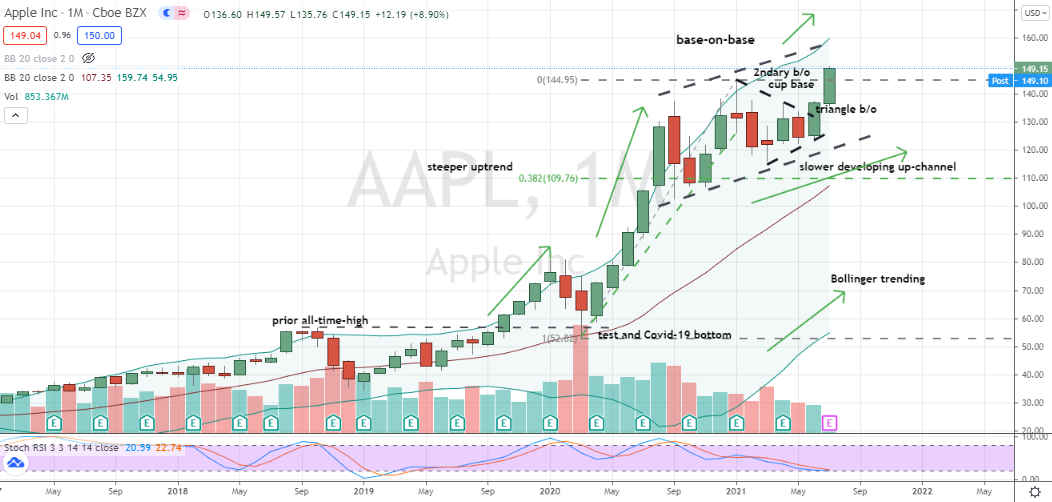 Source: Charts by TradingView
The next of our blue-chip stocks to trade is Apple. And no matter how you slice it, AAPL stock is a strong buy.
Technically, our doctored monthly view shows a smaller triangle breakout from late June has been reaffirmed this week with a secondary breakout of the pattern's and AAPL's all-time-high.
Alternatively, the latest hurdle to be cleared could be viewed as a cup-shaped base formed as part of a base-on-base within a slower developing up-channel.
Regardless of how investors dissect the price action, coupled with a well-positioned stochastics indicator that's ripe for bullish crossover, as well as a healthy-looking, upwardly trending Bollinger Band, this blue-chip stock is a buy.
For a healthier Rx to buying this blue-chip stock, I'd recommend AAPL stock investors use a well-placed August $140/$160 collar.
Blue-Chip Stocks to Trade: NXP Semiconductors (NXPI)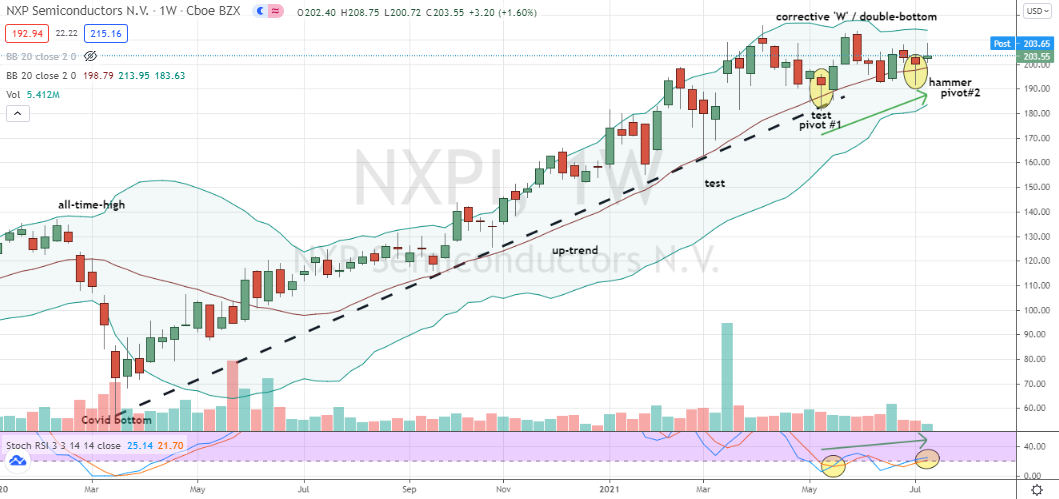 Source: Charts by TradingView
The last of our blue-chip stocks to trade are shares of NXP Semiconductors. NXPI is a $55 billion chip and design fabrication outfit which stands to profit from rebounding auto and industrial equipment markets. And the trade to be made is a third buy recommendation before this one drives its way higher.
NXPI stock's high-end chips are making a name for themselves within an emerging autonomous vehicle market, other advanced systems within today's automobiles, as well as mobile digital payments solutions and the Internet of Things (IoT).
Technically, shares have been on pause the past three months. This is after putting together a sturdy market-leading uptrend off last year's March Covid bottom. That could go one of two ways, but I like what I'm seeing in this blue-chip stock.
With the price action over this period taking the shape of a well-constructed corrective double-bottom, the observation is it's the pause that refreshes for this blue-chip stock's bulls. Ultimately, NXPI looks positioned for a pattern breakout and new highs later this summer.
Today, NXPI is offering investors a chance to buy shares squarely at the hammer trade-through price. I like the idea of setting up a spread aimed to capitalize on an eventual pattern breakout rather than immediate profit gratification. This strategy reduces downside exposure. It also offers larger leveraged returns if the double-bottom makes good on its promise.
To implement this plan our favored vehicles of choice are an October $210/$230 bull call spread or similarly positioned collar on this blue-chip stock.
On the date of publication, Chris Tyler does not hold (either directly or indirectly) any positions in securities mentioned in this article. The opinions expressed in this article are those of the writer, subject to the InvestorPlace.com Publishing Guidelines.
Chris Tyler is a former floor-based, derivatives market maker on the American and Pacific exchanges. For additional market insights and related musings, follow Chris on Twitter @Options_CAT and StockTwits.