Does the market feel increasingly like a gamble rather than an investment with an edge? If you answered yes, you're not alone. Still, if there's one heavily-favored spot where a winning streak is likely to roar on, it's a trio of trillion-dollar stocks whose growth prospects and price charts appear too big to fail.
The end is near? It was at the start of the work week by the looks of things on Wall Street. Blink and you nearly missed it though. That is, except for the immutable prints of panic now forever a part of our stock price charts.
Monday morning, investors got a case of the heebie-jeebies tied to growing Covid infections largely caused by the UK variant.
For its part, the blue-chip Dow Jones Industrials gapped lower by nearly 1.50% before finishing off 2% and nightly news anchors somberly delivering the bearish developments to their viewers.
At the same time, the CBOE VIX or "fear" index ramped higher by 22% and striking a two-month high intraday.
Yet underneath the surface growth stocks in listed products such as the Innovator IBD 50 ETF (NYSEARCA:FFTY) and Ark Innovation ETF (NYSEARCA:ARKK) painted a distinctly different and much more bullish view of the market.
Shares of FFTY finished up 0.07% and ARKK gained an impressive 0.64% on the session. And the initial tell didn't lie. Both ETFs are up more than 4% since Monday's closing bell. Ok, so now we have to wait for the pullback? Not quite.
Let's look at three formidable growth companies whose trillion-dollar stock valuations dictate if a rhyming Roaring '20s is to continue in the broader market, their involvement will be critical. Moreover and today, based on their price charts, they're up to task of sending bulls profitably towards higher ground.
Trillion-Dollar Stocks to Buy: Amazon (AMZN)


Source: Charts by TradingView
The first of our trillion-dollar stocks to buy are shares of Amazon. AMZN's founder Jeff Bezos just blasted into space and described it as the "best day ever." More importantly for investors on earth, it's time for this trillion-dollar stock to make a similar deployment to unchartered territories.
Technically, AMZN stock has pulled back into a test of a recent corrective double-bottom base breakout. With stochastics having just entered oversold territory, the upside reward far outweigh the pattern risk.
For this trillion-dollar stock to buy, a September $3,700/$4,000 bull call spread or November $3,800/$4,100 call vertical are two favored ways to smartly reach higher ground.
Apple (AAPL)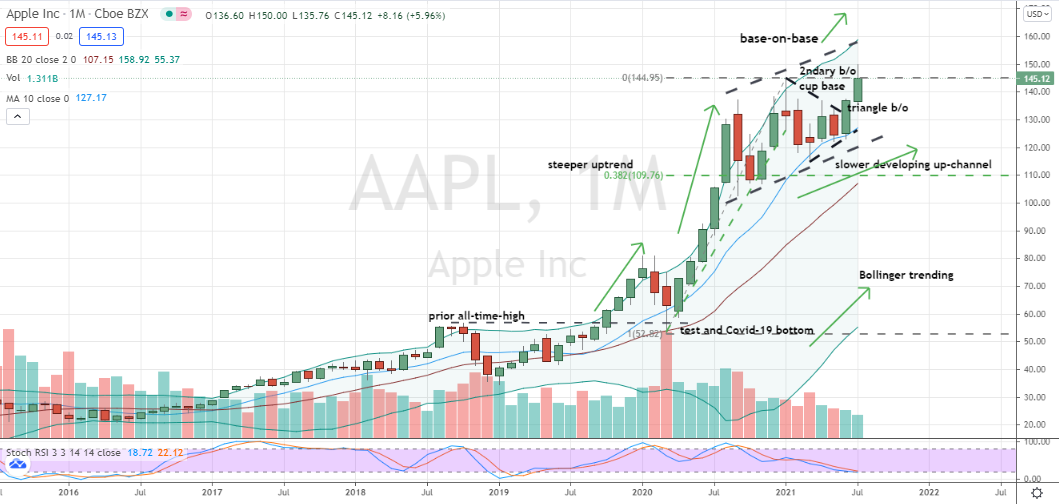 Source: Charts by TradingView
The next of our trillion-dollar stocks to buy is Apple. AAPL is no stranger to my pen. Shares were discussed this past week as a purchase. And much like its peer Amazon, "all-systems remain go" for the market's most valuable company to become more precious.
Technically, the monthly chart in AAPL stock reveals a corrective base-on-base pattern within a slower developing up-channel. This week's combined price action has put shares in an opportunistic challenge of this trillion-dollar stock's prior high and embedded cup base.
As with AMZN, a fairly rare oversold stochastics and an upwardly trending Bollinger Band hint at an extremely attractive risk-to-reward proposition for today's AAPL stock buyers.
Here, I'd continue to recommend a well-placed August $140/$160 collar for investors wanting a core position with the flexibility to adjust and trade the trend over time in this trillion-dollar stock with increased authority.
Trillion-Dollar Stocks to Buy: Alphabet (GOOGL)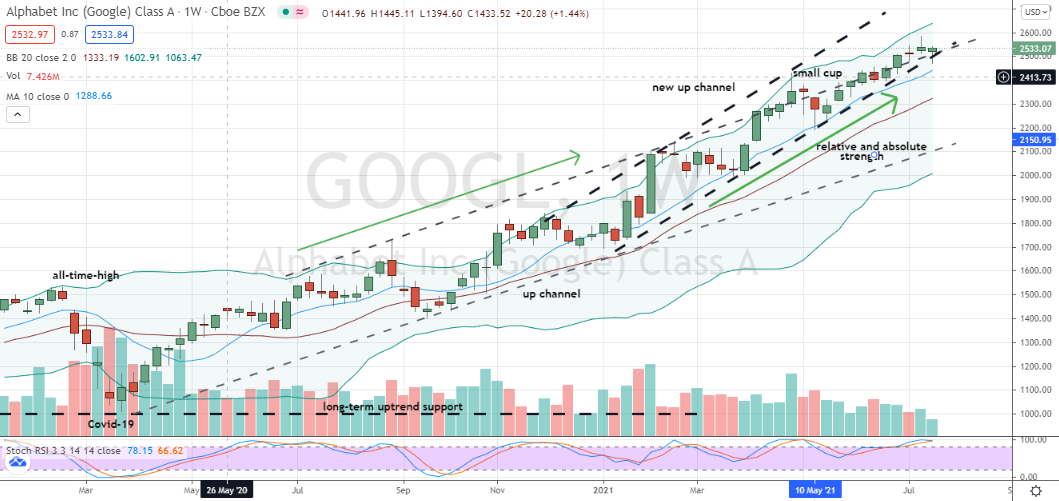 Source: Charts by TradingView
The last of our trillion-dollar stocks to buy are shares of Alphabet. Is the trend your friend? If that's the case, with GOOGL stock investors can enjoy two for the price of one and setting up a well-supported buy decision.
Technically, the weekly chart in Alphabet shows a bullish hammer is forming on top of a longer-term channel line tied to GOOGL's Covid-related bear market bottom and a steeper uptrend which began in 2021.
This trillion-dollar stock's overbought weekly stochastics is slightly concerning. But it also comes with the territory for this type of modest pullback within a momentum phase. It is what it is, right?
With earnings on tap next week and to ensure GOOGL's friendly trend doesn't prove a costly purchase, a Weeklys '06 August $2,650/$2,750 bull call spread looks good both off and on the price chart.
On the date of publication, Chris Tyler holds (either directly or indirectly) positions in Ark Innovations ETF (ARKK). The opinions expressed in this article are those of the writer, subject to the InvestorPlace.com Publishing Guidelines.
Chris Tyler is a former floor-based, derivatives market maker on the American and Pacific exchanges. For additional market insights and related musings, follow Chris on Twitter @Options_CAT and StockTwits.