When for-profit Chinese education firms Gaotu (NYSE:GOTU), New Oriental (NYSE:EDU) and TAL (NYSE:TAL) dropped 60% last Friday on regulatory fears, "buy-the-dip" investors might have considered jumping in.
They would have been disappointed.
The three stocks opened down another 25% today. And if the rumors prove true, a blanket ban on for-profit tutoring services could send these stocks to zero. Chinese ride-hailing app Didi (NYSE:DIDI) is down a similar magnitude since its post-IPO peak.
Meanwhile, Bitcoin (CCC:BTC-USD) prices are almost back to $40,000.
How are these assets related? They all owe their price swings to regulations proposed by the Chinese Communist Party. But there's where their futures diverge. Today, we'll look at some alternative assets riding the Bitcoin bull higher, and the cryptocurrency trades you need to know.

Rising Stars: Bitcoin Reapproaches $40,000…
…But there are three better altcoin buys
Over the weekend, something inexplicable happened. After months of momentum buying, retail investors started doing the opposite: buying the dip.
In barely five days, Bitcoin prices have risen almost 30%, adding $162 billion to its market capitalization.
There were some clues this could happen. Last Monday, the Dow Jones spiked 2% after retail investors poured almost $2.2 billion into the flagging market. Selling pressures by Chinese crypto miners (the largest holders of Bitcoin) have also eased as firms begin setting up shop outside China.
Regardless, the rout triggered by a blanket Chinese ban on cryptocurrency mining looks over, at least for now.
WHAT CRYPTOS TO BUY?
It's tempting to jump back into Bitcoin — the world's largest cryptocurrency is easy to purchase, and people like buying what they know. But those looking for Moonshot-like returns should consider smaller coins that can ride Bitcoin's coattails higher.
You'll notice a clear departure from the Spamcoins I recommended last week. Now that buy-and-hold coins are back in favor, it's time to rotate into higher-quality coins (more on this in Wednesday's issue).
Dogecoin (CCC:DOGE-USD). I've promised readers that I would watch for Dogecoin sentiment turning positive again.
Well, it's happened.
The original memecoin's rise to 21 cents this morning breaks a long trend of price declines. And though the cryptocurrency has a lot of catching up to do with its altcoin brethren, don't underestimate its longstanding popularity among meme-stock traders. Don't be surprised if speculators push Doge back to the 50-cent levels.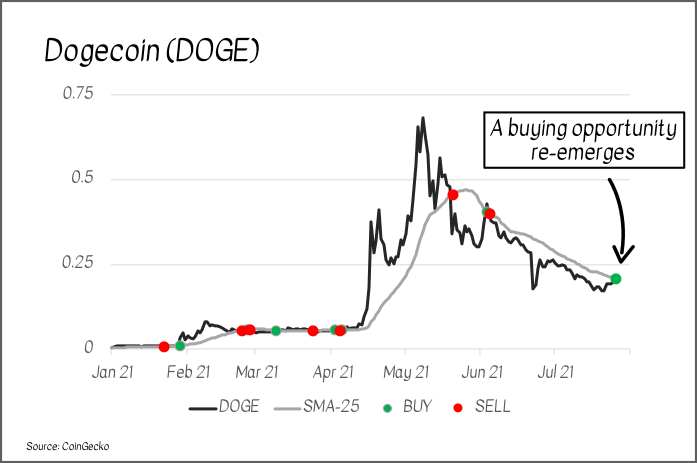 Cardano (CCC:ADA-USD). This long-standing quality play could also benefit from renewed crypto interest. Cardano has one of the strongest development and marketing teams in the altcoin world, making it a keen competitor to incumbents. Its low price per coin also makes it a tempting target for speculators hunting quick wins.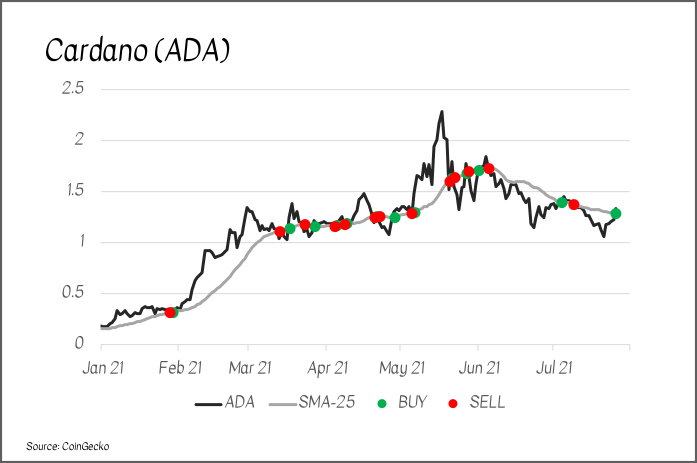 Polygon (CCC:MATIC-USD). The NFT boom once made Polygon a Moonshot cryptocurrency to watch. The Indian-developed cryptocurrency tackles the scaling problems of Ethereum by adding sidechains, which both lowers transaction costs and speeds up transactions.
May's slowdown in NFT trading sent MATIC into a tailspin — lower GAS fees on the Ethereum blockchain meant less need for a cryptocurrency like Polygon. But after a 42% overnight rise, MATIC is off the bench and back in the game. Its low price-per-coin, plus interesting underlying technology, make it a promising Moonshot to watch.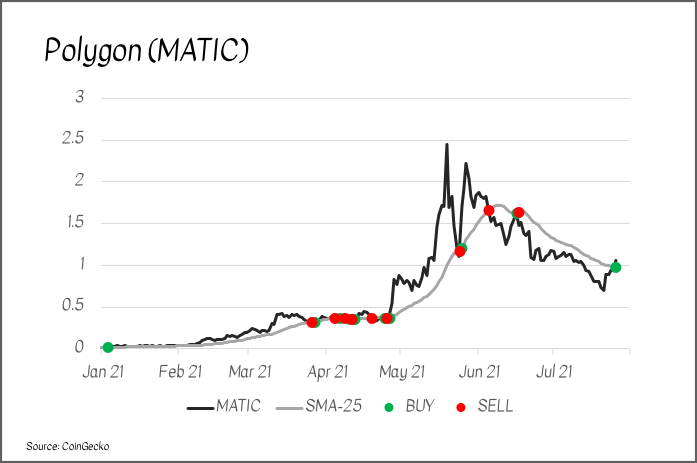 Bonus: Ethereum (CCC:ETH-USD). The NFT boom was a double-edged sword for Ethereum, the world's second-largest cryptocurrency. On one hand, the unprecedented demand for the cryptocurrency helped raise ETH prices to record levels. But that demand also pushed the blockchain's GAS fees to unbelievable heights. At its peak, transacting a $200 NFT could cost $60 or more, pushing token transactions to its cheaper rival Binance.
Still, Ethereum's "2.0" proof-of-stake system release, coupled with newfound momentum, gives investors plenty to like about one of my favorite long-term cryptocurrencies.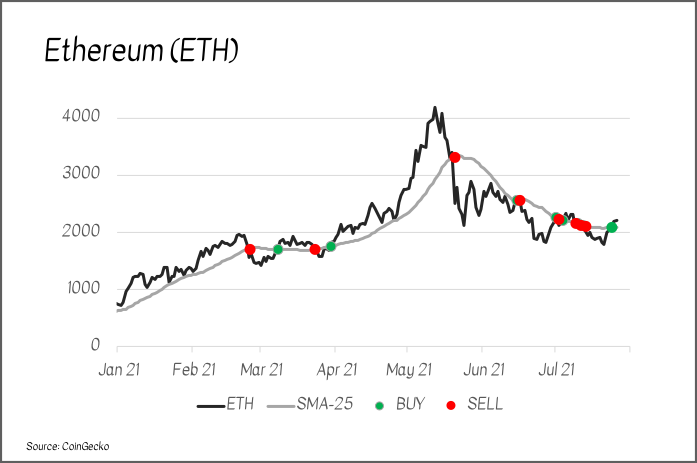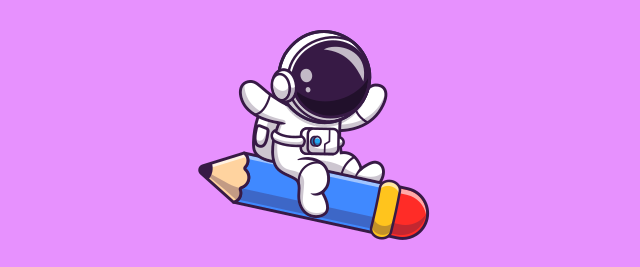 Falling to Earth: Is Chinese For-Profit Tutoring Dead?
Predicting Chinese company turnarounds has always been fraught with risk. Car retailer Grand Baoxin Auto Group was once the Nio (NYSE:NIO) of its day before sliding into penny stock obscurity. And for every tech winner like Tencent (OCTMKTS:TCEHY) or Alibaba (NYSE:BABA), there are dozens more like Renren (NYSE:RENN) that never live up to their promise. While Chinese consumers are a major driver to company success, the government has also long had a say in which companies are permitted to win.
It's always been difficult, however, to predict the Chinese government's next move. Even experts get it wrong; the country's recent blanket ban on cryptocurrency mining was yet another example in a long string of surprises. Shocked mining bosses reportedly chartered 747 aircraft last-minute to fly out their equipment.
That's why Moonshot investors should eye Gaotu, New Oriental and TAL with suspicion. Though shares of the Chinese private tutoring companies fell -60% last week, these firms are anything but a bargain. The Chinese Communist Party (CCP) has made life impossible for entire industries before — think of Beijing's coal-burning plants in 2008. And there's no reason they couldn't do it again.
Ride-hailing firm Didi might fare slightly better, at least in the short run. Unlike the for-profit education firms, Didi's business model isn't under direct attack by the CCP. Instead, the government is looking to reign in some of the power they granted to Chinese tech giants. Its share performance will likely mirror that of Alibaba, a firm undergoing a similar shakedown.
Alas, this is all a guess by yet another China watcher. Chinese regulators have surprised investors before, and it's not as if they wouldn't do it again.
Interesting Reads: Traveling in Style
Joanna's Top Trades continues this week with her two favorite automotive component picks to ride the electric vehicle boom. It's a pair trade you don't want to miss.
The AAL calls recommended two weeks ago are up almost 20% already. Mark Hake does a deeper dive into AAL's stock to help readers understand why the stock has been rising so quickly.
Thomas Niel gives his take on the penny stocks that could make big moves in the coming weeks.
And finally, could those sidewalk-hogging scooters be making a comeback? Luke Lango and his team take a look at the two micromobility companies that will beat the competition.
By the Numbers: A Cryptocurrency Revival?
| | |
| --- | --- |
| 30 | The number of times Bitcoin has fallen 20% or more from its peak since 2013. |
| 2 | The number of times the S&P 500 has done the same during that period. |
| 35% | Decline in active Bitcoin addresses since May, according to Glassnode, a Bitcoin analytics company. |
| 83% | Decline in Google search volume for the term "Bitcoin." Google trends are a strong short-term predictor of retail investment interest. |
Closing Thoughts: Buying What You Know
When newer investors see Chinese winners like Nio, many feel tempted to throw money at other ADRs in hopes of finding the next big winner.
Finding the next Chinese Moonshot, however, is fraught with risk. I was taught early on to take most Chinese banking figures with a tablespoon of salt — a piece of advice that's extendable to virtually every firm these days. Choices are also limited. Only 28 Chinese tech companies trade on main American exchanges, compared to 532 American ones.
I'm not saying Chinese ADRs can't produce Moonshots. Many of these companies seek American capital to help their expansion plans along.
But why invest with the deck stacked against you? The real gems like Tencent are trading in Hong Kong and Shanghai, not the NYSE. Instead, many of the top Moonshots are already here, staring at you from the apps you use every day.
Questions or comments? Connect with Tom on LinkedIn.
FREE REPORT: 17 Reddit Penny Stocks to Buy Now
Thomas Yeung is an expert when it comes to finding fast-paced growth opportunities on Reddit. He recommended Dogecoin before it skyrocketed over 8,000%, Ripple before it flew up more than 480% and Cardano before it soared 460%. Now, in a new report, he's naming 17 of his favorite Reddit penny stocks. Claim your FREE COPY here!
On the date of publication, Tom Yeung did not have (either directly or indirectly) any positions in the securities mentioned in this article.
Tom Yeung, CFA, is a registered investment advisor on a mission to bring simplicity to the world of investing.