It's been a lousy month for U.S.-listed China-based stocks. But when it comes to Alibaba (NYSE:BABA) is BABA stock being thrown out with the bathwater? Let's take a look at what's happening off and on the price chart, then offer a risk-adjusted determination aligned with those findings.
Increased efforts in July by Chinese regulators imposing new anti-monopoly and data security rules helped with a fairly strong selloff this month in BABA stock. As of Friday's close shares were down nearly 6.50% for the period.
Not that BABA was alone.
Action by authorities against Chinese tech stocks listed in the United States 2021 had investors on Wall Street shooting first and asking which other companies might be next. To that end, top stocks such as JD.com (NASDAQ:JD), Tencent Holdings (OTCMKTS:TCEHY), Baidu (NASDAQ:BIDU) and others have come under pressure.
BABA Stock Stands Alone
Of course, Monday's broader market selloff on growing Covid-19 cases isn't helping matters for China's tech leaders. Still, BABA stock stands alone against its immediate peers as a laggard. At this month's lows, shares have shed 37% from last fall's record high of $319.32 and struck 14-month lows.
So, what gives? Behind the more significant unraveling of shareholder value, investors can look back to early November as the initial trigger and BABA's Jack Ma.
That month Chinese regulators shelved what would have been a record-breaking $37 billion fintech IPO for Ant Group days in front of its debut. The Shanghai Stock Exchange reported "significant issues such as the changes in financial regulatory environment" which could jeopardize Ant's listing requirements as the culprit.
But many investors see the unapologetic rug pull attributed to Alibaba's founder. In the weeks prior to the IPO, Jack Ma made public comments critical of China's financial regulators and what was referred to as an outdated system in need of reform.
As 33% owner in the anxiously-awaited Ant IPO, shares of BABA immediately lost more than 8% on the news. And with a target on its back, that was only the first shot over the bow by Chinese regulators.
In April and following a multi-month probe which conveniently began in December, Alibaba was forced to pay a $2.8 billion fine.
The penalty was the result of an anti-monopoly investigation by China's State Administration for Market Regulation into BABA's practice of forcing merchants to choose one of two platforms to sell goods on and gaining unfair competitive advantages.
Fine Triggers Uncertainty
The actual dollars assessed BABA were fairly benign given its near $600 billion valuation. Appreciatively though, the uncertainty as the investigation proceeded was a drag on shares and did serve to act as fair warning not to challenge authorities.
Along with accepting the fine, in a prepared statement the company said, "Alibaba would not achieved our growth without sound government regulation and service, and the critical oversight, tolerance and support from all of our constituencies have been crucial to our development."
Whether the apology is to be taken at face value or not, BABA has been making concerted efforts to get in front of and comply with regulators. Most recently, last week, it was learned Alibaba may loosen some of its barriers to entry and begin making allowances for Tencent's payment system on its platform.
What's more and today, Alibaba shares are trading at a significant discount to its historical multiple. And barring continued broader regulatory risks – which at some point aren't going to serve China's national state ambitions – BABA is also a well-priced stock with a long runway for growth.
BABA Stock Monthly Price Chart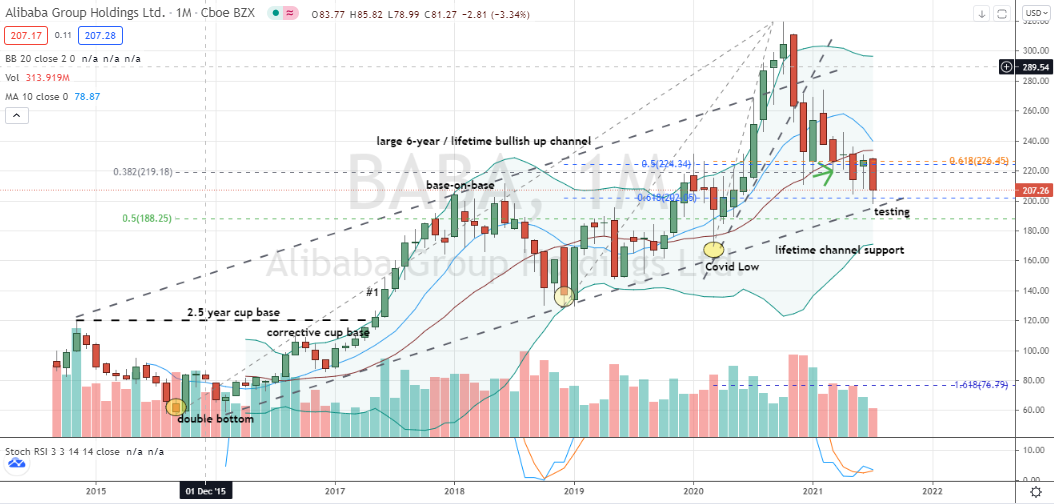 Source:
Charts by TradingView
Regarding a purchase of BABA stock and despite its relative and absolute weakness over the past several months, I wouldn't say the monthly price chart confirms a buyable "baby with the bathwater" situation yet.
Not oversold? Nope.
For one, an extended uptrend remains intact. Second, monthly stochastics indicator isn't oversold. And for all the selling pressure since November, BABA stock remains safely inside, rather than precipitously beneath its lower Bollinger Band.
All the same, shares are well-discounted. They are challenging a key area of technical interest supported by Fibonacci and its extended up-channel. And that's got to count for something, right? Correct.
Today, the biggest strikes against buying BABA are this month's failure of a two-candlestick bottoming pattern formed over May and June and weakening stochastics setup.
In our observation though, the technical benefits of buying BABA stock today outweigh the risks if investors purchase shares as a core portfolio holding using a dynamic collar strategy. One favored starting point for this kind of strategic campaign which looks good both off and on the price chart is the September $215/$235 combination.
On the date of publication, Chris Tyler did not have (either directly or indirectly) any positions in the securities mentioned in this article. The opinions expressed in this article are those of the writer, subject to the InvestorPlace.com Publishing Guidelines.
Chris Tyler is a former floor-based, derivatives market maker on the American and Pacific exchanges. For additional market insights and related musings, follow Chris on Twitter @Options_CAT and StockTwits.