It's another week of all-time-highs on Wall Street. And it goes without saying it's too late to buy without reaching. Or is it? Investors don't need to look very far to see things quite differently. Moreover, if you're willing to shop in the bargain bin, three large-cap Chinese tech stocks are offering a chance at big-time value off and on the price chart.
The Dow Jones Industrials, S&P 500 and Nasdaq. It's what Americans understandably hear about for all of 10 to 15 seconds on the nightly news. And these days the glossed over recaps have been nothing short of all-smiles dialogue with the major averages up double-digits at record highs on the year.
Yet in a market made up of stocks, many more areas have been challenged in 2021. There's SPACs QuantumScape (NYSE:QS) or Pershing Square Tontine (NYSE:PSTH) among others to consider.
How about higher-multiple stocks? Think Tesla (NASDAQ:TSLA). Pot stocks. Cryptos? Sure, they're up big on the year. But in fairness investors' fortunes in digital assets rest on the group's wickedly volatile intraday, daily, weekly and monthly price action.
I'm sure you get the point. But importantly and not to be left out are Chinese tech stocks. It's simply been downright ugly for the bulk of 2021.
To be sure, investors have had plenty of political saber rattling to promote taking Chinese tech stocks out to pasture this year. From U.S. officials making occasional delisting threats to more persistent foreign regulators cracking down on tech giants viewed as threats, there's been no shortage of reasons to dump shares.
Today though, those cumulative worries have yielded significant valuation advantages, both fundamentally and technically, which should have investors turning the page on a new and more bullish chapter as we'll discuss below.
Chinese Tech Stocks to Buy: JD.com (JD)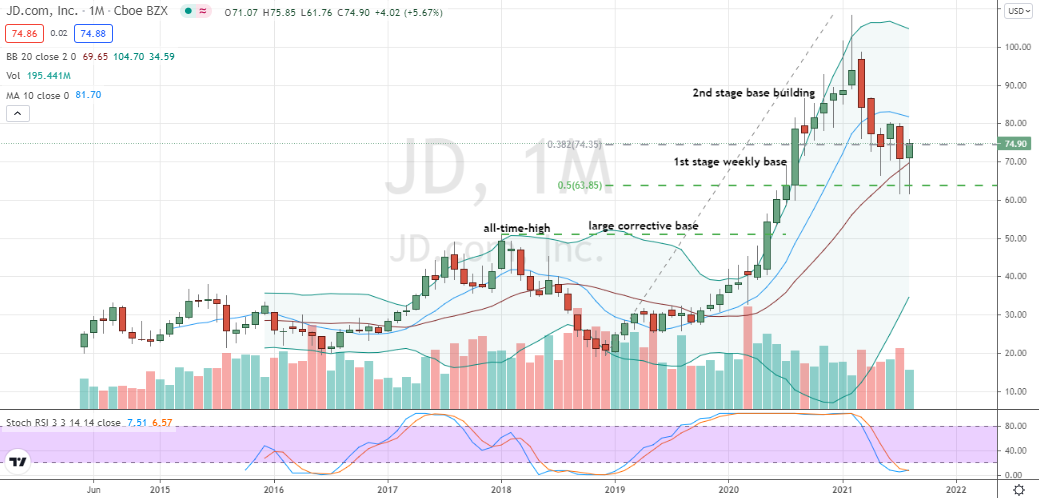 Source: Charts by TradingView
The first of our Chinese tech stocks to buy are shares of JD.com. This week's earnings offered standout results from the e-commerce powerhouse. Headlining the results, the outfit announced a year-over-year sales increase of 26%.
Also assuaging fears, JD's management said it didn't see a meaningful impact from curbs on data collection and usage imposed by regulators.
JD investors also received promising word of Cathie Wood's Ark Invest and last year's wunderkind growth stock ETF manager scooping up shares of the Chinese tech stock following quarterly earnings.
Technically, the buying in JD stock since the report's release has produced a bullish-looking monthly chart, inside hammer candlestick.
With the promising pattern also finding support off the 50% retracement level and stochastics forming a crossover signal in oversold territory – there's plenty to be upbeat about in this Chinese tech stock.
I'd suggest monitoring the hammer pattern for price confirmation next week as we enter a new trading month. From there, a fully-hedged or modified collar offering partial downside protection given earnings risk is out of the way, looks like a smarter tactical approach to owing this Chinese tech stock.
Tencent Holdings (TCEHY)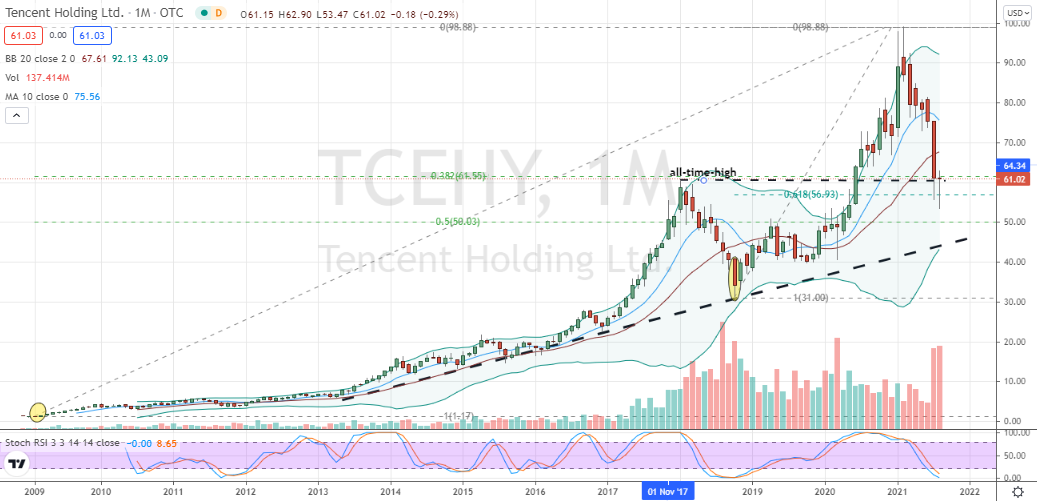 Source: Charts by TradingView
The next of our Chinese tech stocks to buy is Tencent Holdings. Much like JD.com, this diversified e-commerce play has enjoyed well-received news this week. Shares are up about 9% for the period on the heels of a planned stock buyback program.
But don't think for a second you're late to the party in this Chinese tech stock.
TCEHY is no high-flying Nasdaq stock like Apple (NASDAQ:AAPL) or Microsoft (NASDAQ:MSFT). China's largest tech play lost a staggering $170 billion in valuation during July alone tied to the country's regulatory maelstrom!
Today, a very well-discounted and bearish cycle in TCEHY stock appears to finally be giving way to the start of a new bullish chapter.
Technically and as the price chart of this Chinese tech stock reveals, Tencent is set up in a bullish hammer-like doji pattern on the monthly timeframe as investors wrap up August.
Combined with oversold price action finding support from TCEHY's lifetime 38% and 50% levels, 62% Fibonacci support from 2018 and prior all-time-high, this is another Chinese tech stock where upon monthly trade confirmation, the odds for success are stacked heavily in investors favor.
Chinese Tech Stocks to Buy: Pinduoduo (PDD)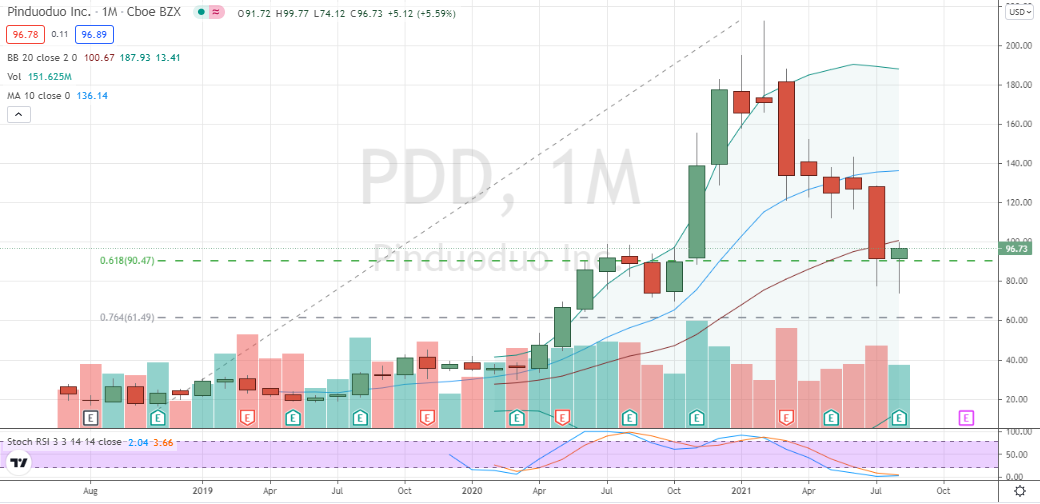 Source: Charts by TradingView
The last of our Chinese stocks to buy are shares of Pinduoduo. While less well-known, the agriculture-focused mobile marketplace provider is a $125 billion force in its own right. More than a few growth investors recognized PDD's enduring qualities off and on the price chart this past year.
Today and following a steep bear market and earnings results this week promoting enviable high double-digit revenue and subscriber growth, the seeds are being planted for a more bountiful and bullish cycle in PDD stock.
Technically, shares of this Chinese tech stock are poised to finish the calendar month in a bullish hammer candlestick. That's hardly unique with today's crop of picks. There's more to it, however.
Promisingly, with the pattern's body finding support from PDD's lifetime 62% Fibonacci level and stochastics on-the-cusp of an oversold bullish crossover signal, this Chinese tech stock is anything but a third wheel for bulls to grab onto in the coming days.
On the date of publication, Chris Tyler holds positions (either directly or indirectly) in Ark Innovation ETF (ARKK) and Ark Genomic Revolution ETF (ARKG). The opinions expressed in this article are those of the writer, subject to the InvestorPlace.com Publishing Guidelines.
Chris Tyler is a former floor-based, derivatives market maker on the American and Pacific exchanges. For additional market insights and related musings, follow Chris on Twitter @Options_CAT and StockTwits.