At times it's been an oddly big year for Nokia (NYSE:NOK). But following a recent earnings event, NOK stock stands ready to graduate from a sideshow to the main stage on Wall Street. Let me explain.
GameStop (NYSE:GME). AMC (NYSE:AMC). More recently Meta Materials (NASDAQ:MMAT) or Newegg (NASDAQ:NEGG). They're meme stocks. Each of the listed and many like them are also publicly-listed companies whose shares have turned into a circus in 2021.
The unhinged price action, of course, is courtesy of Reddit's bullish frenetic population who've been busy exploiting short squeeze plays and low-float, highly malleable stocks to their advantage.
And strangely enough, you can include telecom giant and 5G play Nokia in the group. Or rather you could, kinda sorta.
NOK Stock and the Ride of Meme Stocks
Back in January, Redditors' high-profile theatrics in GME stock and AMC got underway. And NOK stock staged a similar spectacle, complete with plenty of hashtags, gifs, lengthy threads from galvanized bulls and what have you.
What happened in Nokia as shares surged from just over $4 to nearly $10 in less than a handful of days had the classic tells of Redditors plying what's become a very popular trade this year.
Yet while the "who" was obvious, the why and how in NOK stock remain a mystery.
Unlike other meme stocks, NOK was appreciably different. Nokia wasn't prone to a short squeeze. The stock's short interest was miniscule. A valuation nearing $30 billion certainly set it apart too. Thinly traded? Not by a longshot. Plus, unlike 2021's Reddit-driven circus of deeply troubled plays, Nokia's business led by its 5G tendrils was already moving along smartly.
Mystery aside, today Nokia is ready to move from its side show status and onto the main stage with other bullish investors.
The thing is,NOK stock's recent stronger-than-forecast earnings, improved growth prospects and bullish big-picture reaction are ensuring another cast of upbeat Wall Streeters' will welcome Nokia back to the main stage.
NOK Stock Monthly Price Chart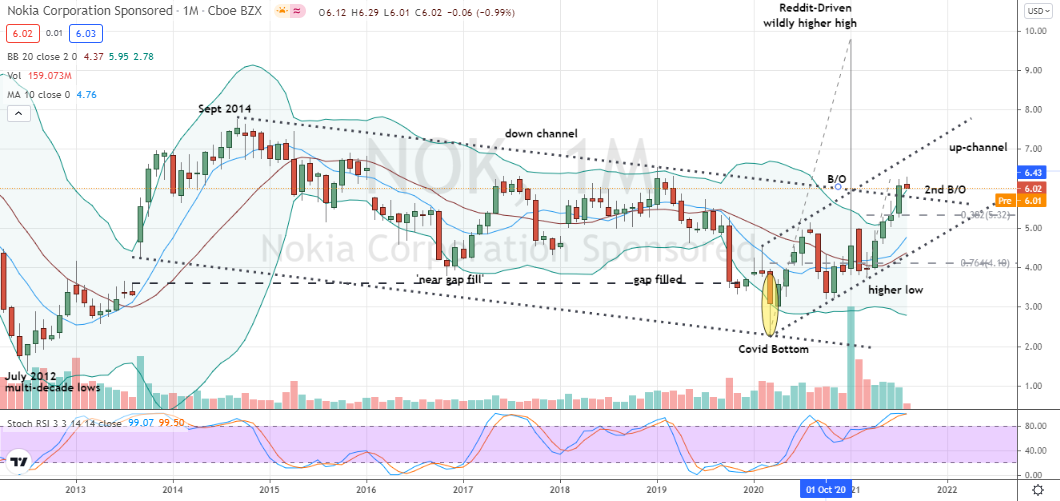 Source: Charts by TradingView
It's no get-rich scheme by a longshot. I'm referring to a purchase of NOK stock without expecting a repeat of January's over-the-top rally anytime soon—if ever again. That's okay though.
The illustrated monthly price chart reveals an opportunity for investors to buy Nokia shares on a secondary breakout of longer-term downtrend resistance.
The bullish action in NOK stock is also supported by an emerging uptrend that's formed since last year's ubiquitous Covid low.
One potential hazard at the moment is an overbought stochastics indicator. The condition could challenge immediate follow-through for the breakout. I'm optimistic though.
Overall, the trend in more ways than one, is an ally for bullish investors for the first time in years in NOK stock.
For longer-term investors interested in buying Nokia, the advice is an even money Oct $5.50 put/$7 call collar combination.
Alternatively, a married put with a plan to collar shares if a rally into resistance near $6.75 – $7.00 accepts slightly more upfront risk with the teaser of improved profits on the upside.
On the date of publication, Chris Tyler does not hold (either directly or indirectly) positions in any securities mentioned in this article. The opinions expressed in this article are those of the writer, subject to the InvestorPlace.com Publishing Guidelines.
Chris Tyler is a former floor-based, derivatives market maker on the American and Pacific exchanges. For additional market insights and related musings, follow Chris on Twitter @Options_CAT and StockTwits.