As citizens of the world I trust we'd all like nothing more than to put the novel coronavirus pandemic behind us for good. We're not there. But for investors, it is what it is. And as that relates to Novavax (NASDAQ:NVAX) and NVAX stock, it could be a huge a positive. Let me explain.
Life is good, right? For most Americans and despite rising Covid-19 infections tied to the delta Variant, it certainly is. And that's particularly true compared to many countries around the globe. But on Monday, fresh hope for further containing the pandemic entered the picture. Well, kinda sorta.
Vax outfit Pfizer (NYSE:PFE), along with partner BioNTech (NASDAQ:BNTX), announced their Covid drug Comirnaty became the first to receive full-approval by the FDA in the United States for those 16 and over.
Shares of Pfizer and vaccine manufacturer Moderna (NASDAQ:MRNA), which investors see as the next to receive regulatory approval, rallied smartly on the report.
For its part, PFE climbed nearly 2.5%, while MRNA jumped just over 7.5%. And not to be left out and leading the way, NVAX gained 8.71% by the close of trade.
Boost for NVAX Stock
NVAX stock? While not a household name in the United States as the company has yet to apply for emergency use authorization and the chance to jab a needle in the arms of Americans, Novavax is already and importantly big news elsewhere.
Denmark is in for 280,000 doses of Novavax's NVX-CoV2373. OK, so that's not that big. But the European Commission has also approved a contract for up to 200 million doses. Better, right? That's not all.
Increasing face-the-music, annualized booster shot talk tied to Covid turning into an endemic virus stands to support NVAX longer term. The thing is "mix-and-match" vaccinations appear safe.
And with the possibility of vaxxing populations, irrespective of a person's prior vaccination history, that could be a huge shot in the arm (pun intended) for Novavax.
But there's still more to the NVAX stock story as well.
The Novavax Advantage
NVAX has a strong logistics advantage over its competition in larger Covid-challenged conditions outside industrialized western countries.
As InvestorPlace's Josh Enomoto recently noted, unlike Pfizer and the other available vaccines, whose frigid, worse-than-artic shipping requirements would even chill Santa Claus, NVX-CoV2373 can be safely delivered in benign, above-freezing temperatures.
And bottom line, in Covid hotspots such as India where Novavax is well-positioned for commercial success, this key difference is a meaningful one not to be underestimated.
To be fair, NVAX's unique manufacturing complexities and regulatory challenges have hindered its vaccine's rollout on more than one occasion. And there's no guarantees those type issues can't persist and trump the outfit's infrastructural advantages.
Still and in an imperfect world and stock market for that matter, I'm upbeat on NVAX's chances of not being left out in the cold.
NVAX Stock Monthly Price Chart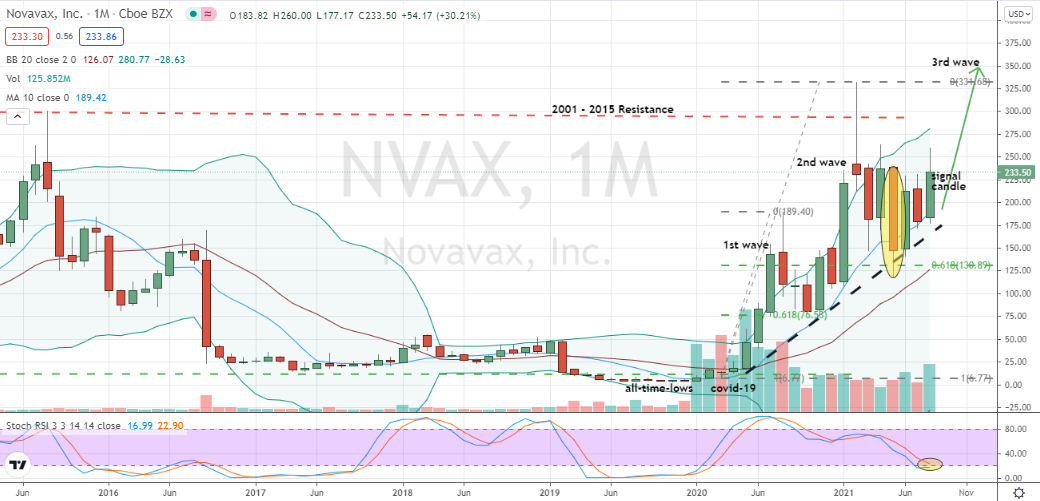 Source:
Charts by TradingView
It's been a bit more than 2.5 months since tasked to write about NVAX stock. And from that solid-looking spot to rally, the shares haven't disappointed. Today, they're up about 30% from when I detailed a purchase in early June.
The good news right now is those gains have established another possible area for longer-term investors to buy NVAX shares with strong support from the price chart.
Technically and as the monthly view reveals, after two months of inside consolidation work, shares of NVAX have confirmed May's uptrend bottoming candlestick in August.
At the moment the stock is stationed in-between the May high and the June/July pairing after modestly pulling back from its best levels. And in our estimation, it could be a terrific buying opportunity. However, waiting for a reassertion of the trend looks like a smarter way to purchase NVAX stock.
With stochastics oversold and beginning to flatten, today's advice is to monitor NVAX stock for a second pattern breakout in combination with a full-blown bullish crossover of the secondary indicator.
Bottom line, investors will invariably pay more for this type of confirmation. In return though, stronger value is what those NVAX shareholders will receive. And that's hard to put a price on, don't you agree?
On the date of publication, Chris Tyler did not have (either directly or indirectly) any positions in the securities mentioned in this article. The opinions expressed in this article are those of the writer, subject to the InvestorPlace.com Publishing Guidelines.
Chris Tyler is a former floor-based, derivatives market maker on the American and Pacific exchanges. For additional market insights and related musings, follow Chris on Twitter @Options_CAT and StockTwits.