Fear hasn't been replaced by a uniform cheer on Wall Street just yet, but it is happening. And today, investors can regroup more strongly in three well-positioned mega-cap, most-shorted stocks which bears have all wrong both off and on the price chart.
What just happened? Or rather where'd the panic over China's Evergrande go? Or the U.S. debt ceiling worries, which suddenly conspired as front-page news earlier this week to yank the rug out from underneath the broader averages and the largest companies?
The headlines are still lurking of course. But with a modestly bearish September already in play, you could almost taste the inevitability of investors needing to become their own worst enemies for history's and Wall Street seasonality's sake.
Today though, and after plunging firmly into a run-of-the-mill wake-up call, the bull is back in the broad-based, large-cap S&P 500, which has rebounded smartly and on pace for a flat finish to the week. The same can't be said for the market's most-shorted stocks.
By and large, short-squeeze schemes concocted by this year's Reddit bullish ape population is missing in action. Most notably, the bears have those traders by the you know what in Greenidge Generation (NASDAQ:GREE).
The heavily shorted crypto with its resident bear population of nearly 70% of GREE's stock float remains down 35% on the week and nearly 60% from its high set less than a couple handful of digits ago.
Go ahead and blame a still weak decentralized finance (DeFi) market for GREE's ongoing woes. You can if you like. Or investors could consider buying three well-positioned mega-cap, most-shorted stocks. These have a lot more working in their favor than typically quick-to-flee and erratic monkey business.
Most-Shorted Stocks to Buy: Tesla (TSLA)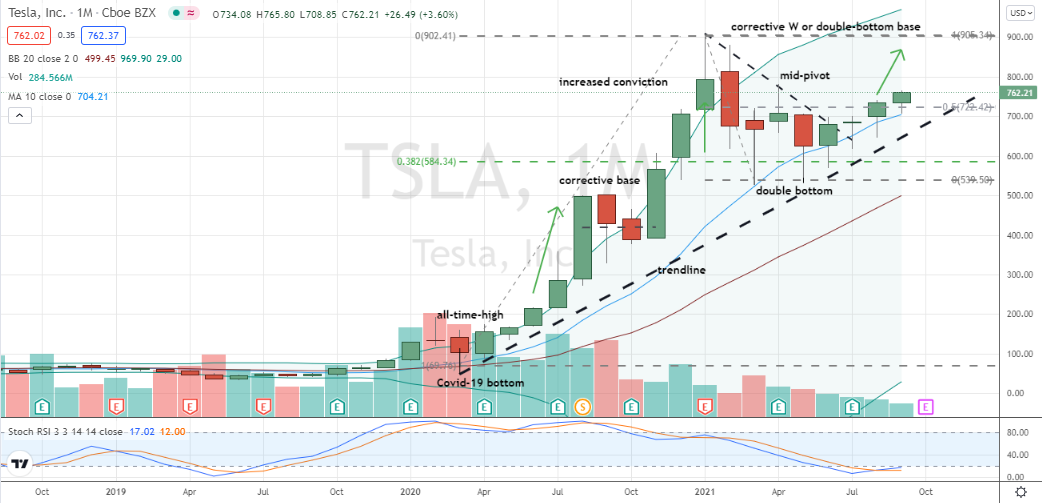 Source: Charts by TradingView
The first of our most-shorted stocks to buy is EV giant Tesla. It would be hard to have a conversation of who's who in the market these days without mentioning TSLA stock. Shares are valued at more than $750 billion.
Tesla also remains the market's most-shorted stock on a dollar basis. Today, more than $20 billion in TSLA stock sold short. And right now that remaining 3.5% short interest is fighting a losing battle.
The monthly chart of Tesla reveals price action that's defied September's bearish seasonality in posting a market-bucking month-to-date gain of 7%.
What's more, shares of this most-shorted stock have further confirmed a bullish trend with a bullish stochastics crossover and rallying through the 50% retracement level into the right side of TSLA stock's nine-month corrective base.
Rather than owning this most-shorted stock, I'd suggest parking some capital into the December $800/$900 bull call spread for a seasonal gift in your portfolio.
Advanced Micro Devices (AMD)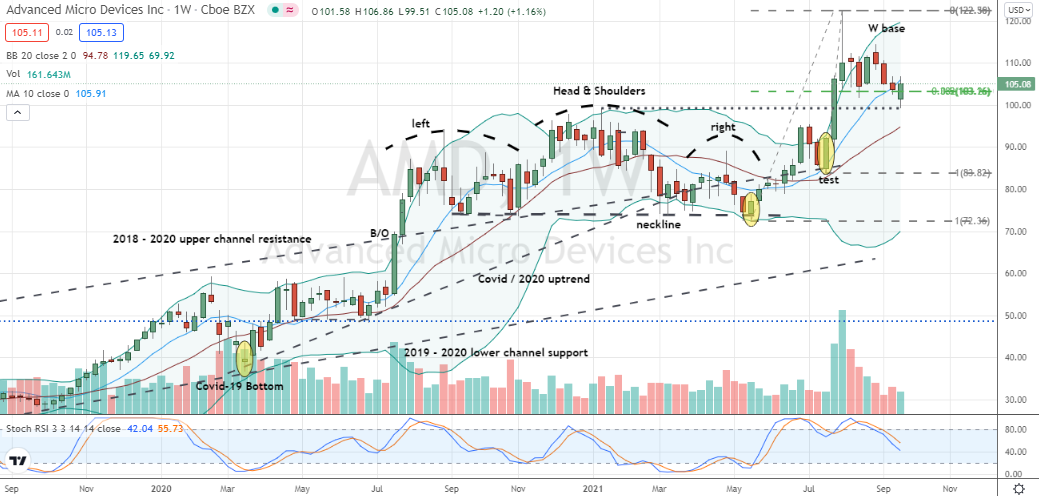 Source: Charts by TradingView
Advanced Micro Devices is the next of our large-cap, most-shorted stocks to buy. Bears currently wagering against the increasingly important semiconductor outfit comes in at just over $7 billion in short-interest.
AMD is a different animal than Tesla right now with shares off about 5% on the month. But under the hood of that price action, this most-shorted stock looks equally well-positioned to motor higher.
Technically, and as AMD stock's weekly chart shows, shares have put together a well-supported test of two Fibonacci retracement levels tied to key lows from May and July, as well as its bear-busting, head-and-shoulders all-time-high.
A confirmed pivot low also sets up a bullish lower-low variation of a high-level double-bottom or "W" base.
For a purchase in this most-shorted stock I'd suggest waiting for candlestick confirmation next week and an actively-managed collar November collar to begin for investors with longer-term ambitions.
Most-Shorted Stocks to Buy: Square (SQ)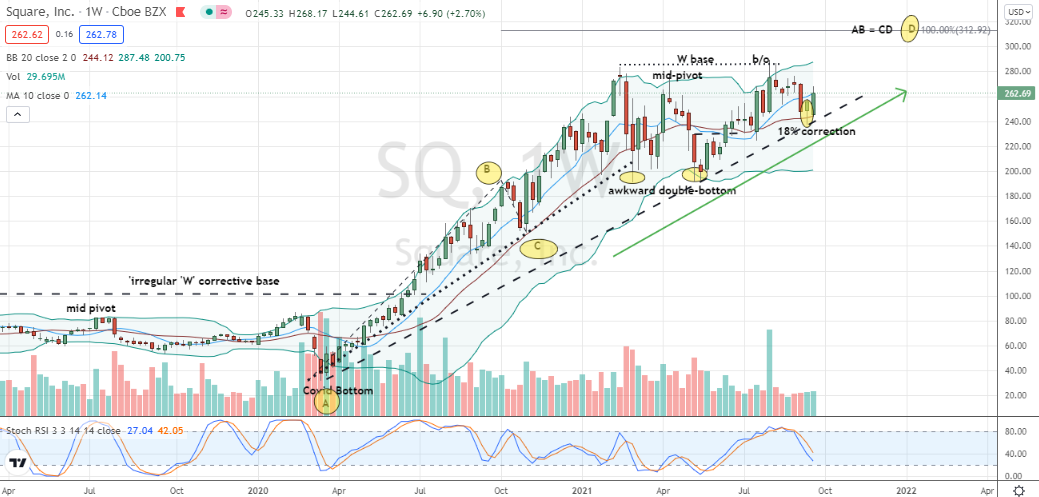 Source: Charts by TradingView
The last of our most-shorted stocks to purchase are shares of Square. Bears have piled up short bets in the fintech giant's shares to the tune of nearly $10 billion.
But the price chart hints those bears taking a swipe at SQ have more of a shot swiping their credit cards through one of the Square's ubiquitous mobile payment devices than turning a profit.
Technically, this most-shorted stock has confirmed a bullish hammer pivot low formed off trendline support this week.
The reassertion of this most-shorted stock's uptrend also completes a six-week correction of about 18% in SQ following a failed breakout attempt from an awkward high-level "W" base.
Today's trend-based entry obviously isn't perfect. If nothing else, stochastics have yet to suggest a bottom is in. But life rarely, if ever, is. Besides, with all the indicators and price patterns out there, that's also very subjective too.
Bottom line, given this most-shorted stock's several months of mostly fending off bears I believe SQ stock's bulls are bound to have the last laugh.
I'm upbeat Square can rally to fulfill a Fib-based two-step pattern near $313 by early next year. But failing that, a January $280/$310 bull call spread should help with fighting for another day.
On the date of publication, Chris Tyler holds hedged long positions (either directly or indirectly) in Advanced Micro Devices (AMD). The opinions expressed in this article are those of the writer, subject to the InvestorPlace.com Publishing Guidelines.
Chris Tyler is a former floor-based, derivatives market maker on the American and Pacific exchanges. For additional market insights and related musings, follow Chris on Twitter @Options_CAT and StockTwits.