History has once again found a way to mostly repeat. But don't let Wall Street's selloff get you down. It's time to grab some opportunities in three stocks to buy with superior bullish support found both off and on the price charts.
The route to a new Roaring '20s era has taken a detour in September with the S&P 500 shedding as much as 5% this week from its recent all-time-highs. And in the process companies' shares confidently deemed stocks to buy not so long ago have turned quickly into stocks to sell.
From bearish seasonal tendencies, ongoing delta variant struggles, out of left field debt ceiling chatter or worries of a new financial crisis triggered by Chinese real estate giant Evergrande, there's something for everyone wanting comfortable or popular excuses to sell.
There is good news too, however. While it won't be front page news, optimistically and without leaning too heavily on fingers crossed-style hope, today there are also stocks to buy at much more favorable prices.
The thing is most corrections like September's don't go on to bigger and more bearish cycles. As much, bulls have that working in their favor. Further, with the fear index or VIX jumping skittishly in keeping with past bullish openings – here are three stocks to buy that investors can purchase with greater confidence.
Stocks to Buy: Apple (AAPL)


Source: Charts by TradingView
The first of our September selloff stocks to buy are shares of Apple. Any which way you slice it, an AAPL purchase makes sense right now.
There is, of course, the tech giant's status as the S&P 500's single largest company with a valuation approaching $2.5 trillion. A rally in the broader market could unfold, but it's unlikely to get very far given AAPL's heft and high correlation if this stock to buy doesn't help lead the charge.
Second, it's been a rare year in which this stock to buy has underperformed the market despite its sizable influence and above-average growth prospects. And today the price chart is strongly hinting that's about to change!
With AAPL stock's relative weakness carving out a bullish channel and shares now smartly positioned in a hammer pullback pattern off Fibonacci support formed just beneath its January high, this stock to buy is ready to reclaim some of its legendary market leadership.
Teladoc (TDOC)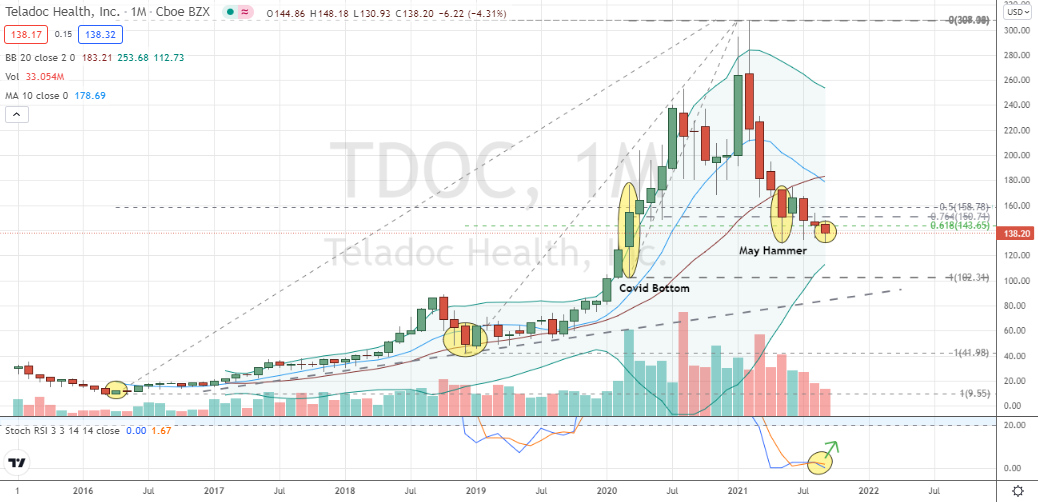 Source: Charts by TradingView
The next of our stocks to buy is Teladoc and a big-time Cathie Wood's holding.
If S&P 500 investors thought September has been challenging, shareholders in the tele-medicine provider can show what a real case study in pain and suffering looks like.
Compared to the bellwether's decline of 5% TDOC has hemorrhaged as much as 57% from its February all-time-high at the stock's recent lows.
Teladoc's correction has pinched the fund manager's flagship Ark Innovation ETF (NYSEARCA:ARKK) given this stock to buy represents more than 5.50% of the portfolio and only second to the product's Tesla (NASDAQ:TSLA) holding.
The good news is the price chart of this stock to buy is now much closer to putting together a meaningful bottom. Technically, the monthly view of TDOC stock reveals four months of mostly inside consolidation work following a large hammer candlestick formed in May.
With October around the corner, price confirmation of September's smaller hammer backed by a bullish stochastics crossover should be just what the doctor ordered for a healthy purchase in this stock to buy.
Stocks to Buy: Delta Airlines (DAL)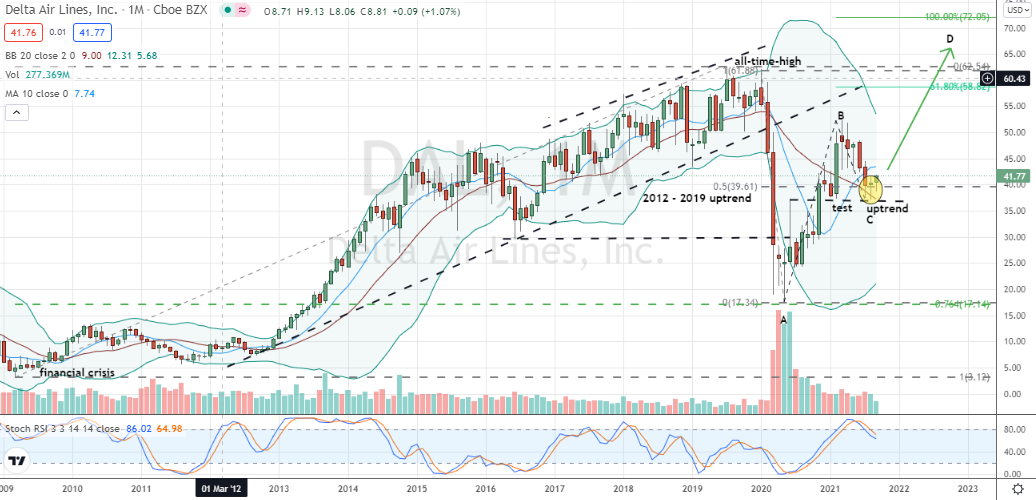 Source: Charts by TradingView
The last of our stocks to buy are shares of Delta. Despite fearful cries the world has changed for airline stocks because of Covid, investors taking the other side of those type warnings last spring have profited big-time.
Today and with 2021's delta variant weighing on Delta shares in recent months, another opportunity to pick up DAL stock after a technically generous pullback is available.
As the provided monthly chart of this stock to buy shows, DAL is just now confirming a doji candlestick as a bottoming pattern.
Alongside a fresh pivot low for Delta's up-channel and point C within a Fibonacci-based two-step pattern that completes near point D, the longer-term forecast is for sunny new highs next year.
To better prepare for a rally in this stock to buy, while staying safe in the event of undesirable turbulence, an actively-managed November $38/$47 collar looks good both off and on the price chart.
On the date of publication, Chris Tyler holds long positions (either directly or indirectly) Ark Innovation ETF (ARKK). The opinions expressed in this article are those of the writer, subject to the InvestorPlace.com Publishing Guidelines.
Chris Tyler is a former floor-based, derivatives market maker on the American and Pacific exchanges. For additional market insights and related musings, follow Chris on Twitter @Options_CAT and StockTwits.