It's a meme stock that's gotten smoked again and you can buy it for pennies on the dollar. What could possibly go wrong? If it's pot play Sundial Growers (NASDAQ:SNDL) stock, rest assured the answer remains a great deal and bad deal for buyers. Let me explain.
Cannabis grow outfit SNDL stock is off 3% this week and some investors – and I'll use that term loosely – appear to be wondering what's attributing to the move.
Stated another way, though, and with shares off two pennies at 70 cents, does there really have to be a bearish driver for the price movement in Sundial?
It's unlikely China's real estate scandal at Evergrande or U.S. debt-ceiling worries earlier this week and a broader market selloff which left names such as Apple (NASDAQ:AAPL), Caterpillar (NYSE:CAT) and other blue-chips reeling are responsible.
A Look at SNDL Stock
To be fair, you could place blame there. But I'm confident you'd be missing the point in today's SNDL stock.
Still valued at nearly $1.5 billion after massive capital raising efforts, and at the expense of its less fleet-footed, hash-tagging, social media loving meme-stock base, SNDL stock is more a name about trading toast than a cannabis stock.
Don't believe me? Maybe it's time to trust rather than think you're going to game Sundial's bearish short interest of nearly 14%. The fact remains that despite prior short-lived schemes to rally the stock, those investors remain committed to squeezing more out of SNDL's smallish, but still significant market cap.
And frankly, that should be a clear and present warning to investors with bullish inquiries – or again, to apes that have already overstayed their welcome.
Consider the Cost
I suppose an "investor" could play Sundial for a nickel or two, but really? And at what cost? What risk allocation should be exposed to that type of "investment?" Back to AAPL or CAT stock and those questions are much more easily answered and worthy of a pledge of capital.
And mind you, today's tough love talk isn't coming from a SNDL bear.
In late May, our timing on a proposed purchase of SNDL stock, and very close to today's prices, was good for a near double in SNDL stock in just over a handful of days. But today is not yesterday. Sundial has an expiration date which it's passed already.
So, if you want to concern yourself with the occasional headlines of how Sundial Growers is managing its mission statement through a newly-restructured business strategy or fresh partnering with other no name ops like The Valens Company – go for it.
But don't say you weren't warned or that Sundial's management won't be gladly thanking you for your business – again.
SNDL Stock Weekly Price Chart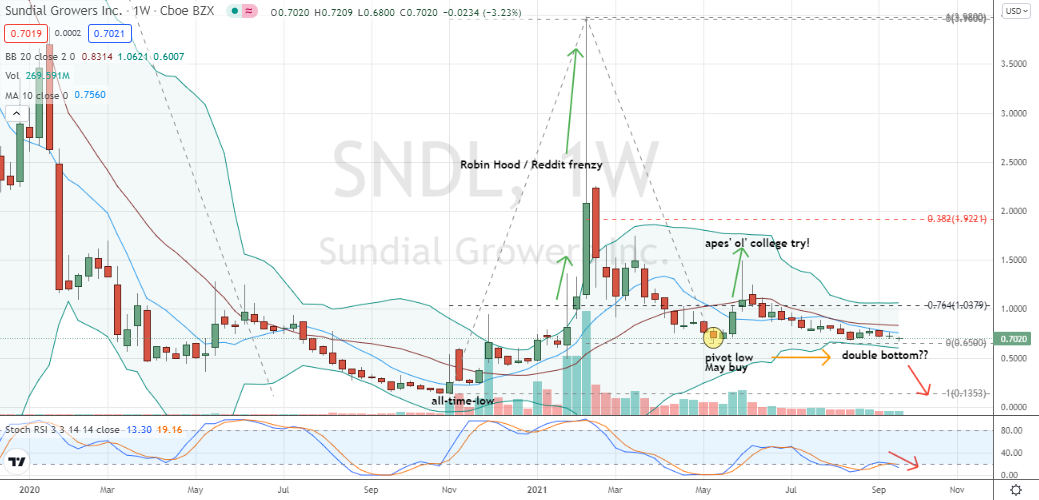 Source:
Charts by TradingView
As already noted earlier, and as illustrated above, SNDL is for all intents and purposes right back where it started with regards to the last time I was tasked with writing about Sundial.
Technically and looking closer at the weekly price action, the price action since late May could mean a double-bottom is taking shape. And if confirmed, an upside reaction could be rightfully anticipated.
Importantly though, I'll ask the question again. What kind of allocation is really acceptable in a situation like Sundial Growers? Not much, if any at all.
As the late Kenny Rogers said, "you have to know when to hold 'em, know when to fold 'em."
Lastly, and particularly relevant after a market sell-off that's offering much healthier, discounted stocks, investors should be looking in the direction of SNDL stock's $1.5 billion valuation and its entrenched shorts rather than a price chart to make a more calculated investment decision.
On the date of publication, Chris Tyler did not have (either directly or indirectly) any positions in the securities mentioned in this article. The opinions expressed in this article are those of the writer, subject to the InvestorPlace.com Publishing Guidelines.
Chris Tyler is a former floor-based, derivatives market maker on the American and Pacific exchanges. For additional market insights and related musings, follow Chris on Twitter @Options_CAT and StockTwits.