Short-squeezed and today up in smoke. That's the state of Sundial Growers (NASDAQ:SNDL) shares. But are there seeds being planted for a meaningful turnaround? Let's look at the evidence both off and on the price chart in SNDL stock, then offer a risk-adjusted determination that won't burn tomorrow's investors.
An aggressive mob of retail traders known universally as Redditors who frequent the Wallstreetbets chat room have made quite a name for themselves in 2021. And in the crowd's disruptive aftermath, most often after exiting the theme-based trade, they've also left quite the mess.
The most famous Reddit-driven bullying was, of course, GameStop's (NYSE:GME) epic short-squeeze. There were also popularized supporting performances by AMC (NYSE:AMC), Blackberry (NYSE:BB), Koss (NASDAQ:KOSS) and a couple others. And on the periphery of that spotlight, an unknown but well-positioned lower priced short-squeeze in Canadian cannabis play SNDL stock was buried.
Rise and Fall of SNDL Stock
It's fair enough to blame Sundial's rise and fall on Redditors and a pump-and-dump scheme. At least in hindsight. Still, with SNDL right back near its January starting point of 70 cents after peaking in early February at $3.96 a share, it's also clear the short-squeeze trade was deceased for some time now. But that's not to say Sundial can't be resuscitated on its own merit.
Combined with shrewd capital-raising stock sales negotiated during the short-squeeze, a recent earnings release offers some promising signs SNDL stock may be worth a second – or first – look by investors that aren't card carrying Reddit members.
Two weeks ago SNDL announced first quarter results which on the surface, would hardly be cause for celebration. Net income sank deeper into the red on declining year-over-year sales. And in fact, shares fell almost 8% on the week.
Some Positives
Yet beneath those anxieties, SNDL posted positive adjusted EBITDA results and offered a couple other seeds promoting future growth.
The EBITDA milestone marks a feat other larger players such as Aurora Cannabis (NASDAQ:ACB) have yet to accomplish. And while the small bit of green was largely tied to investment gains, it's nevertheless a first step toward profitability for Sundial Growers.
SNDL is also aggressively streamlining its business, liquidating lower-margin items, reducing discounts and emphasizing premium inhalant products. The pot outfit also smartly cut costs. In fact, year-over-year Sundial's sales, marketing, and general and administrative expenses dropped by a sizable 35%. Nice, right?
To walk the aisle between bulls and bears, SNDL is still a riskier stock. It's certainly not in the same league of Apple (NASDAQ:AAPL) or for that matter, even a top cannabis producer such as Tilray (NASDAQ:TLRY) or Canopy Growth (NASDAQ:CGC). But for investors with a small bit of risk capital burning a hole in their pocket, SNDL stock does whiff of some meaningful upside as possible.
SNDL Stock Weekly Price Chart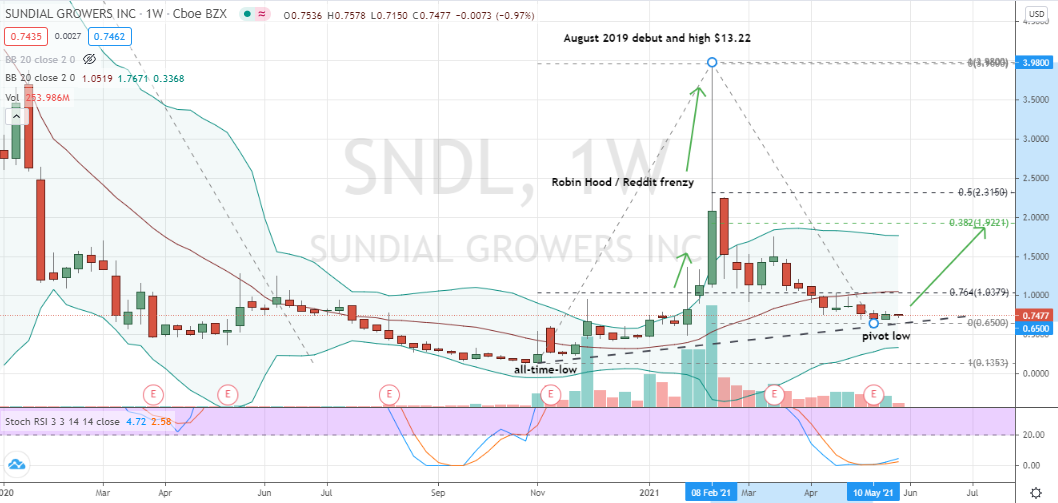 Source:
Charts by TradingView
In spite of being clobbered from its February highs, Sundial shares are still up by almost 60%. Some will gloat over the feat. Said another way, though, and as it should, investors are looking at a profit of 27 cents. That's hardly significant. Moreover, a capital provision of 1% or perhaps 2% for a riskier stock of SNDL's caliber turns any reveling into a meager gain of 0.06% to maybe something just north of 1%.
Bottom line, if investors are interested in purchasing SNDL stock, having your sights focused on something larger is appropriate. Today that situation and slightly more consequential upside does appear close by.
Technically, SNDL shares have settled into a second week of inside consolidation work following a weekly decision-based doji low. It could mark the beginning of a higher-low formation relative to the stock's October all-time-low. And with Sundial's stochastics bullishly aligned and firming in oversold territory, a weekly buy signal through the doji's high of 81 cents makes any future buy decisions that much more attractive-looking.
If History Rhymes
For the assumed pattern risk and allowing a small amount of wiggle room, I'd estimate a purchase in SNDL stock holds downside exposure of 25 cents. But if a new trend can begin to take hold and history rhymes just a little, a growing rally could find shares offering some appreciable profit-taking near $2 in the months ahead.
On the date of publication, Chris Tyler did not have (either directly or indirectly) any positions in the securities mentioned in this article. The opinions expressed in this article are those of the writer, subject to the InvestorPlace.com Publishing Guidelines.
Chris Tyler is a former floor-based, derivatives market maker on the American and Pacific exchanges. For additional market insights and related musings, follow Chris on Twitter @Options_CAT and StockTwits.