When it comes to today's Jumia Technologies (NYSE:JMIA) few are buying what they're selling. But with shares well-discounted, is JMIA stock a bargain or simply cheap goods to avoid?
Let's review some of what's happening off and on the price chart, then offer a risk-adjusted determination aligned with those findings.
Jumia. It sounded like the perfect investment. A company with a first-mover advantage in an African e-commerce market with undeniable growth prospects.
Even better, JMIA had the playbook to win.
And bullishly, Amazon (NASDAQ:AMZN) or other digital e-tailers like Alibaba (NYSE:BABA) or MercadoLibre (NASDAQ:MELI) weren't committed or strategically positioned to make Africa their next conquest.
Narrative Was Upbeat for JMIA Stock
And exactly one year ago investors woke up to JMIA's upbeat narrative.
In early October 2020, JMIA shares began a surge of nearly 800%. And the forceful determination probably had many seeing the next big thing or rather the next AMZN or BABA stock.
Yet Jumia's rise to prominence hasn't gone as planned for those investors. Not that there weren't indications JMIA stock's price action would prove to be a knock-off with suspect staying power.
The thing is that just as JMIA stock began to receive attention from Wall Street's analyst community regarding the company's potential long-game, Redditors and its den of bullish apes were beginning to launch their first successful campaigns in heavily-shorted stocks.
By January GameStop (NYSE:GME) and AMC Entertainment (NYSE:AMC) would prove the breakout stars of a short-squeeze show that's taken Wall Street by storm in 2021.
But Jumia was an early card-carrying member of the orchestrated trading scheme.
Amid its spectacular rally, Jumia's bears bet in excess of $500 million in stock against the smaller but quickly growing mid-cap. And to be quite fair, the short-interest unwittingly helped propel JMIA higher into the new calendar year.
Path for the Bears
Unlike GME and AMC though, Jumia's resident bear population have had an easier path to being made whole again.
JMIA stock lost 75% of its gains from February's all-time-high of $69.89 in an equally fast and methodical series of lower lows and highs into May's bottom of $17.90.
Today, the bearish vindication has barely released its claws from Jumia shares with the stock changing hands near $18.60 and spitting distance from its relative low.
It's also not entirely without cause based on JMIA's most recent quarterly results.
As Jumia's Q2 report revealed, there are growing losses, disappointing revenues trends and a continent still struggling harder than most with the Covid-19 pandemic.
And those factors have proven stronger selling points, literally and figuratively, with investors and certainly today's optically challenged apish traders focused on short-term results.
Still, the JMIA story should offer more than just empty promises for investors with patience. As InvestorPlace's Joseph Nograles recently noted in his balanced assessment of the company, Jumia remains a long-term bet on Africa's future.
JMIA Stock Monthly Price Chart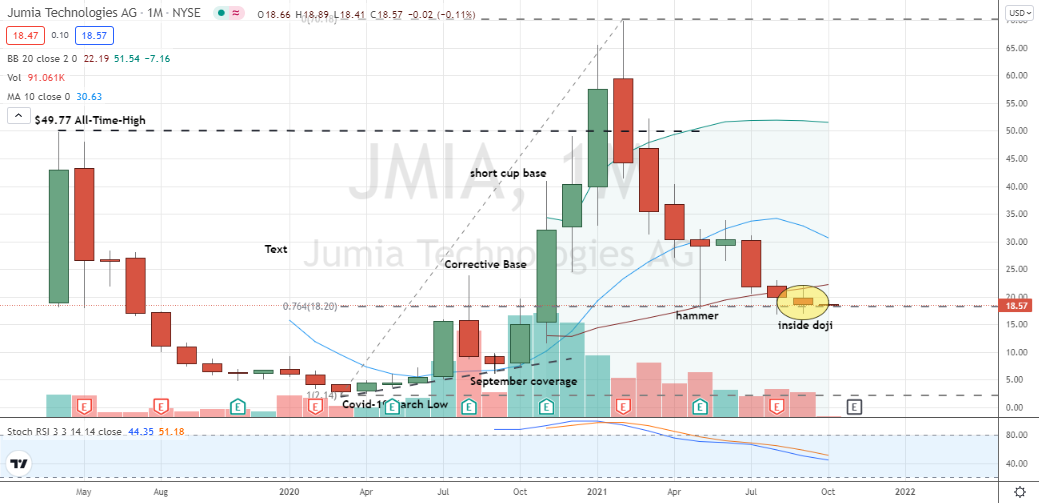 Source:
Charts by TradingView
At today's market cap of about $1.75 billion JMIA stock is a small-cap. But it's hard not to think of a much bigger Jumia.
Consider BABA stock and its north of $400 billion valuation, and arguably as Joseph proffered, whose business model JMIA most resembles.
Right now and moving toward that kind of greatness, if the company can meet even a fraction of its long-term growth initiatives, are some positive developments on the JMIA stock monthly price chart.
As investors welcome October, shares of Jumia are positioned within September's inside doji candlestick. The pattern is part of a larger bullish five-month long double bottom that's formed off JMIA's 76% Fibonacci level.
In order to make the price pattern a more authentic steal, waiting for either price action, stochastics or both to confirm a low looks like a good approach.
The observation is giving up a piece of JMIA stock's upside within a rather small candlestick for obviously much larger gains, if the pattern is to become a longer-term bottom, makes sense.
Finally, should a buy decision along those lines arise sometime soon, using an actively-managed collar for stronger risk-adjusted results should help with owning the next BABA rather than socks.com.
On the date of publication, Chris Tyler does not hold (either directly or indirectly) any positions in securities mentioned in this article. The opinions expressed in this article are those of the writer, subject to the InvestorPlace.com Publishing Guidelines.
Chris Tyler is a former floor-based, derivatives market maker on the American and Pacific exchanges. For additional market insights and related musings, follow Chris on Twitter @Options_CAT and StockTwits.