This article is excerpted from Tom Yeung's Moonshot Investor newsletter. To make sure you don't miss any of Tom's potential 100x picks, subscribe to his mailing list here.
The Stocks Selling on Discount
Happy Nov. 1 — or as my family calls it, "National Discount Candy Day," that special moment when retailers start dumping their 15 pound bags of treats to make room for Santa Claus and Christmas jingles on loop.
The stock market, too, has seen its share of unreasonable dumping. Electric offroad motorcycle maker Volcon (NASDAQ:VLCN) briefly traded at $8 last Friday when Moonshot's Insider Track strategy flagged the stock as a "buy." Shares would rise to $14 within a week, nearly doubling investors' money.
As we enter the season of "All I Want for Christmas Is This Song to Stop Playing," a handful of stocks look set to double within a month. Today, we'll look at five of these Moonshot bets that you folks have asked for.
5 Cheap Stocks Set to 2x in November
If you're impatient like me (or were born a fruit fly), a month can feel like a lifetime. But in the world of stocks, that's a blip in a company's lifetime. For stocks to double within thirty-one days or fewer, something amazing needs to happen.
That's why any fast-rising Moonshots need a catalyst — a jumpstart to kick a stock into high gear.
FaZe Clan / B Riley Principal Merger (BRPM)
If you've never heard of FaZe Clan, I don't blame you. This Gen-Z-focused esports company is little-known outside its core demographic of young gamers.
But don't be fooled — the love for FaZe Clan runs deep. The firm has more social media engagement than the next eight esports organizations combined, and its $50 million 2021 revenue is expected to grow $651 million by 2025.
Now it's time for older generations to get in on the fun. On Tuesday, FaZe announced plans to go public with B Riley Principal Merger (NASDAQ:BRPM) as its SPAC. Shares of BRPM jumped to $15 on the news before retreating back to $11.
Longtime Moonshot readers will know that pre-merger SPACs are great one-sided bets… as long as you're buying in at $10. A SPAC's cash value typically puts a floor on prices, while rampant speculation could push prices 2x… 4x… 6x higher. Though FaZe Clan still lacks a clear business model, its legion of fans may yet send BRPM's stock on a wild 2x ride in November as Discord investors hop on the bandwagon.
Argo Blockchain (ARBK)
Another dark horse due for 2x gains is Argo Blockchain (NASDAQ:ARBK), the cheapest option for investors among major Western Bitcoin miners.
Since listing its ADRs on the NASDAQ exchange in September, this London-based miner has largely struggled to capture U.S. investor interest. Meanwhile rival Marathon Patent Group (NASDAQ:MARA) has seen its shares jump 50%.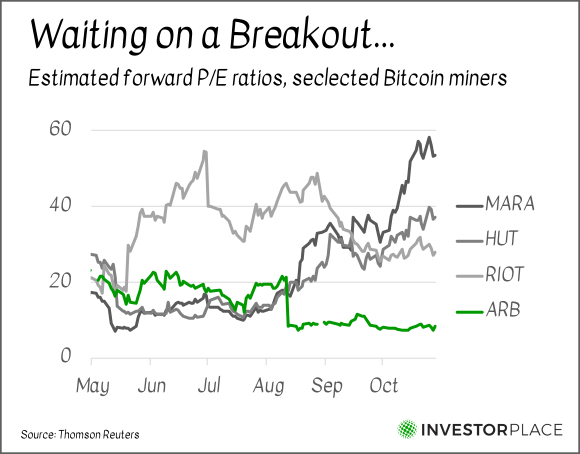 But Argo Blockchain has an upcoming catalyst that could push shares higher: an end to the 25-day "quiet period" that follows any listing.
Over the past week, five Wall Street firms have published "buy" ratings on the stock. Jefferies analyst Jonathan Petersen points to Argo's expansion as a reason to love the stock; Petersen has a $30 price target on Argo, a 90% upside.
Enservco (ENSV)
Not all 2x companies need to be high-tech — or even particularly high-quality, for that matter.
That brings me to Enservco (NYSEAMERICAN:ENSV), a struggling oil and gas services company that has failed to generate profits since 2014.
The reason to consider ENSV is straightforward: rising natural gas prices. The U.S. Energy Information Administration (EIA) now expects Henry Hub gas prices to average $5.80 in the fourth quarter, up $1.80 from its September estimate, and $3.70 more than in 2020.
These rising expectations will put pressure on oil and gas drillers to invest. U.S. rig counts have largely stagnated since 2019, leaving a Texas-sized hole in American energy production. And that provides a catalyst for cheap energy services companies like Enservco to rise. At $1.17 and a 2.7x price-to-cashflow valuation, ENSV represents one of the cheapest alternatives that investors can buy today.
Novavax (NVAX)
Meanwhile, those looking to escape the low-tech world of energy have other options for 2x returns.
After months of production and regulatory delays, vaccine maker Novavax (NASDAQ:NVAX) finally seems to be moving forward with its approvals. On Wednesday, the firm announced it had completed its Covid-19 vaccine submission for U.K. regulators. A U.S. filing could happen as soon as next month.
It's been a long waiting game. Though Novavax's Covid-19 candidate notched surprisingly strong phase-3 trial results, the firm then seemed unsure what to do next. That's a big reason why many successful drug development firms would rather sell themselves to larger rivals for acquirer's production, marketing and distribution capabilities than go it alone.
But Novavax's U.K. submission could prove the turning point. NVAX's two-dose vaccine only requires basic refrigeration, and clinical trials have shown an 89% effectiveness rate in protecting against Covid-19. If the company plays its cards right, it could look a lot like Moderna (NASDAQ:MRNA), another vaccine upstart that decided to go it alone.
Longeveron (LGVN)
Finally, we have my top small-cap biotech Moonshot Longeveron (NASDAQ:LGVN). The Insider Track strategy picked up on LGVN two weeks ago when the company's top brass all bought shares. Signs have been saying "buy" ever since.
LGVN is a drug development firm focused on aging-related illnesses. And its most promising candidate, a drug meant to reduce the effects of Alzheimer's Disease, will likely report phase-1 results this month.
That's a great catalyst to send the $3.50 stock up 100% higher. Lomecel-B — the firm's leading drug candidate — is particularly interesting because it' been proven in similar anti-aging trials.
With insiders buying in between the $3.30 and $3.80 range, regular investors might want to scoop up a couple of shares too before official phase-1 results are announced; LGVN executives are acting as if they know something that we don't.
Insiders are Selling Political Lightning Rods
Not every company, however, is seeing a post-Halloween bonanza. Two stocks that Moonshot warned about — Facebook (NASDAQ:FB) and Donald Trump's Digital World Acquisition (NASDAQ:DWAC) have each continued to wobble as insiders have cashed out. FB is now 20% off its peak, while DWAC is off 60%.
And it isn't just politics on Capitol Hill — other companies in regulatory crosshairs are similarly feeling the heat.
Consider Coinbase (NASDAQ:COIN), a stock where insiders have been tip-toeing out with Rule 10b5-1 sales. Though prices are back to their post-IPO highs, Wall Street analysts have avoided revising their target prices back up. The average target now sits at $378, down from $440 in May.
Then there's Robinhood (NASDAQ:HOOD), a company where insiders were cashing out in the $60 to $70 range (shares are now down to $35). With Robinhood's crypto revenues down a stunning 80% from the prior quarter, it seems like FINRA is getting its wish for less crypto speculation without doing much work.
In other words, it's a terrible time to buy companies facing Congressional subpoenas. Although the red-blue divide has never been greater, lawmakers are finally waking up to the catch-up legislation that's on their doorstep.
Do Monthly Effects Work?
"Sell in May and go away…"
"Watch for the Santa Claus rally…"
"Wait for the January Effect to kick in…"
Wall Street has long tried to find a yearly pattern for buying stocks. And at last check, the best month to buy has been November, a month where the Russell 2000 index of small-cap stocks has risen by an average of 2.48% since 1979.
But astute readers might wonder — why should the month have anything to do with stock market valuations? Surely efficient markets should have removed the alpha from yearly cycles by now.
Yet a quick peek at November returns in the past decade shows a pattern: Christmas-themed stocks tend to outperform as we move towards… well… Christmas.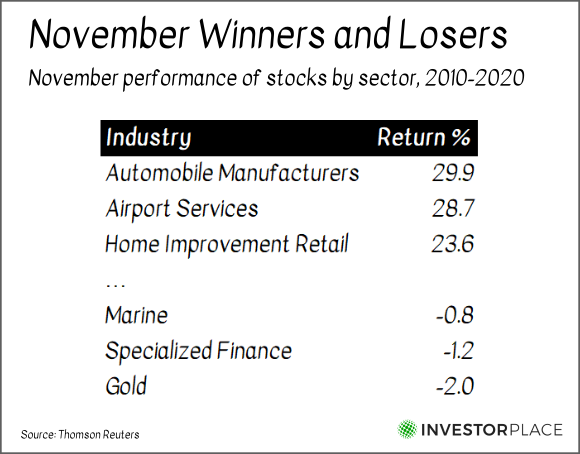 Experienced investors will know why. The past decade has generally surprised analysts with better-than-expected holiday sales (One might assume Mariah Carey's 2011 hit Christmas single had something to do with it). And as American consumers resume a "more is more" attitude towards Christmas, some might end up thinking "all I want for Christmas is to have invested enough in November."
P.S. Do you want to hear more about cryptocurrencies? Penny stocks? Options? Leave me a note at moonshots@investorplace.com or connect with me on LinkedIn and let me know what you'd like to see.
FREE REPORT: 17 Reddit Penny Stocks to Buy Now
Thomas Yeung is an expert when it comes to finding fast-paced growth opportunities on Reddit. He recommended Dogecoin before it skyrocketed over 8,000%, Ripple before it flew up more than 480% and Cardano before it soared 460%. Now, in a new report, he's naming 17 of his favorite Reddit penny stocks. Claim your FREE COPY here!
On the date of publication, Tom Yeung did not have (either directly or indirectly) any positions in the securities mentioned in this article.
Tom Yeung, CFA, is a registered investment advisor on a mission to bring simplicity to the world of investing.