Recently-announced special purpose acquisition company (SPAC) Gores Guggenheim (NASDAQ:GGPI) has raced higher and has since pulled over for a pit stop of sorts. But is now the time for investors to take a test drive and buckle up for the longer road ahead? Or should they steer clear of GGPI stock for the time being?
Lucid Motors (NASDAQ:LCID). QuantumScape (NYSE:QS). Blink Charging (NASDAQ:BLNK). Tesla (NASDAQ:TSLA).They're all electric vehicle (EV) stocks. That's not exactly a secret, of course.
It's also not guarded knowledge that President Joe Biden's infrastructure plan has sent more than a few promising EV-related stocks handily higher the past month. And for good reason, too — with an allocation of $7.5 billion for EVs to become standard technology for the masses, it's big news.
And GGPI, or rather blank-check outfit Gores Guggenheim, is in a strong position to capitalize on momentum within the EV market. This past summer, it announced its merger plans with Sweden's privately-held Polestar.
The Story Behind the Polestar Merger
If timing is everything, GGPI stock mostly failed to gain any traction worth mentioning from the news. Of course, its inability to rally was hardly of its own making. Unlike today, EVs were uniformly underwater at the time and bucking a very green market tide in value and cyclical stocks.
But you knew that already, right? And those days are in the rearview mirror.
What you may not know or appreciate is Polestar's and GGPI's combined pedigree, which sets it apart from most of the EV pack. To steal some background on the merger from InvestorPlace's Stavros Georgiadis, GGPI is coming into a knife fight against other EV plays with a loaded gun.
In a nutshell, GGPI has a longstanding engineering relationship with Volvo's racing vehicles that spans a quarter of a century. There's also Gore's own tenured history, which brings more than 30 years and more than 120 wheeling and dealings to the table.
Unlike much of the competition, Polestar also already has two limited-edition, high-performance EVs in production: Polestar 1 and Polestar 2.
The vehicles look worthy of making Bullitt's titular character rethink his ride of choice if the iconic movie was ever remade. Sacrilege to some, but it wouldn't be out of the question.
Polestar is also committed to launching three new autos by 2024. Gore expects EBIT to break even in 2023, while sales are forecast to climb from $1.6 billion this year to nearly $18 billion by 2025.
GGPI Stock Weekly Price Chart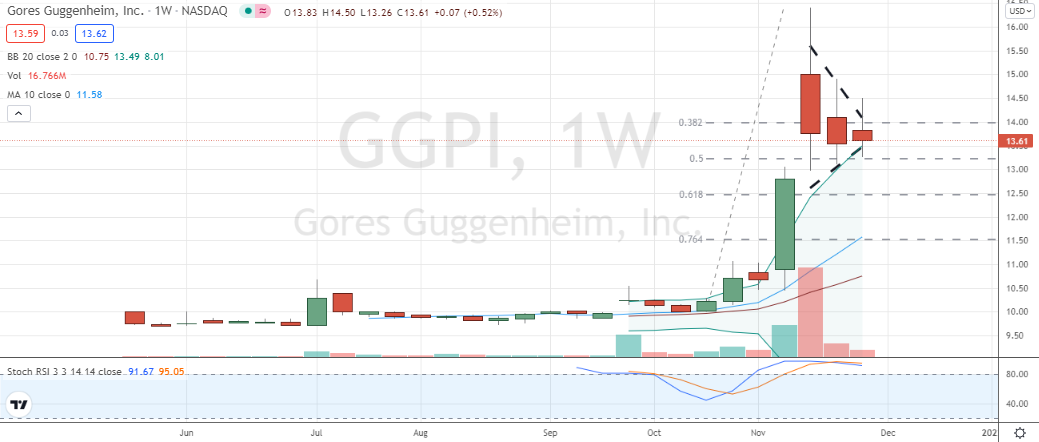 Source: Charts by TradingView
For any merger, there will always be obstacles which need to be navigated. GGPI and Polestar are no exception.
As Will Ashworth, another InvestorPlace colleague smartly notes, there is now some worry regarding Polestar's supply chain because of shortages in key chips and lithium batteries. But Ashworth also proffers buying shares, while stressing there's no particular need to rush right in.
Based on his back-of-a-napkin math, GGPI stock maintains a healthy discount if the deal is approved next year. Shares also offer much more relative value compared to Rivian (NASDAQ:RIVN), the newest EV play on the block.
Technically, and in keeping with Ashworth, the price chart agrees that waiting to buy is the right play. At the moment, shares of GGPI stock are forming an inside candlestick pattern now in its third week of development. The price action also loosely takes on the shape of a symmetrical triangle.
A potential breakout entry aligns itself nicely with a momentum trade. However, the gap between Will's fair value near $18 per share obviously shrinks with this type of entry.
Also, as it stands, GGPI's stochastics is warning investors to stay curbside with its bearish crossover in overbought territory.
In the end, the path of least resistance may lead to a steeper and more generous discount-in-the-making for investors who keep a watchful eye on GGPI stock.
On the date of publication, Chris Tyler did not have (either directly or indirectly) any positions in the securities mentioned in this article. The opinions expressed in this article are those of the writer, subject to the InvestorPlace.com Publishing Guidelines.
Chris Tyler is a former floor-based, derivatives market maker on the American and Pacific exchanges. For additional market insights and related musings, follow Chris on Twitter @Options_CAT and StockTwits.