It's easy to get lost in today's popular again, high-octane field of EV stocks. But when it comes to the manufacturing of profits, Canoo's (NASDAQ:GOEV) GOEV stock is shaping up for some bullish investors. Let me explain.
Anchored by Tesla's (NASDAQ:TSLA) pedal-to-the-metal rally over the past couple months, it's been a good stretch to have been invested in electric vehicle plays.
And recent $66.5 billion IPO Rivian Automotive (NASDAQ:RIVN) or the boatload of high profile plays — such as QuantumScape (NYSE:QS), Lucid Motors (NASDAQ:LCID) and Blink Charging (NASDAQ:BLNK) — rising from the ashes adds full-blown technicolor to a period in which bulls should be giving thanks for.
Some of that appreciation of course should also be sent Joe's way.
It's no secret President Joe Biden's massive $2 trillion economic deal is funneling billions towards a buildout of EV-related infrastructure in the U.S.
And the agreement has acted as a significant boost to many EV stocks in recent weeks. Prescient and anticipatory buying has been followed up with excited "your tax dollars at work" confirmation.
Still, whether trusting Joe or a broader secular trend in renewables, Nikola (NASDAQ:NKLA), Romeo Power (NYSE:RMO), Hyliion Holdings (NYSE:HYLN), Arcimoto (NASDAQ:FUV) and many others warn it's still not a one-way street for EV investors wanting exposure to the group.
But if you're going to dream a tiny bit, one stock that's worth considering is GOEV.
Since Nov. 18, the pre-revenue EV designer has seen GOEV stock soar higher by 21% on the back of positive progress.
First, the outfit is making an incentives-driven, Tesla-like move by pulling up its California stakes.
Canoo's new headquarters and research and development facility will be in Arkansas and near its under-construction Oklahoma factory, as well as other planned facilities.
Moreover, the geographic alignment also boasts roughly $100 million in kickbacks from both states.
Also, GOEV's management set a target of "$100 million in vehicle orders" which got investors' attention. Lastly and to get them towards that end, Canoo updated Wall Street with a more bullish manufacturing timeline.
The company now expects production of its first of three modular skateboard platform EVs called the Lifestyle Vehicle, an off-road-ready, "loft on wheels" van, to begin prior to next year's fourth-quarter.
GOEV Stock Weekly Price Chart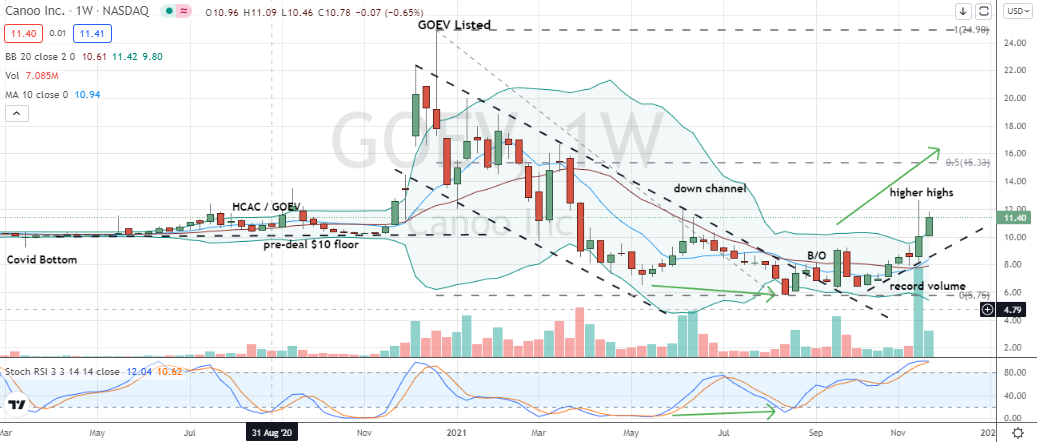 Source: Charts by TradingView
Everyone wants to own a ten bagger, right? And with Canoo's market cap of $2.8 billion and operations now scheduled to begin in earnest by late next year, there's plausibly room for a much larger valuation in GOEV stock to emerge.
But what's that going to really look like for investors?
Less desirably, given that GOEV has been ramping up its capital expenditures in relation to its cash reserves, investors should brace for valuation increase vis-à-vis a secondary offering.
And maybe it's that type of dilutive event that some of GOEV's nearly 28% in bearish short interest is still waiting on? Could be.
That's not a warning to steer clear of Canoo though.
Just realize GOEV stock's improved uptrend curb appeal — and the possibility of a second offering, which would be a prudent move by management — makes GOEV at risk for a below-the-market capital raise.
Today the observation is Canoo can still work its way into a larger valuation by trading towards this year's 50% retracement level near $15.
Consider everything that GOEV stock is and isn't. In a market that has shown its ability for speculative excess, that's not some distant forecast. It could happen at any time.
But should bulls be successful in rallying shares, expect Canoo's C-suite to do the right thing for GOEV to improve its path towards sustainability.
Bottom-line, if you're in it to win it, trading around GOEV's volatility by buying low today and selling high while you can — and then maybe reloading down the road — makes sense.
On the date of publication, Chris Tyler did not have (either directly or indirectly) any positions in the securities mentioned in this article. The opinions expressed in this article are those of the writer, subject to the InvestorPlace.com Publishing Guidelines.
Chris Tyler is a former floor-based, derivatives market maker on the American and Pacific exchanges. For additional market insights and related musings, follow Chris on Twitter @Options_CAT and StockTwits.