'Tis the season to be jolly? That's not the case for most of Wall Street this week. But when it comes to buying the market's most-shorted stocks, there's more than just "ho-ho-hope" as a couple naughty price charts are ready to turn much nicer for bullish investors.
Let's face it, in a market made up of stocks, the most heavily-shorted tickers aren't known for their adherence to what's driving others into a feeding frenzy or panic mode.
Inside Friday's session the broader averages and newer market barometers were under stiff pressure and hitting weekly lows. Traditional heavyweights like Microsoft (NASDAQ:MSFT) or Home Depot (NYSE:HD) were assisting the likes of the S&P 500 to a decline of more than 1.50%.
And also frontpage news these days, investors over the moon this year with cryptos are seeing market influencers such as Bitcoin (CCC:BTC-USD) and Ethereum (CCC:ETH-USD) further help with today's reassessment of risk on Wall Street.
But the market's most-shorted stocks are a different animal. They always have been, but particularly so in 2022 as Reddit's apish movement of bullying bears into submission has turned into a thing by some accounts.
Bottom line, there's no need to sugar coat what goes on in this caliber of stock. And for those that can accept the game for what it often is, here are three of the market's most-shorted stocks whose charts insist naughtier price behavior is due for a bullish reprieve.
Most-Shorted Stocks to Buy: Wayfair (W)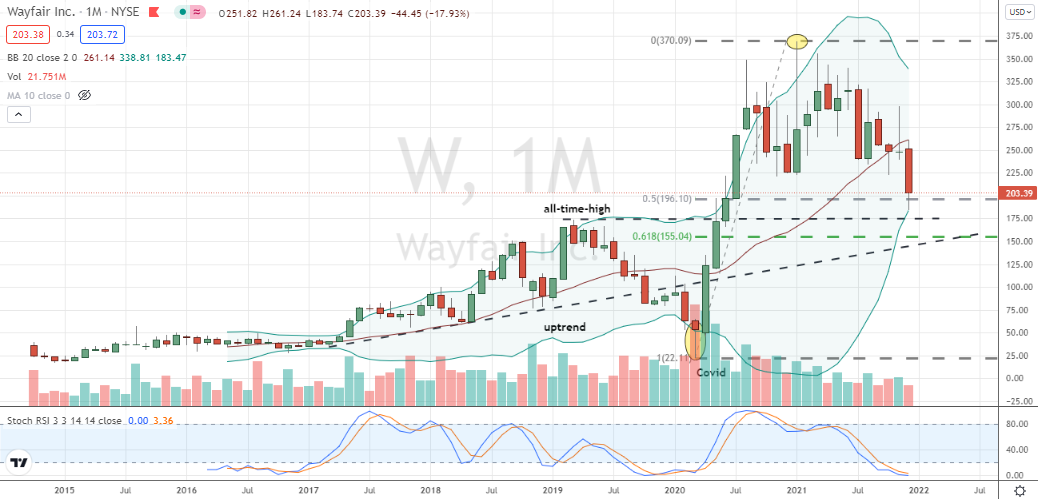 Source: Charts by TradingView
The first of our most-shorted stocks sporting a naughtier price chart to buy is e-commerce home goods play Wayfair.
Shares of W sport short interest of around 22.5%. The stock also offers a bullishly beneficial days-to-cover ratio approaching a hefty 12 days.
In 2022 this most-shorted stock are down 11%. More menacingly, W stock has sliced as much as 50% off its valuation at this month's low after peaking at an all-time-high in January.
Today and technically, the year-long correction is testing key support from about $150 to $200.
Backed by W's Covid-related 50% and 62% levels, prior all-time-highs, a once-broken uptrend line and monthly Bollinger Band, there's plenty of reasons to be upbeat on this most-shorted stock's price chart.
I'd look to buy W stock if an oversold stochastic indicator signals a crossover, combined with a weekly chart bottoming confirmation.
II-VI Incorporated (IIVI)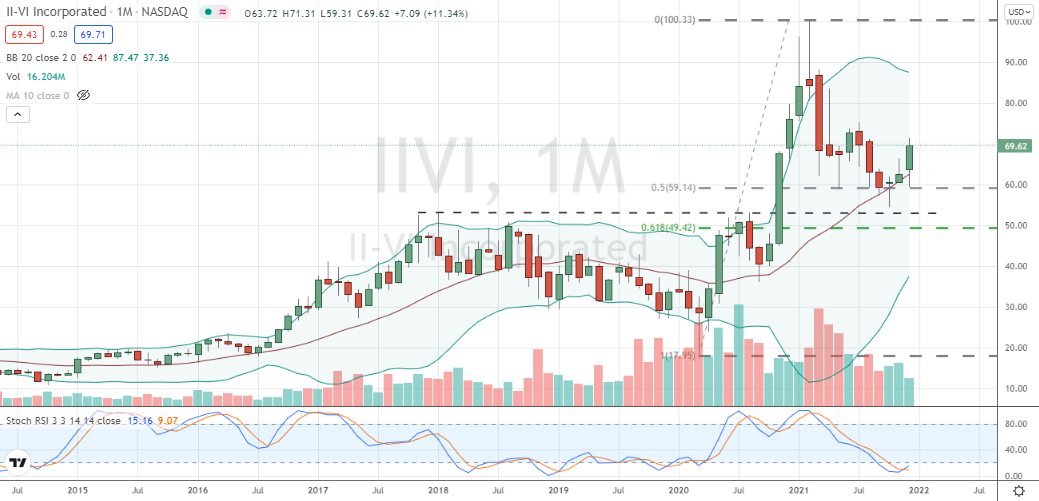 Source: Charts by TradingView
The next of our most-shorted stocks whose shares look ripe for turning bullishly nice is technical and scientific components hardware specialist II-VI.
Shares of IIVI sport short interest of about 17.5%. Moreover, the roughly 18 million shares sold short would take nearly 16.5 days to cover if bears collectively opted to relocate elsewhere.
And with a solid balance sheet, competitive moat and strong vertical markets and a larger bear market that's bottomed, it's time to consider a purchase of this most-shorted stock today.
Currently, shares of IIVI are down a market-bucking 9% in 2021. And from February's all-time-high, a bear market cycle shredded as much as 45% off the stock at October's low.
Today, December's price action has generated a bullish stochastics crossover.
As the secondary signal follows October's confirmed doji-hammer bottoming candle and shares still reasonably close to the monthly buy decision, there's more than "ho-ho-hope" supporting a purchase of this most-shorted stock.
Most-Shorted Stocks to Buy: Teladoc (TDOC)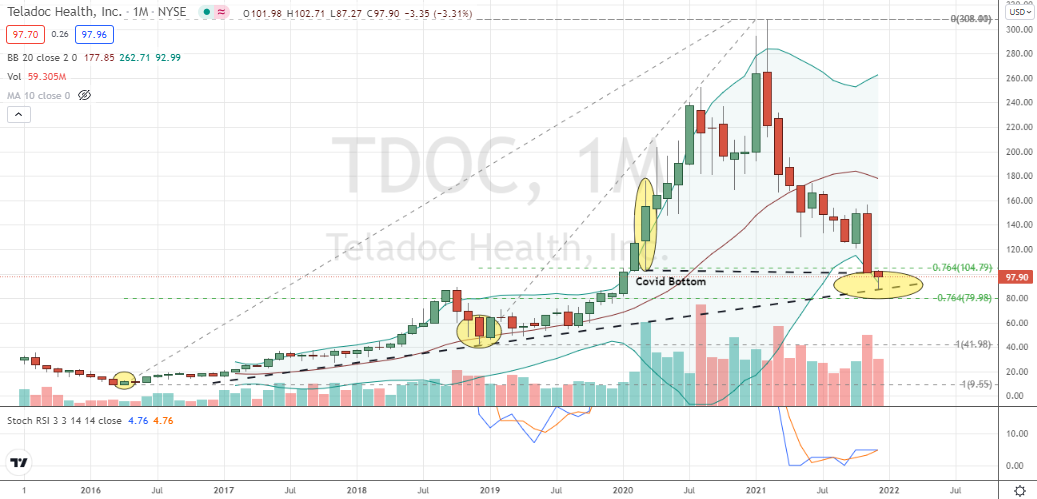 Source: Charts by TradingView
The last of our naughtier most-shorted stocks that's bound to turn nicer for bulls is virtual healthcare champ Teladoc.
Shares of TDOC reveal short interest of just over 15% and almost seven days to cover the bearish position in its entirety.
Today, the greedier doubting Thomas may also need medical attention in this most-shorted stock.
A brutalizing bear market cycle that's stretched from February's peak of $308 to this month's low of $87.27 is showing strong indications of a meaningful bottom being hammered out right now.
Technically and with TDOC adding a market-defying jump of about 11% on Friday, shares have quickly formed a bullish hammer candlestick on the monthly time frame.
With the reversal formation finding deep support wedged in-between two 76% retracement levels and backed by both weekly and monthly oversold stochastics signals, this most-shorted stock is a great-looking Rx for keeping portfolios healthier-looking.
On the date of publication, Chris Tyler holds (either directly or indirectly) positions Grayscale Bitcoin Trust (GBTC) and Grayscale Ethereum Trust (ETHE). The opinions expressed in this article are those of the writer, subject to the InvestorPlace.com Publishing Guidelines.
Chris Tyler is a former floor-based, derivatives market maker on the American and Pacific exchanges. For additional market insights and related musings, follow Chris on Twitter @Options_CAT and StockTwits.